Obama In Texas: 'Every Young Person In America Deserves A World-Class Education'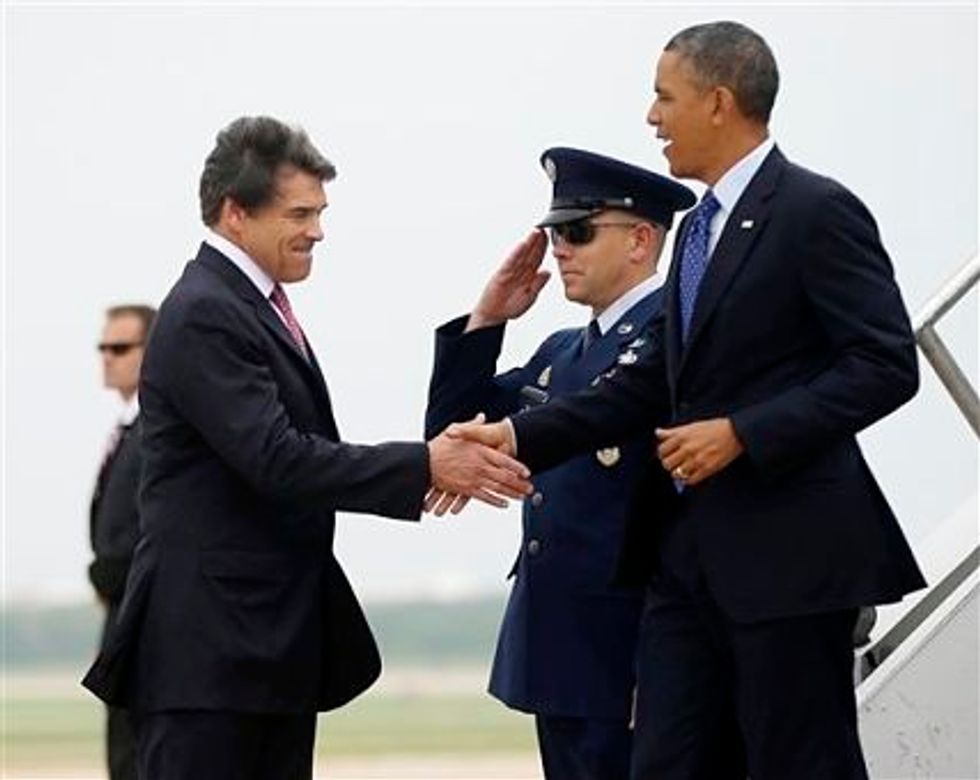 President Barack Obama kicked of his new "Middle-Class Jobs and Opportunity Tour" with a speech at Manor New Technology High School on Thursday, in a return to the issue that dominated his 2012 re-election campaign.
Speaking to an auditorium of students and teachers, the president argued that education is inextricably linked to the nation's economic health. "Our economy can't succeed unless our young people have the skills that they need to succeed," Obama said.
"Every young person in America deserves a world-class education. We've got an obligation to give it to them," he added.
Obama reiterated his desire for early-education reforms, including greatly expanding pre-kindergaten and Early Head Start programs. Citing a study finding that every dollar invested in early education can save more than seven dollars later on, Obama insisted that "we've got to start educating our kids at the earliest possible age."
The president also called for the recruitment and training of 100,000 new science, mathematics, and engineering teachers, to better prepare students to compete in a high-tech economy.
Overall, Obama spoke positively of the country's economic progress. While he stressed that the economy still needs a great deal of improvement, he also said that "we've cleared away the rubble of the worst economic crisis of our lifetimes," and noted that several key sectors of the economy — such as the auto and energy industries — are thriving. Still, the president argued that we aren't doing enough to help the middle class, which he called "the true engine of our economic growth," and urged Congress to take up some of the proposals that he unveiled during his State of the Union address, such as an increase to the minimum wage.
After noting that Congress has blocked any of his economic proposals for political reasons, Obama promised that "where I can, I'm just going to go ahead and take action on my own." To that end, Obama is authorizing a $200 million effort to create three "innovation centers" to boost manufacturing.
Obama's Texas trip is the first in a series of planned trips to promote his jobs agenda, which has been somewhat overshadowed by the legislative battles over immigration and gun reform. Despite the high-profile nature of those debates, a recent Gallup poll found that 86 percent of voters believe that job creation should be Congress' top priority and 86 percent say Congress should prioritize work on improving the economy.
After his speech at Manor Tech, the president will tour an Austin factory as the second leg of his trip.
"The president's trip will be similar to previous 'White House to Main Street' events that directly engage the American people and effectively pushed Congress to act," White House spokesman Josh Earnest said in a statement. "Things are getting better, but our economic recovery is not as strong as it could be and far too many middle-class families are still struggling. The question is, will Congress will join with the president to make sure the middle class is strong and secure?"
Texas' Republican governor, Rick Perry, enthusiastically greeted President Obama upon his arrival in Austin, but not all Texas politicians were so happy to welcome the president. Senator Ted Cruz (R-TX) tweeted a meme mocking Obama's trip, and released an accompanying statement saying in part, "America is stuck with high unemployment and low GDP growth, so it's encouraging to see the president coming to Austin to talk about jobs – perhaps he will learn how to create some from the folks who know how."
AP Photo/Pablo Martinez Monsivais