Obama Launches Campaign To Sell Iran Deal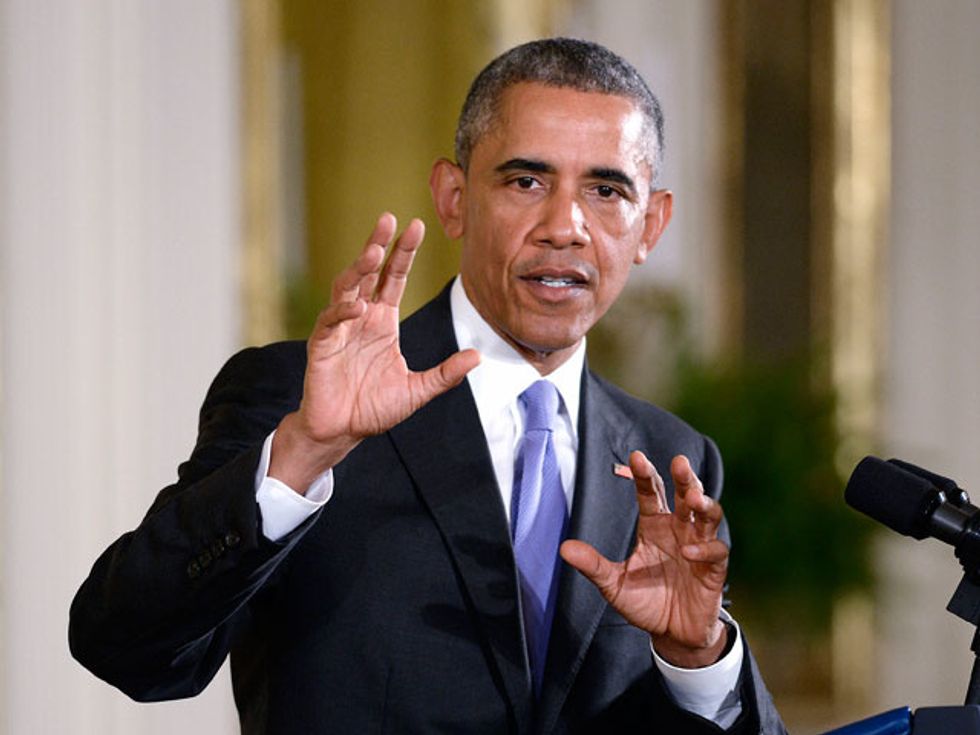 By Anita Kumar, William Douglas and Lesley Clark, McClatchy Washington Bureau (TNS)
WASHINGTON — It took years for President Barack Obama to negotiate a historic nuclear deal with Iran. Now it's time for him to sell the plan to foreign leaders, U.S. lawmakers, and the American public.
Obama kicked off his aggressive campaign with a White House news conference Wednesday to sell the world the agreement he says would allow Iran to pursue a nuclear program but prevent it from producing a nuclear weapon.
His blunt message: The alternative is far worse.
"Without a deal, we risk even more war in the Middle East, and other countries in the region would feel compelled to pursue their own nuclear programs, threatening a nuclear arms race in the most volatile region in the world," Obama said.
Under the deal announced Tuesday, Iran's nuclear program would be reduced and closely monitored in exchange for economic sanctions against Iran being lifting.
But Israeli Prime Minister Benjamin Netanyahu, a fierce opponent of the deal, told his country's parliament that it was not bound by the deal, saying Israel could still take military action against Iran's nuclear program even if the deal proceeds.
"We will reserve our right to defend ourselves against all of our enemies," he said. "We have strength, and it is great and mighty."
Obama downplayed a series of concerns, including whether the sanctions could really be restored if Iran violated the deal, Iran's ability to use procedural delays to stop inspectors and what Iran might do with its billions of dollars.
He said he would continue to gain Iran's cooperation on other security issues, but he acknowledged the nation may not change all of its bad behavior, including funding terrorist groups in other countries such as Syria and Yemen.
Sen. Roy Blunt of Missouri, vice chair of the Republican conference in the Senate, doesn't think Obama will get any Republican support in the chamber for the Iran deal and will have trouble convincing some Democrats to get on board. Blunt said he is lobbying his Democratic colleagues to reject what he sees as a flawed agreement.
"The real question will be how many Democrats will actually support it once they've seen it," he said Wednesday in a call with Missouri reporters.
Obama has dispatched Vice President Joe Biden, Cabinet members and senior officials to meet with lawmakers on Capitol Hill, journalists, foreign governments and nongovernmental groups.
He called senior lawmakers, including House Speaker John Boehner (R-OH) and the leaders of Britain, Germany, France, the European Union, the United Arab Emirates, Saudi Arabia, and Israel to make his case.
He vigorously defended the deal in the lengthy news conference, which at times sounds like a lecture and later devolved into the president's pulling out a piece of paper with Iran talking points so he could address things he was not asked about.
"My hope is that everyone in Congress also evaluates this agreement based on the facts, not on politics, not on posturing," he said. "But we live in Washington, and politics do intrude."
Biden held a closed-door briefing Wednesday for House Democrats that lasted about 90 minutes. When asked by reporters afterward whether he changed any skeptical minds, the vice president responded, "I think we're going to be all right."
Rep. Bill Pascrell Jr. (D-NJ) said Biden didn't express any personal qualms about the deal but said it might have one or two weaknesses. Pascrell said he's "leaning towards a yes" but has not read the full agreement yet.
"I think it needs a good airing," he said. "What are the collateral consequences of the deal, I'm very interested in that. … I'm interested in the arms that are able to come in and out of Iran. I'm also buoyed by the statement of the president with Biden standing alongside him that we are going to step up our efforts in defending Israel."
Rep. Nita Lowey (D-NY) left the meeting still concerned about the deal's "impact, especially about the ballistic missile sales and the armament sales and what Iran would do flush with money when the sanctions are lifted."
After Congress formally receives the deal, a 60-day review period begins. But lawmakers go on a month-long recess, so any vote would likely wait until after they return on Sept. 8.
Obama must garner the backing of a majority of Democrats in the Republican-controlled Congress. Under legislation Congress passed this year, he could veto a vote of disapproval. It would take two-thirds votes from the House of Representatives and the Senate to override the veto.
Rep. Ed Royce (R-CA) chairman of the House Foreign Affairs Committee, said he urged Deputy Secretary of State Tony Blinken in a call that the administration not seek action at the United Nations Security Council before Congress can review the deal in detail.
(Lindsay Wise of the Washington Bureau contributed.)
Photo: President Barack Obama speaks during a press conference in the East Room of the White House on Wednesday, July 15, 2015, in Washington, D.C. (Olivier Douliery/Abaca Press/TNS)