Obama Lays Out Middle-Class Vision In Knox College Address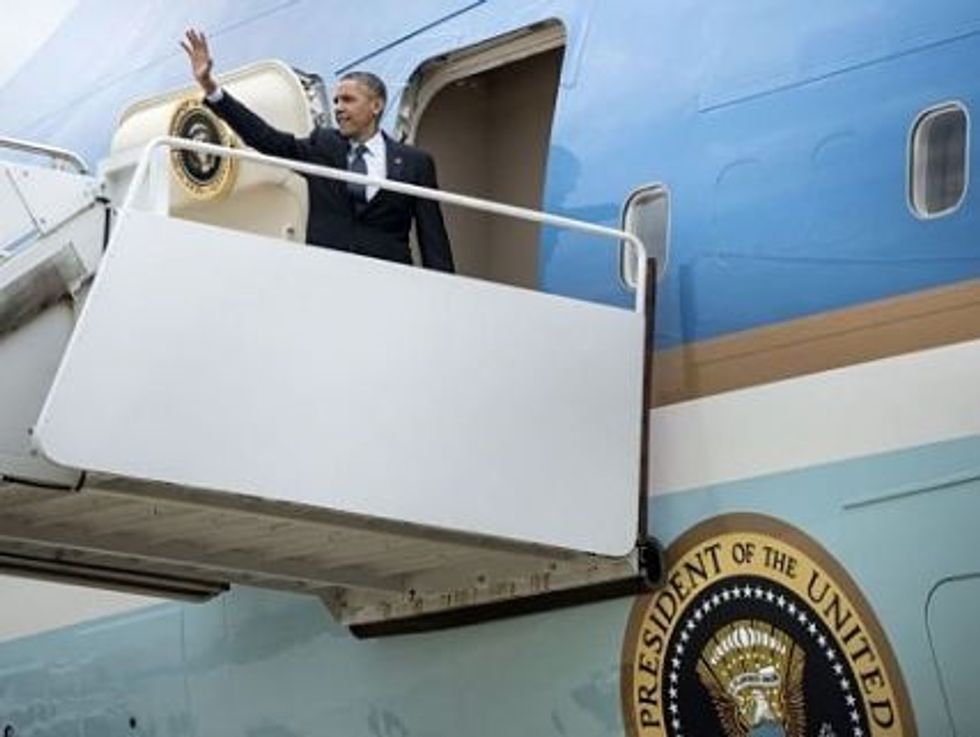 President Barack Obama laid out his vision for reviving the American middle class and slammed Congress for instead focusing on an "endless parade of distractions, political posturing, and phony scandals," during a major economic address at Knox College in Galesburg, Illinois.
During his Wednesday afternoon speech, President Obama called for renewed focus on what he calls "the cornerstones of middle class security": good wages, a good education, stable housing, a secure retirement, affordable health care, and more opportunity with less inequality.
The president began the first in a planned series of speeches on America's economic future by declaring that "Today, five years after the start of that Great Recession, America has fought its way back."
"With new American revolutions in energy, technology, manufacturing, and health care, we are actually poised to reverse the forces that have battered the middle class for so long, and rebuild an economy where everyone who works hard can get ahead," Obama said. Still, he acknowledged that too many Americans are not seeing the benefits, as inequality continues to grow with no end in sight.
"Reversing these trends must be Washington's highest priority," Obama said.
"I care about one thing and one thing only, and that's how to use every minute of the 1,276 days remaining in my term to make this country work for working Americans again," the president later added.
To that end, he laid out a number of plans to improve the economic outlook for middle-class Americans. Many — such as universal preschool, creating a new mortgage refinancing program, boosting investment in renewable energy, and raising the minimum wage — have been proposed by the White House before. Others, such as the president's suggestion of "new partnerships with some of the hardest-hit towns in America to get them back on their feet," or his exhortation for Americans to "tell the world that America is open for business," were more aspirations than specific plans. Still, the president's overall message was clear: despite all of the background noise in Washington, his administration remains focused on the middle class.
While the president stressed his own concern for middle-class Americans, he attacked House Republicans for failing to address the real issues affecting Americans. "Unfortunately, over the past couple of years in particular, Washington hasn't just ignored the problem; too often, it's made things worse," Obama said.
Lamenting Washington's tendency to "careen from crisis to crisis," Obama slammed House Republicans' "endless parade of distractions, political posturing, and phony scandals." Specifically, he attacked the GOP for attempting to use the threat of allowing America to default on its debt to extract painful spending cuts, and for taking a "meat cleaver" to the budget in the form of the sequester.
"We'll need Republicans in Congress to set aside short-term politics and work with me to find common ground," Obama said. "I'm laying out my ideas to give the middle class a better shot. Now it's time for you to lay out yours."
The president may want to be careful what he wishes for. The New York Timesreported Wednesday morning that congressional Republicans are indeed laying out their plan — and it is primarily centered around attacking President Obama's top legislative priorities. While a growing faction of Senate Republicans are threatening to shut down the government unless Obamacare is defunded, House Republicans are pushing the most dramatic series of budget cuts in decades. Among many other spending reductions, the House proposes slashing the Environmental Protection Agency's budget by 34 percent, national endowments for the arts and humanities by 50 percent, education grants for the poor by 16 percent, and the labor department by 13 percent.
"It's about time we cut some spending around here," House Budget Committee Chairman Paul Ryan (R-WI) told the Times, ignoring the $1.5 trillion in spending cuts to which Democrats agreed in 2011, and the rapidly shrinking federal budget deficit.
"These are tough bills," House Appropriations Chairman Harold Rogers (R-KY) concurred. "His priorities are going nowhere."
So unless something changes dramatically in the coming months, President Obama should probably not hold his breath as he waits for Washington to "set aside the kind of slash-and-burn partisanship we've seen these past few years."
Video of President Obama's speech can be seen here.
Photo: President Obama boards Air Force One at Andrews Air Force Base July 24, 2013 in Maryland. (AFP Photo/Brendan Smialowski)