Obama Meets With Generals Planning IS Assault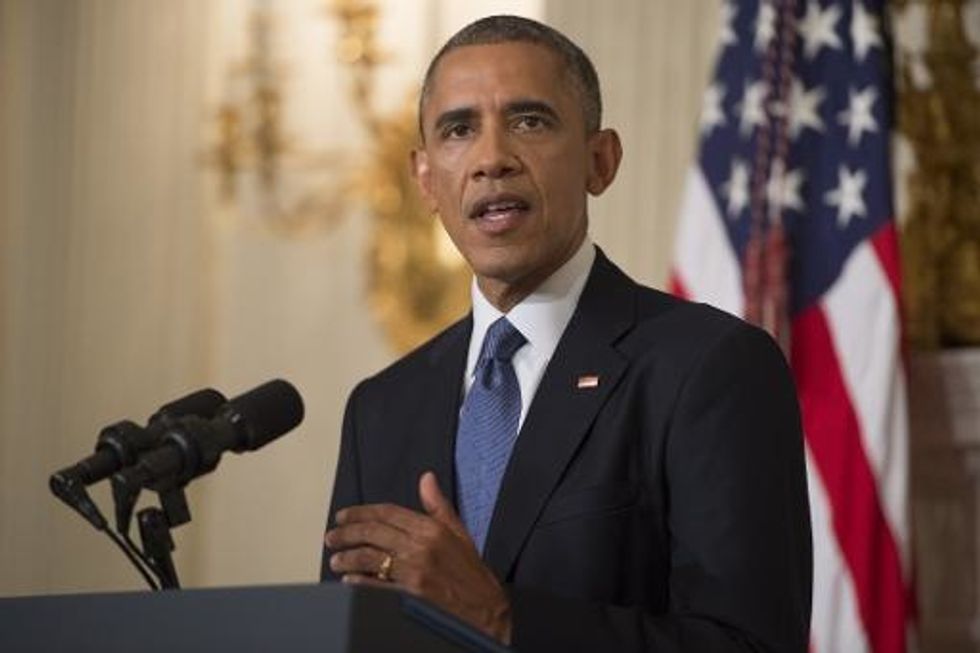 Tampa (AFP) — President Barack Obama meets Wednesday with generals planning his assault against the Islamic State group in Syria and Iraq as he wraps up a two-day trip devoted to sudden national security crises over jihadism and Ebola.
Obama will sit down with General Lloyd Austin, chief of U.S. Central Command at his Florida headquarters, to assess how the military is following through on his new strategy to combat IS announced last week.
U.S. jets in Iraq have already made good on Obama's vow to expand the mandate of American forces to go after the extremist Sunni group in Iraq, following the first raids of the stepped up campaign outside Baghdad overnight Monday.
His effort won a rare Republican endorsement on Tuesday when the party's leaders in the House of Representatives and the Senate backed his strategy.
But some lawmakers still complained it lacks punch, reflecting the president's long-held desire to avoid another Middle East war.
White House spokesman Josh Earnest said that Obama had asked to visit MacDill Air Force base, where Centcom is headquartered, after giving his speech on his new anti-IS strategy on September 10.
The president "plans to discuss the plan for building an international coalition to degrade and destroy (IS)," Earnest said.
Obama, who will give public remarks during his trip to the base, will also meet senior representatives from nations that form part of Central Command's theater of operations, which encompasses the troubled belt of South Asia, Central Asia and the Middle East.
"Many of these nations will be an important part of the international coalition that the President will be leading against IS," said Earnest.
Obama is under pressure to demonstrate that his coalition of European and Middle Eastern nations is a legitimate fighting force and not simply an alliance drummed up by his administration for political convenience.
– Intense diplomacy –
Officials say the president will conduct intense diplomacy next week on firming up the grouping to go after Islamic State, when he is at the United Nations General Assembly in New York.
The White House was forced Tuesday into its latest effort to clarify its strategy on IS, after his top U.S. military officer, Chairman of the Joint Chiefs of Staff General Martin Dempsey, said U.S. advisors could yet be sent into combat alongside Iraqi forces against IS.
That statement appeared to call into question the president's repeated vow that there will be no U.S. "boots on the ground" deployments in Iraq, after he fulfilled his campaign promise to bring U.S. forces home.
Earnest sought to finesse the situation, saying that Dempsey was merely "referring to a hypothetical scenario in which there might be a future situation in which he might make a tactical recommendation."
The administration is encouraged by bipartisan work under way on Capitol Hill to give the president the authority to arm and train moderate Syrian rebels to pressure IS inside Syria when US air strikes finally begin in the country.
Republican House Speaker John Boehner on Tuesday said he believed the president's strategy was a "sound one."
"There's no reason for us not to do what the president asked us to do," he said.
There are still some reservations, though.
"I don't think the president's strategy is ever very clear, or sufficiently clear," said Republican Senator John Thune.
"The American people got there before he did … but I think at least the president is ending up in what I think is the right place" with a request for authorization to train and equip vetted rebels."
– Act fast on Ebola –
Obama arrived in Tampa from Atlanta, Georgia, where he visited the U.S. Centers for Disease Control and Prevention, to meet medical chiefs planning his other new strategy — to combat the Ebola epidemic in West Africa.
In striking language, the president warned that the world must "act fast" to stop the spread of the horrific disease, which has killed more than 2,400 people, and said that "hundreds of thousands" could possibly be affected in a worse case scenario.
"Here's the hard truth. In West Africa, Ebola is now an epidemic of the likes that we have not seen before," Obama said.
"It's spiraling out of control. It is getting worse. It's spreading faster and exponentially."
Obama will send 3,000 U.S. military personnel to West Africa to train health care workers, build treatment centers and coordinate a global anti-Ebola effort in the region.
AFP Photo/Saul Loeb
Interested in more world news? Sign up for our daily email newsletter!