Obama Pushes For Human Rights At CGI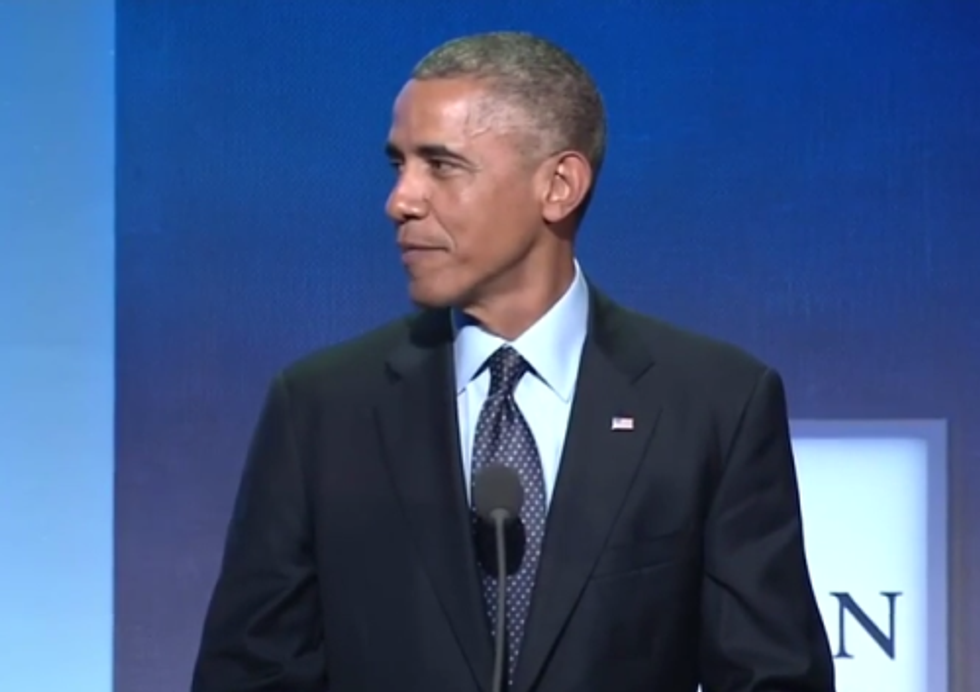 In his eighth appearance at the Clinton Global Initiative — after an effusive introduction by host Bill Clinton — President Barack Obama talked about the importance of civil society in America and around the world, and announced new policy measures designed to support human rights activists abroad. If not for American civil society activists, Obama said, "I would not be standing before you today as President of the United States."
As an example of successful civil society activism, he also announced a new commitment to end the use of anti-personnel landmines, and pledged to destroy the existing Department of Defense stockpiles of those weapons – except for equipment still required by U.S. treaty obligations to protect South Korea.
"It is our obligation as free peoples, as free nations, to stand with the brave people working for equality and decency around the world," he said – noting that he will issue a presidential memorandum today requiring departments and agencies across the federal government to "partner with civil society groups" in other countries and "oppose efforts by foreign governments to restrict freedom of assembly and expression." The U.S. government will open six new centers in Latin America, sub-Saharan Africa, and Asia to provide technical, communications, and financial support for civil society groups as well as "emergency assistance to embattled [non-governmental organizations]."
Acknowledging several human rights activists from Egypt, Cambodia, and Kenya in the CGI audience at the Sheraton Hotel in midtown Manhattan, the president vowed, "We will not stop pushing governments to respect the human rights of all people."
Obama also delivered a shoutout to Hillary Rodham Clinton as she sat in the front row, saying that her appointment as Secretary of State was "one of the best decisions I ever made as president," and noting that she now shines with a "post-administration glow."
Screenshot: YouTube
Want more news and analysis? Sign up for our daily email newsletter!