Obama Pushes To Jump-Start Peace Process In Jerusalem Speech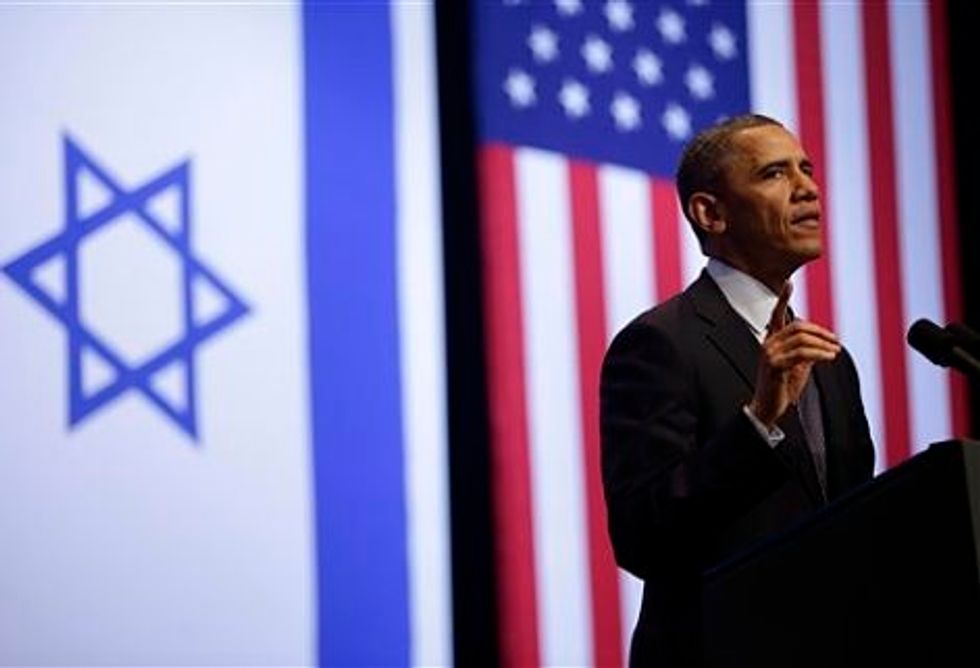 President Barack Obama highlighted his first presidential trip to Israel by pushing for Israelis to jump-start the peace process, during a high-profile speech at the International Convention Center in Jerusalem.
Obama's nearly hour-long speech revolved around the concept that "peace is necessary," "peace is just," and "peace is possible." The president left no doubt that he views a two-state solution as the only pathway to such a peace.
"Palestinians must recognize that Israel will be a Jewish state, and that Israelis have the right to insist upon their security," Obama said. "Israelis must recognize…that an independent Palestine must be viable– that real borders will have to be drawn."
Obama's goal of reviving the stalled peace talks is a tall order, given the ongoing violence in Gaza and the West Bank and the deep skepticism with which most Israelis view Palestinian Authority President Mahmoud Abbas. Still, a majority of Israelis favor a two-state solution despite the challenges it poses.
At many points throughout his address, Obama spoke bluntly of Israel's need to do more to work towards peace.
"[T]he Palestinian people's right to self-determination and justice must also be recognized," Obama said at one point in his speech. "It is not fair that a Palestinian child cannot grow up in a state of her own, and lives with the presence of a foreign army that controls the movements of her parents every single day. It is not just when settler violence against Palestinians goes unpunished.  It is not right to prevent Palestinians from farming their lands; to restrict a student's ability to move around the West Bank; or to displace Palestinian families from their home."
"Neither occupation nor expulsion is the answer," the president added bluntly. "Just as Israelis built a state in their homeland, Palestinians have a right to be a free people in their own land."
Obama also took a subtle shot at Israeli Prime Minister Benjamin Netanyahu — with whom Obama has shared many lighthearted moments throughout his trip — insisting that "continued settlement activity is counterproductive to the cause of peace."
In another crucial moment, Obama went off-script to directly address his Israeli audience. "I honestly believe that if — if any Israeli parent sat down with those [Palestinian] kids, they'd say, 'I want these kids to succeed. I want them to prosper. I want them to have opportunities just like my kids do.' I believe that's what Israeli parents would want for these kids if they had a chance to listen to them and talk to them. I believe that." These impromptu remarks were met with applause from the audience, further illustrating the commitment of young Israelis for peace in the region.
The president returns home on Thursday evening, while Secretary of State John Kerry stays behind in Israel to begin peace negotiations with Netanyahu.
Aside from a heckler who interrupted the president midway through his speech, the young crowd at the International Convention Center seemed to overwhelmingly support Obama's remarks.
Obama also pushed back against Israel's "undertow of isolation," underscoring why the U.S. will only allow direct negotiations with President Mahmoud Abbas and Prime Minister Salam Fayyad. Abbas and Fayyad have worked to foster an environment where violence at the hands of extremist groups against Israel will not be tolerated, a testament to the fact that the Palestinian government and people are dedicated to reaching a peace agreement, but need to be met halfway.
In addition to trying to jump-start the peace process, Obama reiterated his full support for the alliance between Israel and the U.S., along with Israel's "Iron Dome" missile defense system, the continuation of Israeli self-defense from Gaza rockets, and security against threats from Syria and Iran.
Absent from President Obama's remarks were two major points of contention for both Israelis and Palestinians: how he believes the 1967 borders should be drawn and upheld, and any mention of Palestinians' right to return to their former homes in what is now Israeli territory. Even without these points, the president's speech seemed to have resonated with the audience and appealed to both governments, who publicly support peacefully reaching a two-state solution.
President Obama hasn't received the warmest response from the leaders and public in the Middle East. This speech won't change that sentiment, nor is it entirely guaranteed to suddenly mend years of conflict. What the president's speech and presence in both Palestine and Israel can do is restart a dialogue between conflicting groups and reposition the U.S. as an ally and mediator.
President Obama's full speech can be seen here.
AP Photo/Pablo Martinez Monsivais