Obama And Reid Endorse Brian Schatz In Hawaii's Heated Senate Primary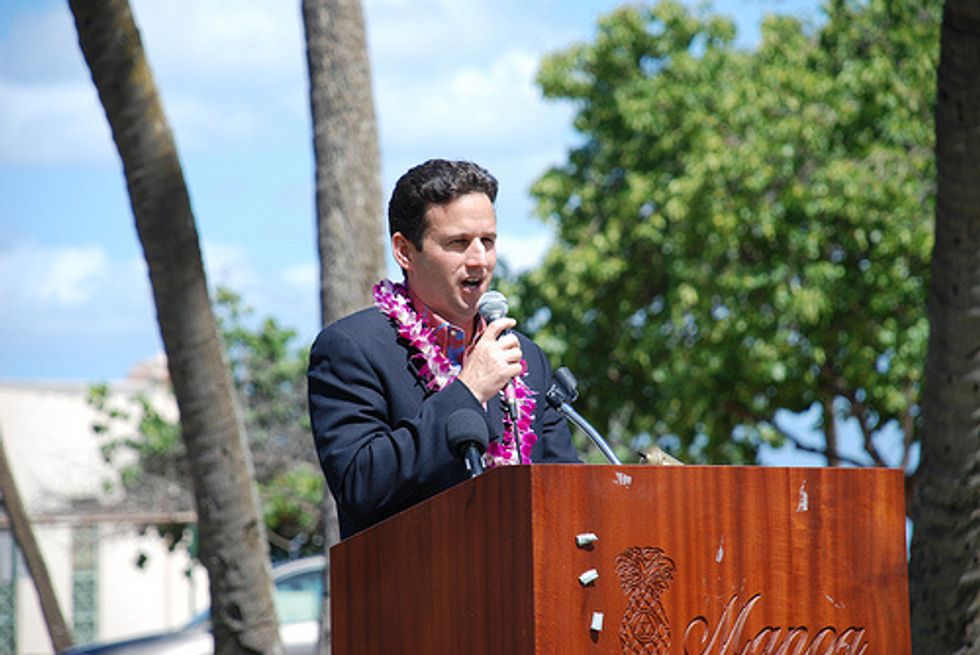 Arguably the tightest Democratic primary fight in the nation is developing in Hawaii — and the party's top leaders are weighing in to try to defuse it before it gets ugly.
On Monday, Senator Brian Schatz – who was appointed by Hawaii governor Neil Abercrombie (D) to temporarily fill the seat left vacant by the death of Senator Daniel Inouye in 2012 – received endorsements from President Barack Obama and Senate Majority Leader Harry Reid (D-NV), providing him with a significant boost in his re-election campaign against Democratic U.S. Rep. Colleen Hanabusa.
In his statement , Reid praised Schatz as a "fine senator" and a "steadfast advocate on behalf of Hawaii in the Senate," adding, "I endorse him wholeheartedly and support President Obama's decision to do the same."
Just hours before Reid's announcement, the Schatz campaign formally released Obama's endorsement.
"I have worked with Senator Schatz on the issues that matter to Hawaii. Brian's deep commitment to the people of Hawaii and his effective leadership are why I believe it is important to return him to the Senate," the president said . "Senator Schatz is protecting Hawaii's values and fighting every day on behalf of middle-class families. There is no question that Senator Schatz is the right choice to continue delivering for Hawaii."
Schatz, who says he is " honored " to have received the president's endorsement, is locked in a tight matchup against Hanabusa.
According to The Washington Post , Hanabusa was actually Inouye's choice to replace him, which explains why most of her support comes from former Inouye backers, including Democratic senator Daniel Akaka.
Still, the Democratic establishment has poured its support into Schatz's candidacy, which is running a more progressive campaign than Hanabusa's. And with backing of the party and young Democrats in Hawaii, Schatz has raised more money than his challenger: As of January , Schatz had amassed $2.4 million, while Hanabusa had raised only $879,000.
Yet even with a heftier bank account and the support of the establishment, Schatz has not managed a lead in the contest, which has spurred the already competitive race that has split Hawaii's Democratic voters.
A February Honolulu Civil Beat poll showed the two Democratic candidates tied with 40 percent of voter support. Another 20 percent do not yet know for whom they will vote in the primary.
Those numbers could shift significantly as a result of the president's endorsement. President Obama is a Hawaii native and, as of January, enjoys a 61.3 percent favorable approval rating in the state.
Photo: Waikiki Natatorium via Flickr