Obama, Republicans Search For Exit To Political Crisis
@AFP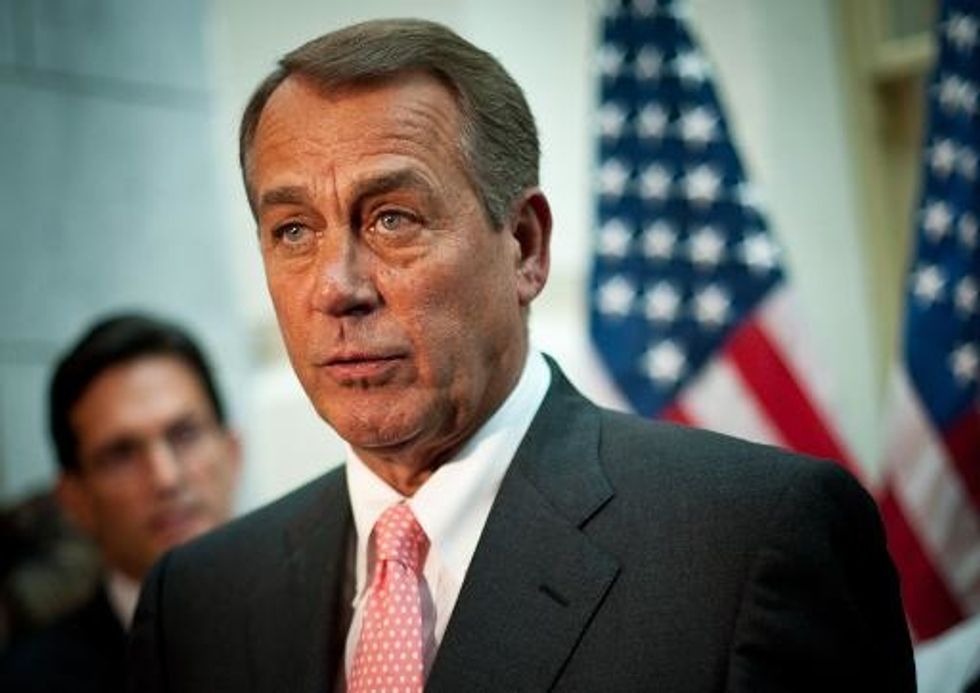 Washington (AFP) – President Barack Obama and Republicans inched towards a temporary truce Thursday in the political imbroglio which shuttered the government and threatened to deliver a historic debt default.
After days of deadlock, Republicans proposed a six-week extension of U.S. borrowing authority in return for an agreement by Obama to negotiate on a budget which would restart federal operations, which ground to a halt on October 1.
The White House said Obama would be open to a short-term debt ceiling hike — though would prefer something more permanent — but only if no conditions were attached to hold him to "ransom."
It warned however that while the president wanted long-time budget talks, he would not sit down to bargain before the shutdown, which sent hundreds of thousands of federal workers home and closed national parks and monuments, was ended.
While there was no true convergence in the positions of each side, there was enough evidence that key players were groping for a facesaving exit to suggest the end game could be nearing.
House of Representatives Speaker John Boehner, caught between his restive Tea Party conservatives, and fears the U.S. could default without a deal to raise the debt ceiling by October 17, declared "it is time for leadership."
While it would put off a default, the Republican plan would not end the partial shutdown of the U.S. government until Obama enters talks, a potential sticking point.
The White House reacted to the debt ceiling offer cautiously, apparently awaiting to ensure that the Republican proposal does not come with conditions attached.
"The president is happy that cooler heads at least seem to be prevailing in the House, that there at least seems to be a recognition that default is not an option," White House spokesman Jay Carney said.
"We will see what the House Republicans propose, we will see what they are able to pass and consider it then," Carney said.
"The president has always said he would sign a clean debt limit increase," Carney said,
"(But) he's been very clear. He will not pay ransom in exchange for the Republicans in the House doing their job."
Obama will get to see the Republican proposal at a meeting with party leaders at the White House later Thursday.
Before the talks, Obama huddled with top Senate Democrats.
Asked whether he would negotiate with Republicans to open the government, Senate Majority leader Harry Reid replied "not going to happen" and indicated Obama shared his view.
Hopes for a possible deal sparked optimism on Wall Street.
The Dow Jones Industrial Average shot up more than 300 points or 2.2 percent and the tech-heavy Nasdaq exchange was also up two percent.

Earlier, Treasury Secretary Jack Lew warned a U.S. default would be "deeply damaging" to financial markets and cause economic chaos.
"If Congress fails to meet its responsibility, it could be deeply damaging to the financial markets, the ongoing economic recovery, and the jobs and savings of millions of Americans," Lew told the Senate Finance Committee.
Other countries were closely watching the unfolding crisis, fearful of reverberations in their economies.
Gang Yi, deputy governer of China's Central Bank warned that Washington should have the "wisdom" to overcome the gridlock as soon as possible.
"The market doesn't like uncertainty and we watch that drama very closely," he said, speaking in a CNN-hosted panel discussion on the sidelines of the IMF/World Bank annual meetings in Washington.
China is the largest foreign holder of U.S. government debt.
IMF chief Christine Lagarde said a six to eight week temporary debt limit extension would be welcome but "much longer would be a lot better" for the world economy.
Haruhiko Kuroda, governor of the Bank of Japan, said in New York meanwhile that he did not expect a U.S. debt default.
Obama has said he is willing to talk to Republicans on a long term budget deal and other fiscal issues, but only when the government is reopened and the debt ceiling is lifted.
Republican lawmakers said reaction in the party caucus was mixed to Boehner's plan.
"What the speaker is trying to do is just to get this man to sit down and talk to us," said congressman Lou Barletta, referring to Obama.
Representative Kevin Brady clarified that Boehner's offer was not a mere clean debt ceiling hike.
"We provide a six-week hard date extension of the debt ceiling on the condition that both parties name budget conferees, and that the president come to the table to negotiate re-opening the government, as well as finding a final solution to the debt ceiling."
AFP Photo/Mandel Ngan