Obama Seeks To Steal Republican Spotlight In Roadshow On Economy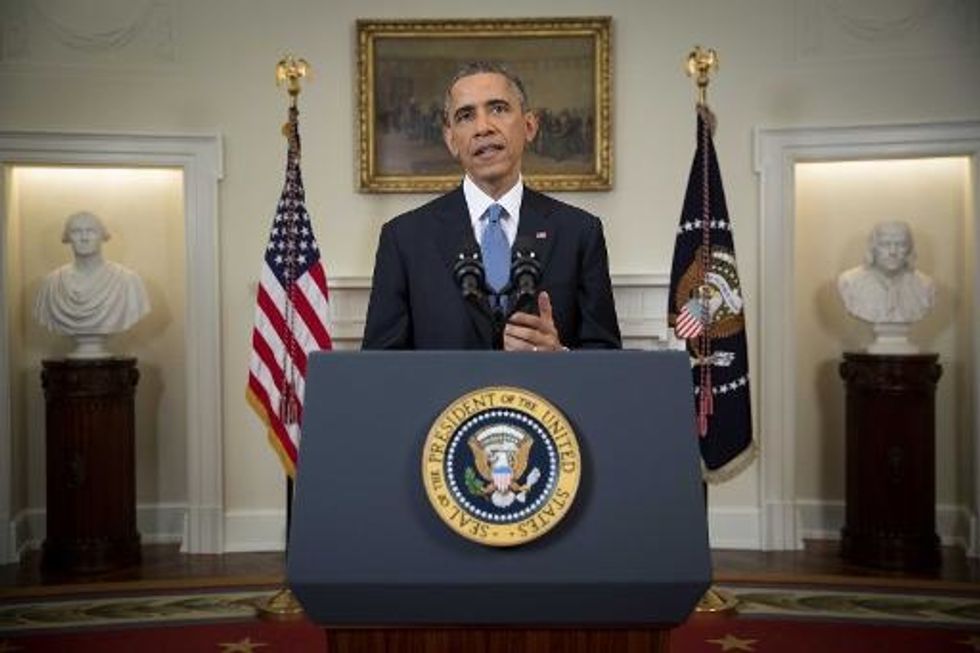 By Mike Dorning, Bloomberg Politics (TNS)
WASHINGTON — President Barack Obama's advisers decided to break a precedent of holding back new initiatives until the late-January State of the Union Address as a strategy to blunt the Republicans' message and build momentum on a slew of favorable economic news, a White House official said.
As Republican lawmakers arrive in Washington this week to pursue their legislative agenda, Obama goes on a three-day roadshow beginning with a visit Wednesday to a Ford Motor Co. auto plant in Michigan to announce his own series of executive actions and legislative proposals on housing, college affordability and the economy.
"That's pretty smart," said Mike McCurry, President Bill Clinton's White House press secretary. "Given that the Republicans have got a bigger megaphone in Congress right now, this makes sense to get a jump on things."
McCurry said the three days of presidential travel, which also will include stops in Phoenix and Tennessee, will probably help Obama "at the margins" during a time when there is likely to be "enormous media coverage of the new Republican leadership and how they make use of it in January."
The tour is choreographed to juxtapose the president in settings outside Washington that illustrate Americans' economic concerns against the imagery of Republican leaders in the halls of the Capitol, said the White House official, who asked for anonymity to describe internal deliberations.
Obama is growing more confident in promoting the economy's progress following signs that strong growth is starting to benefit ordinary Americans, the official said. The president's political clout has been diminished by public discontent with a five-a-half-year recovery that has been slow to raise living standards.
The U.S. economy grew at a 5 percent annual rate from July through September, its best performance in a decade, while consumers benefited from lower unemployment, cheaper gasoline and better pay. Gasoline prices have dropped by more than a third over the past year, to a national average of $2.20 on Jan. 4, according to the American Automobile Association.
Consumers ended the year more optimistic than at any time since January 2007, with the University of Michigan consumer sentiment index for December surging to 93.6 from 88.8 in November. Retail sales between Thanksgiving and Christmas were up 5.5 percent, according to MasterCard Advisors.
The strength of the economy and how much credit the public gives Obama will be critical to the president's leverage with the Republican Congress, McCurry said.
"It's slow but it's having a discernible impact and will have an impact on his approval numbers," McCurry said. "It gives him momentum. It certainly gives him stronger standing to make something of the presidency in the last two years."
Each of the stops in this week's travel are designed to highlight Obama's efforts on the economy and new initiatives to address middle-class voters economic concerns.
In Michigan, Obama will focus on the resurgence of the auto industry since his administration organized a 2009 bailout of General Motors and Chrysler during the depths of the recession.
U.S. automakers had their best annual sales last year since 2006, thanks to cheaper fuel and low interest rates. Still, the Ford assembly plant in Wayne, Michigan, was shut down for an extra week this holiday season because cheaper gasoline has cut demand for the small cars and hybrids it manufactures, the Detroit News reported.
In Phoenix, Obama will promote new initiatives to assist homebuyers and promote progress in the housing market. The Standard & Poor's/Case-Schiller Single Family Home Resale index in October, its latest reading, is up 26 percent from January 2009, when Obama took office.
Obama will announce proposals on college affordability and manufacturing during two stops in Tennessee on Friday.
AFP Photo/Doug Mills