Obama Sends Signal To Russia With Gay Stars In Olympic Delegation
@AFP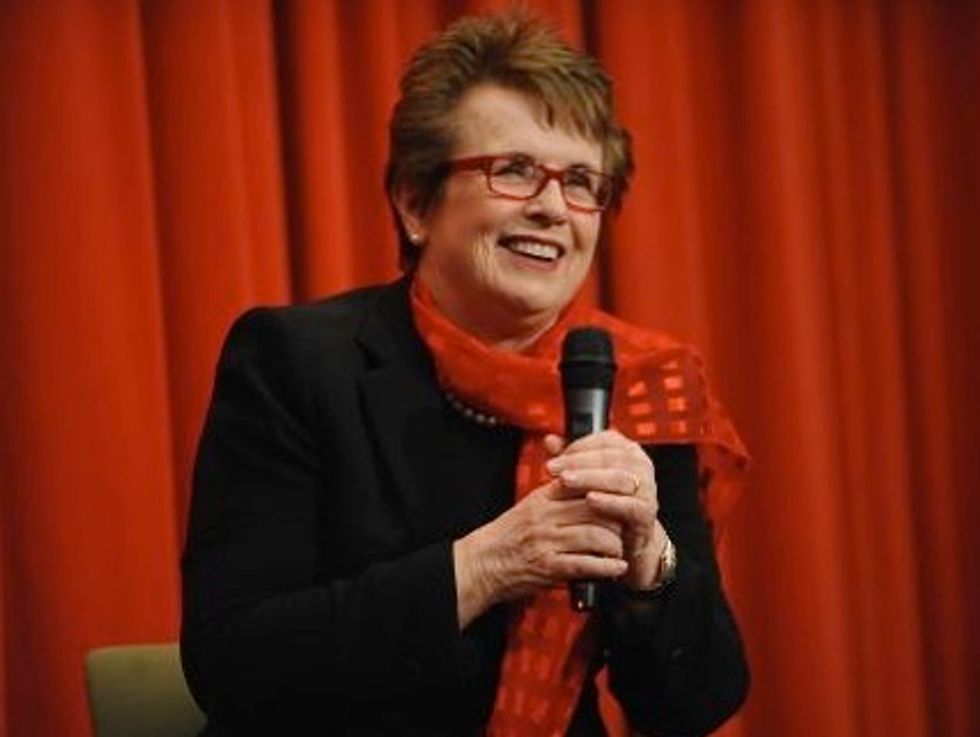 Washington (AFP) – President Barack Obama Tuesday named two openly gay sports stars to his delegation to the Winter Olympics, sending a pointed message of diversity to Russia amid a furor over its law targeting homosexuals.
Obama chose tennis legend Billie Jean King and women's ice hockey silver medalist Caitlin Cahow for the U.S. delegation to the Sochi Olympics which begin on February 7.
There was also an apparent message to President Vladimir Putin in the comparatively low-key profile of the U.S. delegation, which lacks even a serving cabinet member, at a time when Washington is also at odds with Moscow over its decision to harbor fugitive American intelligence leaker Edward Snowden.
By contrast, Vice President Joe Biden and his wife Jill headed the U.S. delegation to the Vancouver Winter Olympics in 2010 and First Lady Michelle Obama led U.S. guests at the London Summer Games in 2012.
The Sochi delegation to the opening of the games will be led by former homeland security secretary Janet Napolitano and includes King, retired figure skater Brian Boitano, U.S. ambassador to Russia Michael McFaul and White House Deputy Chief of Staff Rob Nabors.
The United States will be represented at the closing ceremony by Deputy Secretary of State William Burns, McFaul, Cahow and speed skating legends Bonnie Blair and Eric Heiden.
"The U.S. delegation to the Olympic Games represents the diversity that is the United States," said National Security Council spokeswoman Caitlin Hayden.
"All our delegation members are distinguished by their accomplishments in government service, civic activism and sports," she said.
Russia's adoption in June of a law prohibiting the dissemination of information about homosexuality to minors has sparked protests from international human rights groups and calls for a boycott of the country's first post-Soviet Games.
Obama said in August that he did not agree with the idea of an Olympic boycott but was "really looking forward" to U.S. gay or lesbian athletes bringing home medals, which he said would "go a long way in rejecting the kind of attitudes that we're seeing there."
"If Russia doesn't have gay or lesbian athletes, then, it'll probably make their team weaker," he said.
Putin said in October that Russia would go out of its way to ensure that athletes and fans at the Olympics will feel at ease "regardless of their ethnicity, race or sexual orientation."
King won six Wimbledon singles titles and four U.S. Opens, plus a flurry of doubles crowns, and was outed in a lawsuit after having an affair with another women. She has said she did not feel comfortable being openly gay until later in life.
Her selection is already being hailing in some quarters as a message directly from Obama to Putin. USA Today sports columnist Christine Brennan hailed the president's decision as a "stroke of genius."
"Think of the millions of Russian citizens who are gay, or have a gay family member or friend, living in a nation where discrimination based on sexual orientation is not only tolerated, but promoted," Brennan wrote.
"And the U.S. president sends one of the world's most recognizable faces of equality and inclusion to attend the Opening Ceremony in such a visible role?"
Gay rights campaigners also welcomed the move.
Human Rights First said Obama's selections advanced a message of tolerance and respect for individual rights and human dignity of lesbian, gay, bisexual and transgender (LGBT) people.
The move will "send a positive message to the LGBT community in Russia, as well as to Russian government officials," said Human Rights First's Shawn Gaylord.
AFP Photo/Brad Barket