President Obama Surprises Vice President Biden With Medal Of Freedom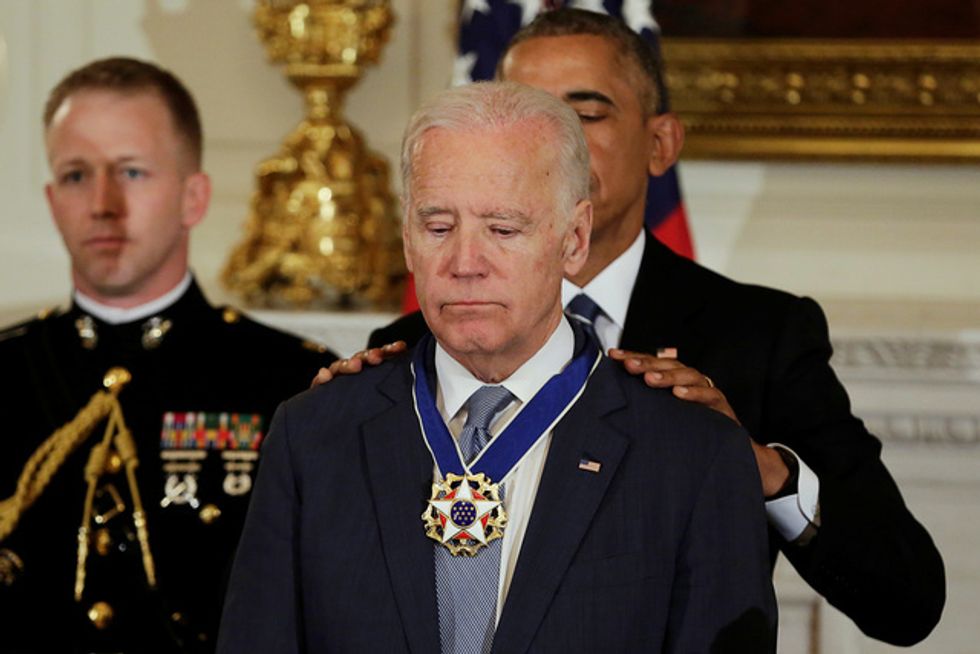 WASHINGTON (Reuters) – U.S. President Barack Obama surprised Vice President Joe Biden on Thursday by awarding him the Presidential Medal of Freedom with Distinction in an emotional White House ceremony that celebrated their partnership over eight years in office.
"This is an extraordinary man," Obama said of his friend and running mate at a surprise ceremony with staff, family and friends of the vice president.
"For the past eight years, he could not have been a more devoted or effective partner in the progress that we've made."
Biden, who was unaware that the ceremony would take place, became visibly moved when Obama said he would bestow on him the highest civil honor in the United States.
It will be the last such award that Obama gives before he and Biden leave office on Jan. 20.
"I had no inkling," Biden, 74, said after receiving the medal. "I get a lot of credit I don't deserve," he said, proceeding to give a roughly 20-minute impromptu speech thanking Obama and honoring the extended Biden family.
Biden and Obama became close friends during their time in the White House. Biden was a U.S. senator from Delaware when Obama chose him to be his running mate in his 2008 presidential campaign.
The vice president told an anecdote about Obama offering to help the Bidens financially during Biden's son Beau's illness. Beau Biden died of brain cancer at age 46 in 2015.
First lady Michelle Obama and the Obamas' daughters, Malia and Sasha, also attended the ceremony.
(Reporting by Jeff Mason; Editing by Jonathan Oatis)
IMAGE: U.S. President Barack Obama presents the Presidential Medal of Freedom to Vice President Joe Biden in the State Dining Room of the White House in Washington, U.S., January 12, 2017. REUTERS/Yuri Gripas