Obama Urges Congress: Give America A Raise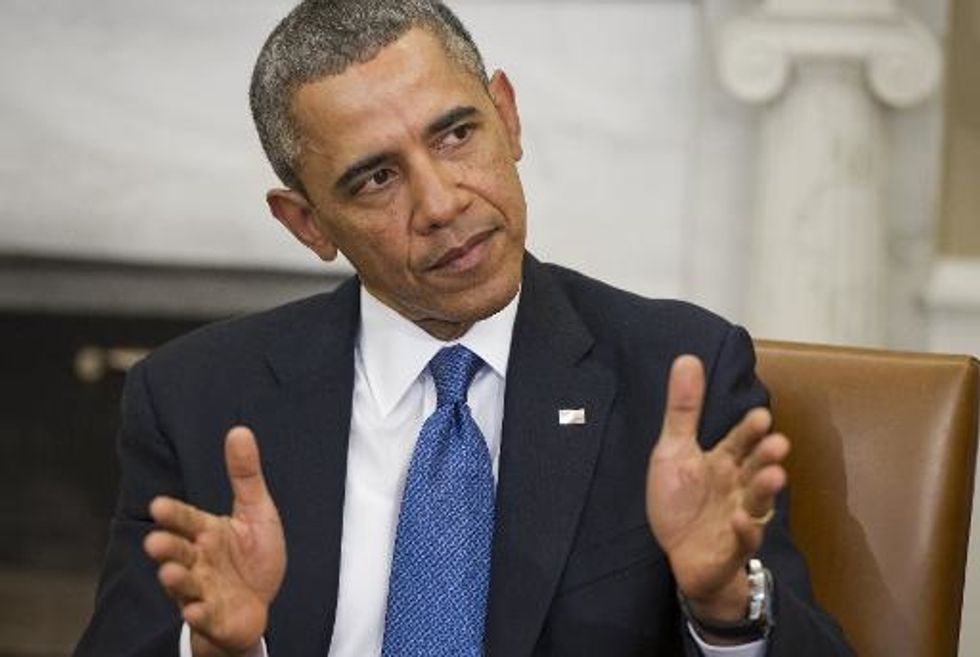 By Anita Kumar and Lesley Clark, McClatchy Washington Bureau
NEW BRITAIN, Conn. — President Barack Obama — and the governors of four New England states — dined Wednesday at a college town eatery that pays its employees more than the minimum wage, as Obama pressed his election-year campaign to "give America a raise."
"He knows what it's like to work all his life and he understands that if people are working hard they shouldn't be in poverty," Obama said of the owner of the Cafe Beauregard.
Obama was joined by Govs. Dannel Malloy of Connecticut, Deval Patrick of Massachusetts, Lincoln Chaffee of Rhode Island and Peter Shumlin of Vermont. He noted that in the year since he's been pushing to raise the federal minimum wage, six states have passed laws to raise theirs, including Connecticut.
From lunch, Obama took his case to Central Connecticut State University, urging Congress to raise the federal minimum wage for tens of millions hourly workers from $7.25 to $10.10 per hour by 2015.
"Too many Americans are working harder than ever just to keep up," Obama said. "It is a central task for all of us to build an economy that works for everybody, not just for some."
Obama said a number of employers, including Costco and most recently Gap, have boosted wages.
"It's not bad business to do right by your workers, it's good business," he said, noting higher wages can help lower turnover, boost morale and increase productivity.
A number of business groups oppose raising the minimum wage, and critics point to a Congressional Budget Office report issued last month that said the most likely scenario under Obama's proposal would be that almost 1 million people would be lifted out of poverty, but that another 500,000 could lose their jobs.
The legislation "might sound good in theory, but could cost as many as a million jobs," Senate Minority Leader Mitch McConnell, R-Ky., said last week.
The minimum wage campaign is a key piece of the yearlong agenda Obama unveiled in his State of the Union address. Last month he signed an executive order boosting the minimum wage to $10.10 for employees involved in future government contracts.
But, he said, "to finish the job, Congress has to get on board."
He said it shouldn't "be that hard," because "nearly three in four Americans" support raising the minimum wage. But Republicans in Congress are opposed.
"Maybe I should say I oppose raising the minimum wage," Obama quipped to laughter. "They'd be for it, that's possible."
Workers who didn't get a minimum-wage increase, Obama said, got the "equivalent of a $200 pay cut," because their salaries aren't keeping pace with inflation.
"That's a month of groceries for the average minimum-wage worker," he said. "That's two months' worth of electricity."
He pushed back against criticism that raising pay would hurt the economy, saying workers would spend the money.
"Which means that suddenly, businesses have more customers, which means they make more profits, which means they can hire more workers," he said. "Which means, you get a virtuous cycle. It's common sense."
Although many Democratic lawmakers support legislation to increase the minimum wage, it's not been a priority for the Senate leadership. Senate Majority Leader Harry Reid, D-Nev., has said there won't be vote on the measure until late March or early April.
Polls do suggest there is widespread public support. A Pew Research Center survey conducted last month found strong support for increasing the minimum wage, with 73 percent of those surveyed in favor.
AFP Photo/Saul Loeb