Obama To Visit Washington State, See Mudslide Aftermath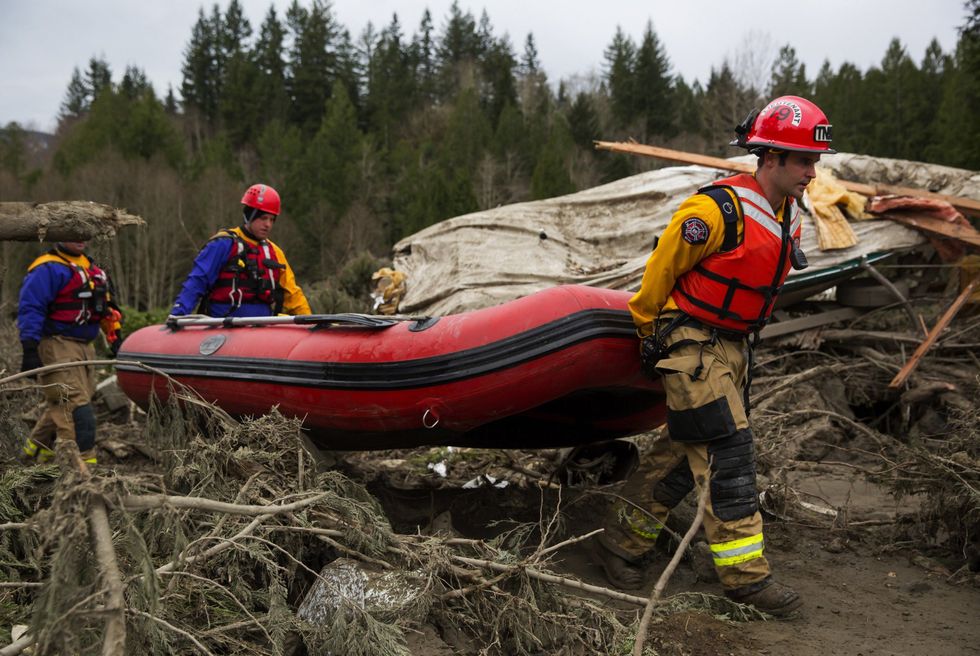 By Kyung M. Song, The Seattle Times
WASHINGTON — President Barack Obama will fly to Washington state on April 22 to see the aftermath of the Snohomish County mudslide, exactly a month after one of the state's worst natural disasters.
The president notified U.S. Rep. Suzan DelBene (D-WA) of his plans during a five-minute phone call Tuesday. DelBene's 1st District includes the neighborhood near Oso that vanished beneath the mud and debris, and the town of Darrington to the east.
The White House also notified Gov. Jay Inslee, who had been discussing a possible presidential visit since shortly after the rain-soaked slope gave way March 22. Obama plans to meet with families, first responders and recovery workers. He will be accompanied by Inslee, DelBene and Sens. Patty Murray (D-WA), and Maria Cantwell (D-WA).
DelBene said she wanted the president to witness the "incredible devastation" firsthand. She said the Obama administration has been responsive to the disaster, but that additional federal help may be needed.
Obama declared an emergency two days after the mudslide, allowing the Federal Emergency Management Agency to assist with search and rescue. It took the state until March 31 to compile a damage assessment to seek a declaration of major disaster, necessary for direct financial aid from FEMA to victims. Obama issued the declaration two days later.
The death toll from the mudslide stood at 35 on Tuesday, with 11 others missing. Five dozen homes and other structures were destroyed.
DelBene said the timing of the president's visit on the one-month anniversary is coincidental. After his tour, Obama will board Air Force One for a long-planned swing through Asia, with stops in Japan, South Korea, Malaysia and the Philippines.
Obama's trip to Oso will be comparatively belated when compared with some recent disasters. After Hurricane Sandy in October 2012, for instance, Obama suspended his re-election campaign and toured the damage with New Jersey Gov. Chris Christie two days after the storm made landfall. Sandy left 32 dead in New Jersey, 53 in New York and tens of billions of dollars in damage.
And three days after the Boston Marathon bombing last April, the president and first lady Michelle Obama visited patients at hospitals and attended an interfaith service.
Keith Maley, a White House spokesman, said the timing of Obama's visit was hashed out closely with local and state officials and was tailored to minimize impact on the ongoing recovery work.
When Obama visited Colorado Springs in June 2012, as deadly wildfires that began six days earlier were still raging, some accused him of capitalizing on the disaster in the midst of a campaign season, while others said the visit was a distraction from firefighting.
Jaime Smith, a spokeswoman for Inslee, said by email the governor deeply appreciates the White House's responsiveness since the disaster. That, she said, matters more than when the president flies out.
"What's been 'important' to us is having resources and boots on the ground," she said. "The timing of the visit appears to us to be just right."
Marcus Yam/Seattle Times/MCT