Obamacare Premiums Better Than Expected — But GOP Sabotage Is Worse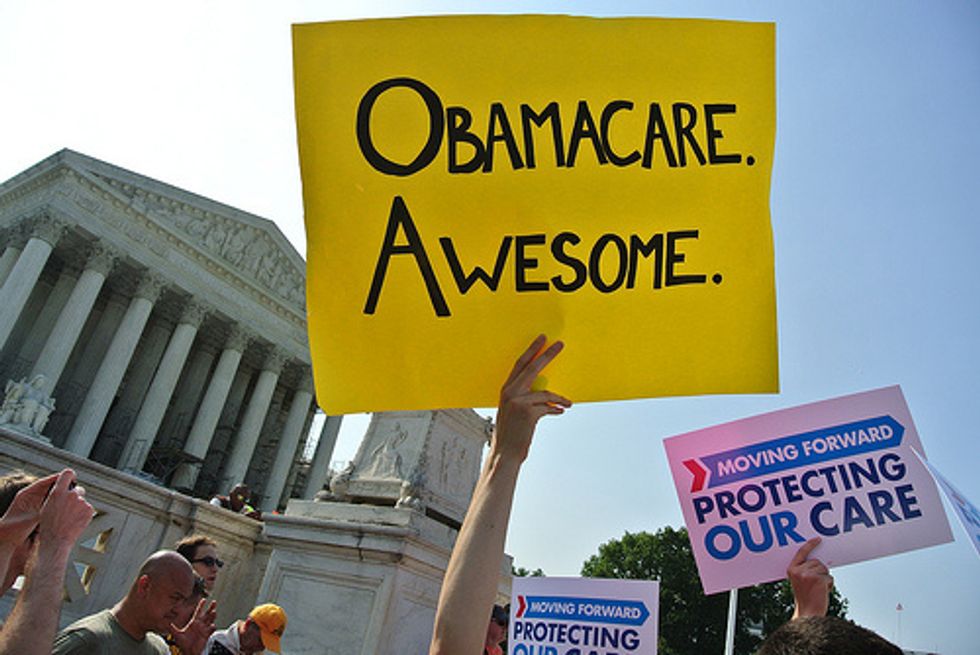 Premiums for insurance plans offered in the Affordable Care Act exchanges will be lower than expected, according to a new Kaiser Family Foundation study of the 17 states — and the District of Columbia — that have published their rates.
"For example, we estimate that the latest projections from the Congressional Budget Office imply that the premium for a 40-year-old in the second lowest cost silver plan would average $320 per month nationally," the report states. "Fifteen of the eighteen rating areas we examined have premiums below this level, suggesting that the cost of coverage for consumers and the federal budgetary cost for tax credits will be lower than anticipated."
A typical 25-year-old earning $25,000 or less can expect to pay under $100 a month in premiums once the tax credits allotted to those earning 400 percent of the poverty level are factored in. South Dakota reported the highest after-subsidy monthly premium for a 25-year-old at $126; Vermont was the lowest at $0 a month.
Young people who earn more than 250 percent of the poverty level may see higher rates in the exchanges than they currently pay. But the plans offered in 2014 cannot really be compared to plans offered in the past, as no one can be rejected or charged more for pre-existing conditions. In addition, insurers will have to meet new standards, including having to spend 80-85 percent of the premiums charged on actual care.
This is excellent news for Obamacare supporters, who know that key to health care reform's success is getting young people to sign up for the exchanges. Also reassuring to supporters is a new poll conducted by The Morning Consult that finds that young people not only are more likely to approve of the law, they're more likely to sign up for coverage through the marketplaces.
Last month, a USA Today study found that the exchanges in general are looking more popular than predicted.
So that's the good news. (Or, as Republicans call it, the bad news.)
Meanwhile, Republican attempts to sabotage the law have hit new heights of arrogance and hypocrisy.
With health care exchanges set to open in weeks and less money dedicated to publicizing the largest open enrollment period in American history than was spent on introducing the much-less-complex Medicare Part D, Republicans are now employing a tactic they've blasted in the past.
Kaiser Family Health News' Jenny Gold reports:
Organizations that received the latest round of health law navigator grants say last week's letter from House Republicans could have a chilling effect on efforts to hire and train outreach workers to sign up Americans for health insurance by Oct. 1, the opening day for new online insurance marketplaces.

The letters were signed by 15 Republican members of the House Energy and Commerce Committee and requested that the organizations provide extensive new documents about their participation in the program and schedule a congressional briefing by Sept. 13. The letters went out to 51 organizations — including hospitals, universities, Indian tribes, patient advocacy groups and food banks—out of 104 that shared $67 million in grants.
Of course, invasive questions from the government to Tea Party groups, among others, had Republicans comparing the IRS to the KGB earlier this year. In that case, the government was responding to a group requesting non-profit status, not pre-emptively assuming that a group hired by the government is up to no good.
"Oversight would commonly mean that after a program has been implemented you look to see if it was done well and if there was fraud or malfeasance or misfeasance," congressional scholar Norm Ornstein told The New Republic's Jonathan Cohn. "This is intimidation and another effort at sabotage."
Photo: Will O'Neill via Flickr.com