Supremes Don't Take Easy Way Out On 'Obamacare'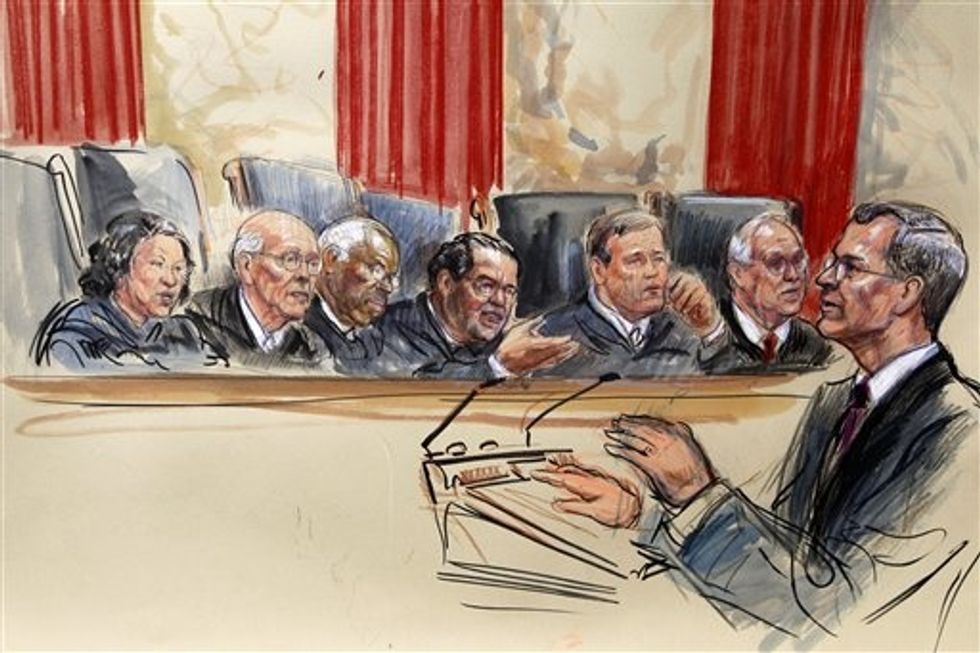 The Supreme Court began hearing oral arguments for the formal legal challenge to Barack Obama's health reform law Monday, the administration's lawyers joining the Republicans attacking the law in arguing that the high court should decide now on the constitutionality of the most ambitious piece of social reform legislation since the 1960s.
The two sides both rejected the argument — made by a private Washington, D.C. lawyer as a sort of Devil's Advocate for an earlier Appeals Court ruling — that the Anti-Injunction Act of 1867 (which bars lawsuits by citizens against government taxes until the tax has been imposed) stood in the way of the case from going forward since many of the law's most significant changes do not go into effect until 2014. The penalty, or tax (the Obama administration lawyer eventually starting saying "tax penalty") for not purchasing health insurance, central enforcement mechanism for the individual mandate to buy health insurance that conservatives hope to show is unconstitutional, will not show up on tax returns until 2015. But the justices showed little desire to put things off that long.
"This case presents issues of great moment and the Anti-Injunction Act does not bar the Court's consideration of those issues," Solicitor General Donald Verrilli said on behalf of the Obama administration.
"The purpose of this lawsuit is to challenge a federal requirement to buy health insurance," agreed Gregory G. Katsas, representing the coalition of private parties opposing the law. "That requirement itself is not a tax. And for that reason alone, we think the Anti-Injunction Act doesn't apply."

Since the Anti-Injunction Act represented the easiest way for the justices to avoid a polarizing, incredibly political election-year decision, it is now nearly certain the high court will reject or validate Obama's signature initiative just months before his name is on the ballot in November.
Chief Justice John Roberts, expected by some to vote to strike down the law as the Court's conservative leader, nonetheless seemed to agree the constitutional questions could be resolved now, referring to the government having waived its anti-injunction protections when defending Social Security's constitutionality in 1937.
Tuesday sees the hearing resume with the Affordable Care Act's individual mandate to buy health insurance as the focus. The Court will decide whether the government's claim that it has power under the Commerce Clause to regulate interstate economic activity, including the purchase of health insurance, is valid. The two hours of back and forth could prove more consequential for Barack Obama's legacy than the past six months of Republican primary mayhem.