Democrats Have A Barack Obama Problem In The Midterms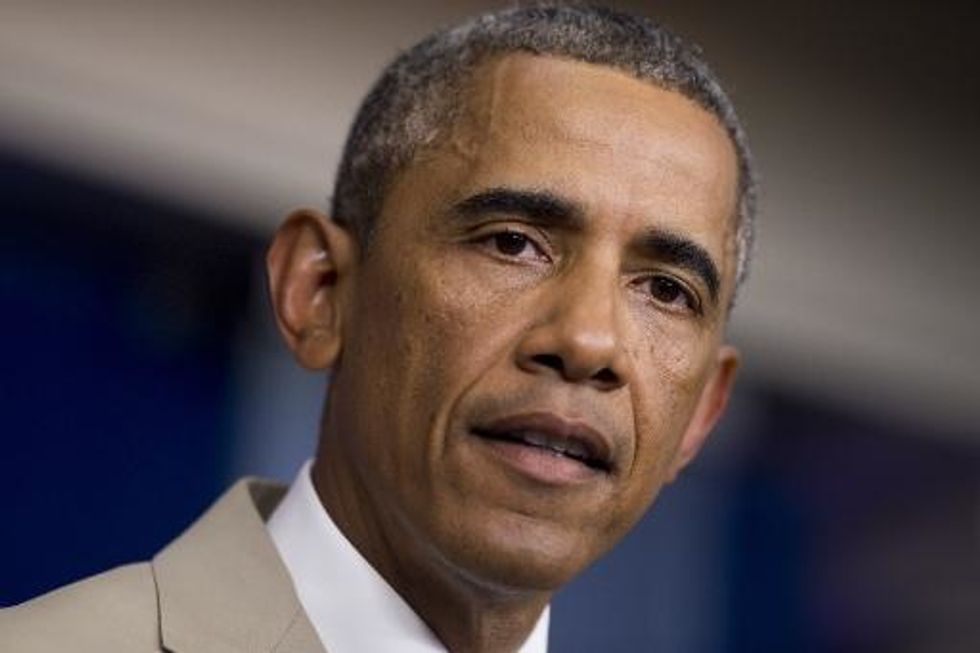 The newest Washington Post/ABC News poll is out, and President Barack Obama's approval ratings are terrible. But it's not just Republicans who disapprove of the president. Some Democrats aren't so thrilled with the way Obama's been running the country, either.
Only 42 percent of Americans surveyed approve of the job Obama's done as president, while 51 percent disapprove; 90 percent of Republicans disapprove, along with 54 percent of Independents, and 20 percent of Democrats.
In the June edition of the survey, 46 percent approved of the way Obama was handling his presidency, while 51 percent disapproved. Independents actually felt more negatively towards Obama than they do today, with 60 percent saying that they disapproved. Republicans and Democrats were slightly more favorable towards the president, as only 85 percent of Republicans and 16 percent of Democrats said they disapproved.
September's poll asked respondents if they approve or disapprove of the way Obama is handling four key issues. The president scored poorly across the board: 54 percent disapprove of the way he's handling the economy, 56 percent disapprove of the way he's dealt with international affairs, 56 percent think he hasn't done a good job implementing Obamacare, and 59 percent disapprove of the way Obama's handled immigration issues.
In fact, Americans are the most displeased with immigration policy, with only 31 percent approving of the president in that aspect. These numbers will probably continue to decrease, as Obama just announced that he doesn't plan on taking any action on immigration until after the election.
A majority of respondents (65 percent) also think that the country is going off on the wrong track. Among Democrats, 42 percent "feel things have gotten pretty seriously off on the wrong track."
The public views Congress even more negatively; just 15 percent of respondents think that it is doing an adequate job. Democrats in Congress have a 33 percent approval rating, while Republicans in Congress have a 21 percent approval rating. But, as usual, people tend to support their local representatives far more than Congress as a whole (respondents gave their representatives a 45 percent approval rating).
Democratic candidates have had to deal with the nation's negative sentiment towards Obama for a long time now. But if Democratic voters continue to view the president and the direction that the country is going in negatively, it will be difficult for Democratic candidates to keep their base invested in the midterms and turn them out to vote in November.
Arguably the most newsworthy aspect of the poll was the question that asked respondents whether they support U.S. airstrikes against the Islamic State. An overwhelming 71 percent responded that they support strikes against insurgents in Iraq, and 65 percent said they support expanding strikes in Syria. This is miles away from the anti-Iraq War surge that elected Obama in 2008, likely because of public anger over the beheading of two U.S. journalists by the Islamic State.
AFP Photo/Saul Loeb
Interested in U.S. politics? Sign up for our daily email newsletter!