Obama's Next Move May Be Lifting US Protection Of Israel At UN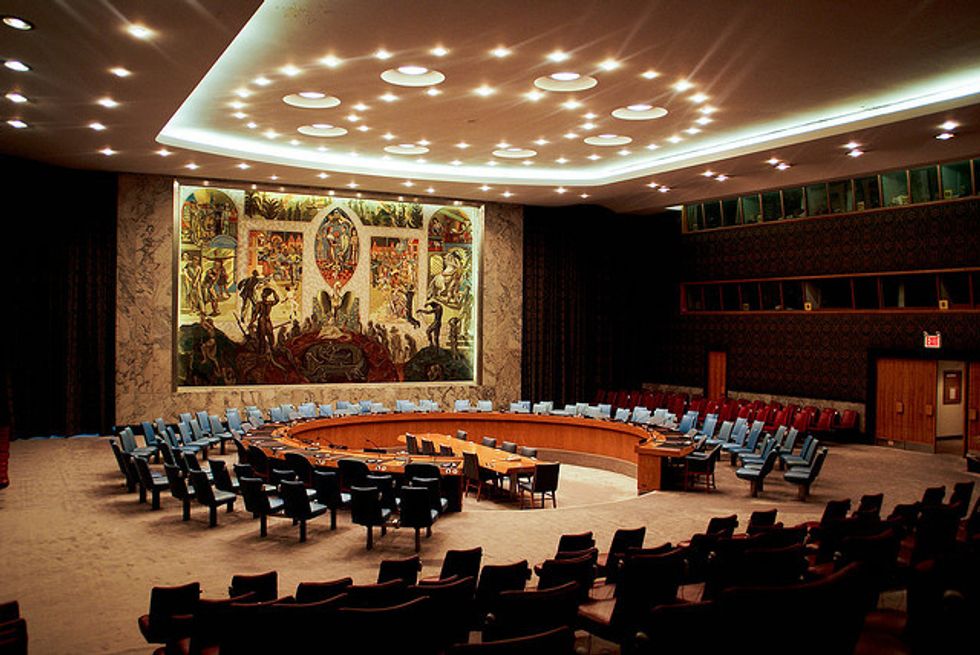 By Sangwon Yoon, Bloomberg News (TNS)
UNITED NATIONS — While the world remains fixated on the negotiations over Iran's nuclear program, the Obama administration is facing another foreign policy showdown in the United Nations Security Council.
The administration has signaled that it might abandon the decades-long U.S. policy of protecting Israel at the U.N. and back a Security Council resolution laying out terms for a two-state solution to the almost 67-year-old dispute between the Jewish state and the Palestinians.
Robert Malley, the Middle East director for President Barack Obama's National Security Council, told at least one European nation two weeks ago that the administration is more willing than it has ever been to work on a Security Council resolution defining the parameters for a Mideast peace agreement, according to a report on the conversation to superiors by a Washington-based European diplomat. A copy of the report was viewed by Bloomberg News.
The reported comments by Malley are "completely false," Bernadette Meehan, a spokeswoman for the National Security Council, said in an email. "Rob has not had any conversation on this topic with any European diplomats then or since."
Obama, though, has left no doubt that he's considering whether to bend the U.S. policy of vetoing U.N. resolutions that Israel opposes and, in the process, punish Israeli Prime Minister Benjamin Netanyahu for pledging that he will ensure that no Palestinian state is created anytime soon. Netanyahu also opposes the talks with Iran, warning Tuesday that the deal the U.S. seeks would "pave the way" for the Islamic Republic to develop nuclear weapons.
"We have to do an evaluation of where we are" on Mideast peace efforts, Obama said at a news conference on March 24.
Past U.S. Security Council vetoes were "predicated on this idea that the two-state solution is the best outcome," White House spokesman Josh Earnest has said. "Now our ally in these talks has said that they are no longer committed to that solution. That means we need to reevaluate our position."
Obama said he'll wait for Netanyahu to form his new coalition government by the preliminary April 22 deadline before announcing the conclusions of his Mideast peace policy reassessment.
While Palestinians and Europeans are excited by the prospect of U.S. support for a two-state solution, they remain wary of how much political and diplomatic latitude Obama has to follow through.
Republican lawmakers are promising to fight back if Obama qualifies U.S. support for Israel at the U.N. Senator Lindsey Graham (R-SC), has warned of a "violent backlash by the Congress, bipartisan in nature," if Obama lets a Security Council resolution defining the terms of a peace agreement go forward without first getting both sides to agree.
"The last thing I want is to be put in a box where I have to take the U.N. on," Graham told the Council on Foreign Relations in New York on March 23, reminding the audience that as chairman of the Senate appropriations subcommittee on foreign operations, he has the power to suspend America's $654 million annual contribution to the world body.
U.N. diplomats and Obama's former Mideast peace negotiators say the president has two realistic options.
First, the U.S. could back a French plan to draft a Security Council resolution that would set a binding timeframe in which to define the parameters of a two-state solution based on Israel's 1967 borders, with Jerusalem as their shared capital, said two knowledgeable Security Council diplomats.
French Foreign Minister Laurent Fabius said on March 27 that in the "coming weeks" France will restart discussions on such a text, which ended in December due to U.S. objections.
Robert Serry, the U.N.'s departing Mideast peace envoy, urged the Security Council last week to update its 1967 Resolution 242, which has been a cornerstone of almost 50 years of diplomatic efforts. It was adopted after Israel captured East Jerusalem, the West Bank, the Sinai Peninsula, the Golan Heights, and Gaza from its Arab enemies in the Six-Day War that year. Israel returned the Sinai to Egypt after the two countries signed a peace treaty in 1979.
Daniel Kurtzer, a former U.S. ambassador to Israel and Egypt, said "a carefully crafted resolution on parameters" is the most realistic option for the U.S. to take, "provided that it is balanced and doesn't go into so much detail as to prejudge negotiations."
The biggest challenges will be whether to recognize Israel as a Jewish state, which the Palestinians and the French oppose, and what security arrangements should be included to ensure that a new Palestinian state couldn't be a launching pad for attacks against Israel, said the two diplomats.
The second U.S. option is to introduce a new draft Security Council resolution that outlines no parameters. It would call on both parties to make progress toward resuming negotiations and condemn activities such as Israel's settlement building in East Jerusalem and the West Bank for obstructing the path to peace, said an Arab diplomat at the U.N. who also spoke on condition of anonymity.
While such a resolution is unlikely to be adopted, a draft would pressure Israel and Netanyahu to at least freeze settlement construction, said three Security Council diplomats who asked not to be named commenting on sensitive matters.
Such actions also might help deter the Palestinians, at least for a time, from seeking full statehood recognition from the Security Council and membership in international treaties, or from pursuing its request that the International Criminal Court probe alleged Israeli war crimes, said the three diplomats.
Aaron David Miller, a vice president at the Wilson Center in Washington who served as a Middle East negotiator in Republican and Democratic administrations, said Obama first must determine his goals for the remainder of his term before exploring the U.S. options at the Security Council.
"The real question is, what is the best option for the administration to pursue in the next two months?" Miller said.
Adopting a U.N. resolution before any agreement is reached between the two parties would be useless unless the administration is ready to try to force Israel to accept a two-state solution by cutting U.S. aid to Israel, recognizing Palestine, or pushing the Europeans to sanction Israel and reduce trade, Miller said.
"But I see no indication whatsoever that this administration is ready to do that," he said.
Photo: Zack Lee via Flickr