Obama's Success Has Driven Republicans Out Of Their Minds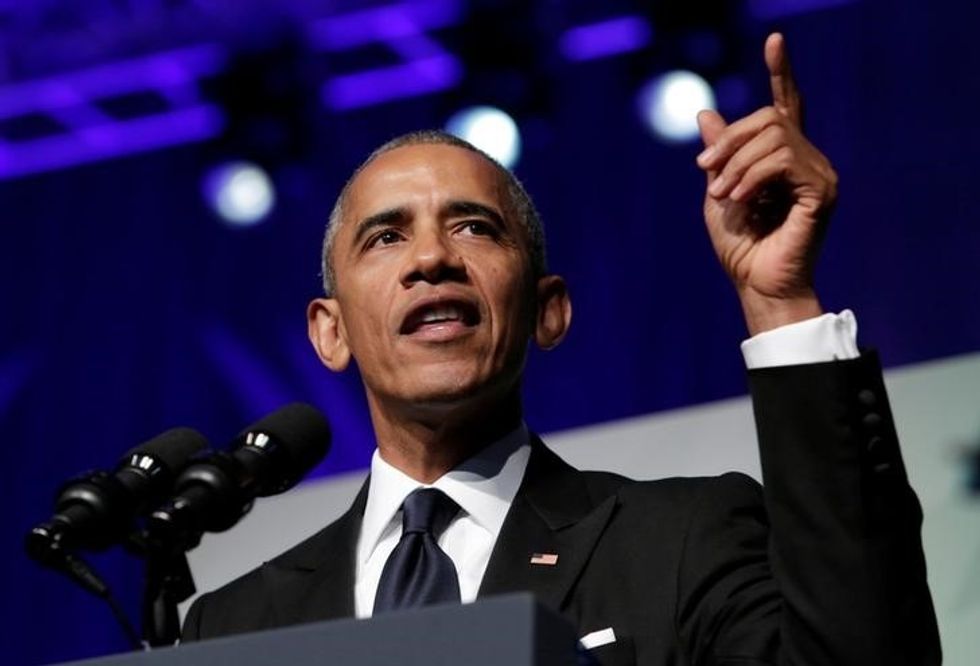 On the day that Donald Trump finally acknowledge that President Obama was born in the United States and that the GOP nominee can't win without declaring "victory" and attempting to terminally muddy the waters on the issue that made him a conservative hero, the president's approval hit 54 percent in the Gallup daily tracking poll.
For some perspective, Ronald Reagan was at 53 percent in early September 1988, according to Gallup. And in early September of 2008, George W. Bush was at 31 percent — a number that would only be impressive if it were first two digits of a shortstop's batting average.
These numbers matter not because a contemporary approval rating is the final verdict on the tenure of a president or the achievement of any individual. Gallup's last measure of Martin Luther King Jr.'s popularity in 1966 had him at 32 percent approval, closer to W. Bush than to Obama. Opposing the Vietnam War and launching the Poor People's Campaign made Dr. King a prophet reviled by many in his own time, not a savvy politician.
However, this measure of Obama's popularity, which is at heights not seen since the years following his two electoral college landslides, gives us a nation's sense of the president's effectiveness after nearly eight years. And it suggests he benefits from some perspective provided by the candidates who may replace him.
Almost no honest person thinks President Obama would be denied a third term in November were he permitted to run. Yet Republicans continue to act as if he's a drowning failure like George W. Bush, tied to an anchor made of a cartoon Jimmy Carter and an even more corrupt Richard Nixon.
It isn't just Obama's approval ratings to prove the lie in that delusion.
A U.S. Census report found that middle class incomes rose at the fastest rate ever recorded in 2015 as poverty fell — one year after Obamacare went into full effect and two years after we raised taxes on the rich, two Obama policies Republicans assured us would destroy the economy. The last seven years haven't been perfect, the gains of 2015 are still digging us out of the mess the last Republican president left us with, just as our foreign policy is an endless attempt to deal with the hell Bush and Cheney unleashed in the Middle East.
But when it comes to steering us from a depression, launching a green energy revolution, expanding LGBTQ rights, insuring 20 million and uniting the world in an effort to fight climate change, President Obama's legacy must be ranked with the most consequential presidents of the last century, especially if the gains he inspired are not reversed.
But Republicans seem intent on doing just that — deregulating Wall Street, un-insuring millions, bending the tax code back toward the rich, empowering those who'd discriminate against same-sex couples or the sick and unleashing carbon polluters. And Obama's success only seems to make them more determined to do all of this as soon as possible.
It would be easy just to blame the billionaire funders behind the party for engineering an agenda that only benefits them. But the hatred they've sewed within their party, with decades of highly effective marketing that has created an self-sustaining media often infused with the coded racism of dog whistle politics, has fostered a monster that threatens the mad scientists who built the laboratory that gave him life.
By nominating the birther-est birther who ever birthed, the GOP revealed that was seeking a nominee who not only disagreed with President Obama but reviled him and considered him less than an American. But the party's depravity was even more evident during the GOP primary when not one of his opponent called out the racism behind Trump's birther campaign, which lasted well after President Obama's long-form birth certificate was revealed.
Hatred of Obama is so strong that Republicans are joining in Trump's sick assertion that Vladimir Putin — who has gutted democracy and the economy in Russia — had been a better leader for his people than President Obama.
When conservative anti-Obama/Clinton agitpropper Dinesh D'Souza expressed his admiration for Putin's love for his country, several Twitter users noted that if Obama loved America enough to deal with critics the way Putin does, D'Souza would be dead.
Unwilling to back off his dictator worship, D'Souza noted that famed chess master and Putin critic Garry Kasparov is still alive.
Kasparov's response?
Have you noticed I live in New York now? Stop spitting on the graves of Putin's victims with your dictator worship. https://t.co/SlLEfDZ1E3

— Garry Kasparov (@Kasparov63) September 17, 2016
Trump's lying attempt to pin birtherism on the Clinton campaign, his insinuation that Clinton should face death because she supports gun safety legislation and his argument that black people are a unitary blob of impoverished fools who've been tricked by the Democratic Party are all common tropes in the comment sections of Republican blogs. But now this hateful propaganda has passed up through the articles into the mouth of the party's nominee for president. The party has become the people it used to hide.
This isn't to say Republicans aren't torn.
A small but vocal group of conservatives think that Trump is a terrible racist. But they're a tiny minority compared the the vast majority of the party who think he's a wonderful racist. And even those who oppose Trump with all their being are willing to take the logical step to support the only candidate who can beat them. The hatred of Democrats is so ingrained that they'd rather elect a man who they don't trust with access to nuclear weapons.
There's some horrible justice to the GOP's flaming hatred of Obama becoming the inferno that could destroy the party.
They could have embraced the changes America is going through. Instead they waged a war on voting like we haven't seen since the 1960s. They could have acknowledged the mistakes of economy built to drive heath to the top. Instead they nominated the personification of welfare for the rich. They could have passed bipartisan immigration reform. Instead they walled themselves into a obsession with deportations.
Either Republicans are about to be rewarded for stirring up hatred at immigrants, refugees and vague foreign interests of all sorts, the way Republican Pete Wilson won an easy reelection in 1994 by stoking similar fires, or they're exacerbating the demographic trends that could eventually deny them the White House forever.
Either way, they invited into our politics an existential threat — one that could consume just the GOP, or all of us.
Photo: U.S. President Barack Obama addresses the Congressional Black Caucus Foundation's 46th annual Legislative Conference Phoenix Awards Dinner in Washington, September 17, 2016. REUTERS/Yuri Gripas