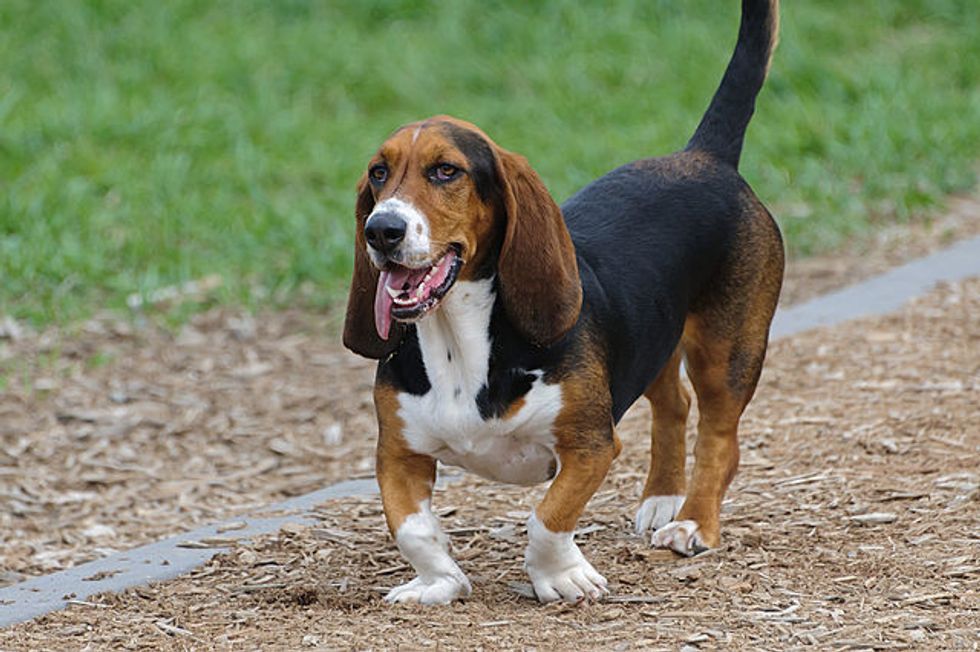 We ended up adopting Fred due to his incorrigible stubbornness. Originally bred to track game, basset hounds can be amazingly persistent. It sometimes appears that when their noses are working, their hearing shuts down.
Fred, however, could hear you alright. Sometimes, he'd even glance your way as he snuffled along a rabbit trail. But you just had to go fetch him. Fortunately, Fred was never super-quick and took no evasive actions—although you pretty much had to drag him home.
Fred's photo appeared in the newspaper because he was a notorious escape artist: "Pet of the Week," available for adoption. Searching for him had flat worn out several previous owners. It wasn't until negotiations were almost complete that we learned Fred was in a Fort Smith shelter — 150 miles away — but possibly facing euthanasia.
So we went and got him. As we'd previously owned a beagle called Fred who'd basically raised our sons, it felt inevitable. Anybody who can keep beagles in custody can keep anything. If it's obedience you require, avoid the hound class.
But if it's loving devotion you want, a basset is your breed. According to the AKC, basset hounds are one of two breeds never involved in a fatal human attack; beagles are the other. Fred will stand his ground woofing over his supper dish and make a timberwolf face under extreme provocation. But he refuses to fight. Cats invariably love him.
The Lyons Plan for Universal World Peace involves a basset hound mandate; if everybody owned two, they'd find less to be angry about.
Unlike many of his breed, Fred was never a clown. Steadfast dignity is more his style. For years, the last thing he did at night was visit my wife's side of the bed for an ear rub before lumbering to sleep. We haven't lost a single upholstered chair since Fred began guarding them at night.
After we moved to our farm, Fred once got lost chasing deer—incorrigible optimism at work. A kindly fellow found him standing on the double yellow line on Highway 60 gazing about mildly. He'd stopped traffic in both directions.
Thus ended his absolute freedom.
Now 14, Fred had a bad accident last April. Almost deaf, he got caught under a pickup driven by a visitor, his pelvis broken in four places. The vet feared that he was too old to recover, but prescribed pain meds and bed rest.
Fortunately, napping is Fred's specialty. I moved him around using a bath towel sling while he walked on his front legs. After the pain receded, he began woofing to signal his needs: water, shade, supper. His personal kitten Martin spent a lot of time cuddled with Fred on his quilt.
Alas, his left rear leg dangled uselessly. Permanent nerve damage appeared possible. He really couldn't manage on three legs. Then one night, I noticed Fred lying on his side having a chase dream—all four legs galloping.
Thus began Fred's country-style hydrotherapy. I filled a horse trough with water, plunked him in and held his collar to prevent his clambering out. He had to dog-paddle strenuously to keep his head above water. As the sessions lengthened to 15 minutes, he grew to dread them.
But he never quit paddling.
After eight weeks, he staggered to his feet. I'd carry him down to the barn and make him walk back, holding his tail for balance. Three stops, then two, and then none. He began taking slow-motion sniffathons around the pasture. Have I mentioned that cows like Fred too?
Soon Fred began following the pack on our daily three-mile walk, lagging far behind and meeting us on the way back. He was up to two very slow miles when the disaster happened.
I'd last seen him pottering a half mile from home. I'm guessing he saw a rabbit. When he failed to appear for supper, I became alarmed. I finally found him the next morning woofing in the woods, his weak leg torn to shreds and covered with flies. He'd gotten tangled in barb wire, pulled free, and was dragging home.
The vet hinted that we should let Fred go, as he'd refused to drink or eat in his cage at the clinic. She said he might not walk for a month.
Only a month?
So I brought him home. Home is the whole world to a suffering dog. I squirted water down his throat with a cow syringe, followed by a can of chicken broth. I took him off narcotic anti-pain pills, cleaned and re-bandaged his terrible wound. He's drinking and eating on his own now, taking an interest in household goings-on, and closely attended by Martin.
If the wounds heal, it'll be back to the horse trough. If not, well, I won't torture him to save my feelings.
But we don't give up easy, Fred and me.
Photo: jimapics via Flickr