Oklahoma Governor Pledges Independent Review After Botched Execution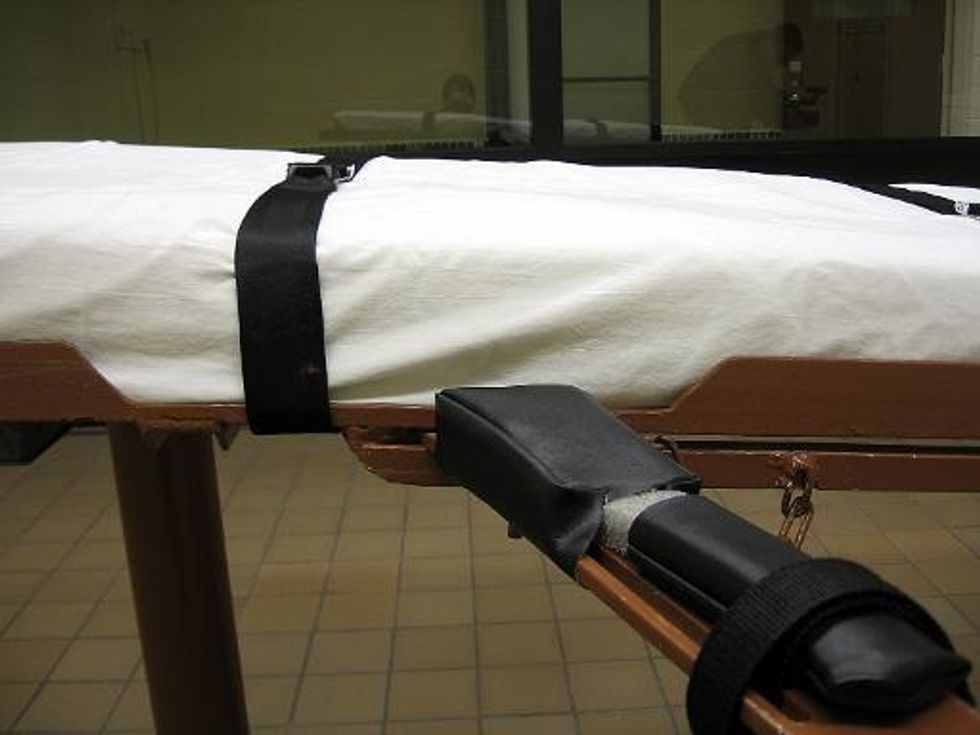 By Molly Hennessy-Fiske, Los Angeles Times
OKLAHOMA CITY — Oklahoma Gov. Mary Fallin promised an independent review of the state's execution protocols Wednesday after a bungled execution raised questions about the state's handling of capital punishment.
The Republican governor emphasized, however, that she has faith that state officials were legally correct in proceeding with the execution over the objections of defense lawyers.
"I believe the legal process worked," Fallin said, "I believe the death penalty is an appropriate response and punishment for those who commit heinous crimes."
Witnesses have said that convicted murderer Clayton Lockett began writhing and mumbling after prison officials administered the lethal injection Tuesday and also was twitching on the gurney. Officials said Lockett subsequently died of a heart attack.
A second execution had been scheduled for Tuesday, but Fallin postponed it for two weeks.
At a Wednesday briefing at the capitol, Fallin said she will postpone that execution again if the review by the state's public safety commissioner is not completed by then.
The review, she said, will focus on determining Lockett's cause of death and the procedures by which it was carried out, along with evaluating the state's execution standards.
She said the state medical examiner will authorize an independent pathologist to determine Lockett's cause of death.
"It will be the first step in evaluating our state's execution protocols," Fallin said.
Fallin declined to comment when asked whether she had in effect stayed executions indefinitely.
She also declined to react to a White House statement Wednesday saying Locket's execution fell short of humane standards.
Fallin had been an ardent supporter of Lockett's execution, promising to carry it out despite a stay from the state's Supreme Court.
Lockett, 38, was convicted of shooting a 19-year-old woman in 1999 and burying her alive. The inmate whose execution Fallon stayed, Charles Warner, 46, was convicted in the rape and murder of an 11-month-old girl in 1997.
Fallin detailed their crimes during Wednesday's briefing, and reiterated her belief that justice had been served.
She said Lockett "was convicted at trial by a jury of his peers" and "had his day in court."

"Charles Warner also had his day in court — he also committed a horrific crime," she said, "His fellow Oklahomans have sentenced him to death and we expect that sentence to be carried out."
The condemned men's lawyers had objected to the executions on the grounds that the state would not disclose the source of the drugs being used to carry them out.
Their appeal was supported by a state court in March, and created substantial controversy among Oklahoma's highest courts and elected officials.
Fallin defied the state Supreme Court's order for a delay. A legislator sought to impeach the justices. But the unusual double execution was eventually cleared to proceed.
Oklahoma is one of several states that have grappled with shortages of lethal injection drugs.
Drug companies, fearful of protests, have refused to supply some of the drugs. Some states have responded by switching drugs, then declining to release information about the new drugs and who had supplied them, citing concern for the welfare of suppliers.
Oklahoma officials have defended the drugs they use.
After Fallin spoke, Oklahoma state lawmakers outraged by the execution called a briefing at the Capitol with local NAACP and ACLU leaders. They planned to discuss a proposed joint resolution that would call for a yearlong moratorium on executions. A defense attorney was also expected to address the possibility of bringing a lawsuit against the state concerning its lethal injection methods and the drugs used.
AFP Photo/Caroline Groussain