Oklahoma Reserve Deputy Thought He Was Using A Taser, Not A Gun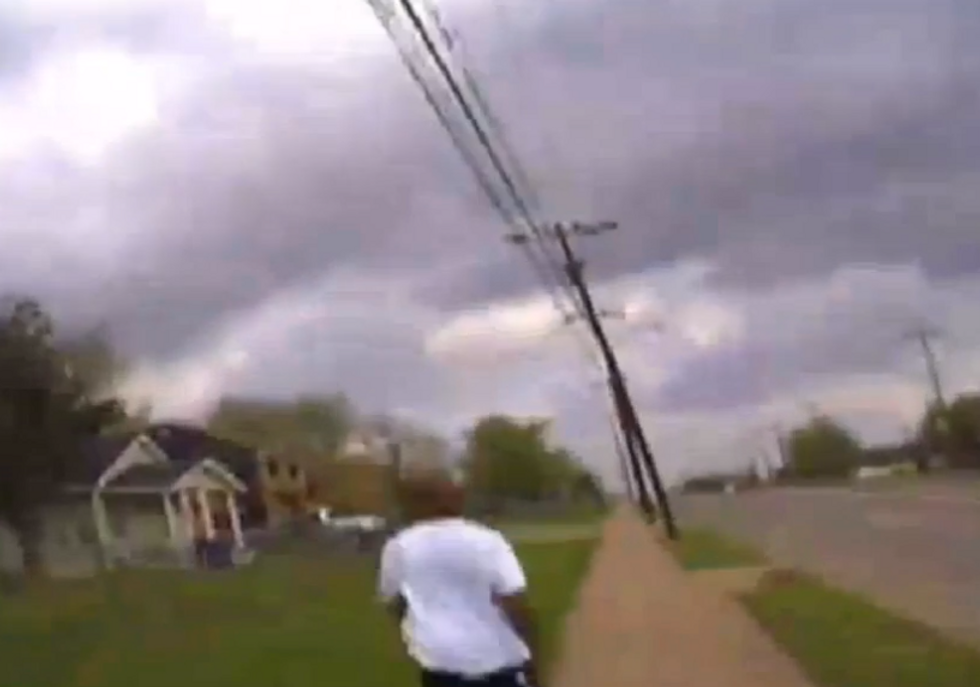 By Matt Pearce, Los Angeles Times (TNS)
A white reserve deputy accidentally shot an unarmed black man with a gun instead of a Taser, and Oklahoma law enforcement officials berated the man as he lay dying on the ground, according to body-camera footage released this weekend.
"Oh, God. Oh, he shot me; I didn't do shit!" the suspect, Eric Courtney Harris, can be heard saying as officers from the Tulsa County Sheriff's Office violent crimes task force surround him after a foot chase. "He shot me, man! Oh, my God."
"You didn't do shit? You didn't do shit? You hear me?" responds a man on the task force.
"I'm losing my breath," Harris says.
"Fuck your breath!" a man responds.
Harris died later at a hospital.
An investigator brought in by the Tulsa County Sheriff's Office said this weekend that the reserve deputy had committed no crime during the April 2 incident.
Robert Charles Bates, a 73-year-old insurance executive, has close political ties to the sheriff. Bates was chairman of Tulsa County Sheriff Stanley Glanz's successful 2012 re-election campaign and donated $2,500 to the effort, according to the Tulsa World. Bates won an award in 2011 as the top reserve deputy, the newspaper reported.
"It was me," Bates told the Tulsa World last week. "My attorney has advised me not to comment. As much as I would like to, I can't."
The case has been referred to the Tulsa County District Attorney's Office, which will decide whether to charge Bates.
Harris had a lengthy criminal background, including a 2013 felony conviction for assault on a law enforcement officer. He was targeted for arrest after selling drugs to an undercover officer and offering to sell guns, officials said.
Footage from an officer's body camera shows Harris running away from members of the task force shortly after they said Harris sold a gun to an undercover officer.
The video, released by the Tulsa County Sheriff's Office on Saturday, shows a deputy tackling Harris in the street.
Moments later, Bates, whom officials said was assisting the task force, shouts "Taser!" — but then fires a single gunshot instead, the video shows.
"I shot him; I'm sorry," says Bates, whose gun falls to the ground.
"Oh shit, man, he shot me!" Harris can be heard saying and then moaning as law enforcement officials surround him.
The video does not clearly show the faces of the officers surrounding him.
"You fucking ran!" one of the men shouts at Harris. "Shut the fuck up!"
The brief video doesn't show whether the officers provided first aid.
The sheriff's department defended Bates, the reserve deputy, at a Saturday news conference announcing that the findings of its investigation had been turned over to the district attorney.
Instead of handing off the investigation to a different agency, a Tulsa police sergeant was "brought on to do an independent evaluation of this situation and make an opinion for Sheriff Glanz" as a "private consultant," Tulsa County Sheriff's Maj. Shannon Clark told reporters.
Tulsa Police Sgt. Jim Clark defended the reserve deputy to reporters, declaring him blameless and quoting scientific theories such as "slips and capture" to explain how he could have confused a gun with a Taser.
"It is my opinion, after reviewing all the facts and circumstances of this case, the state's excusable homicide statute] was applicable in this incident," Clark said. "Reserve Deputy Bates did not commit a crime. Reserve Deputy Bates was a victim, a true victim, of 'slips and capture.' There's no other determination I could come to."
(c)2015 Los Angeles Times, Distributed by Tribune Content Agency, LLC
Image: Screenshot of footage from body camera, viaNY Daily News.