Oklahoma Senator Demands Spending Cuts In Exchange For Disaster Relief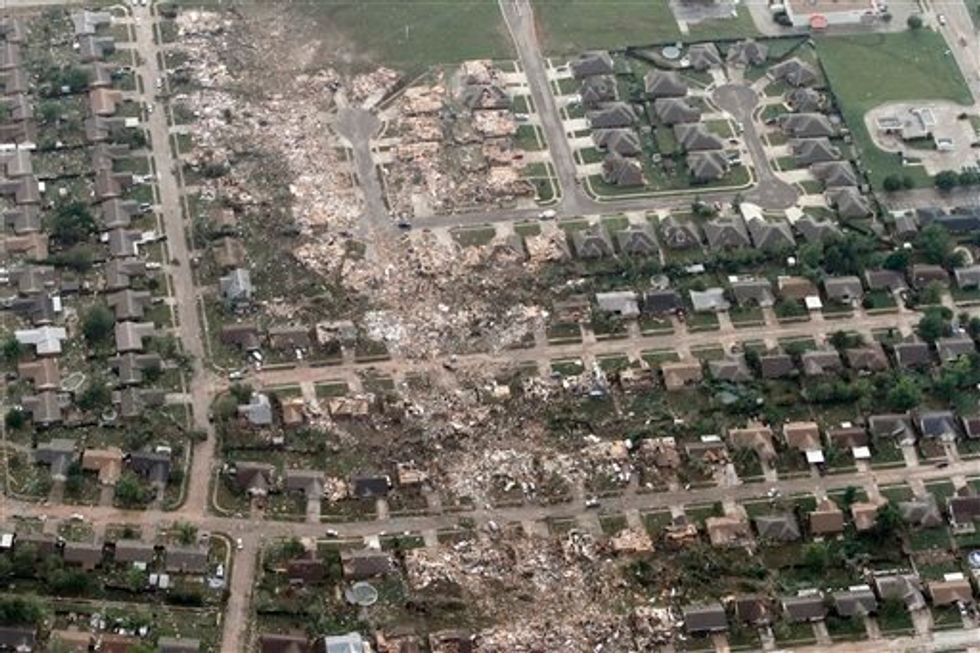 In the aftermath of the massive tornado that devastated Moore, Oklahoma on Monday, President Barack Obama vowed that "As a nation, our full focus is on the urgent work of rescue and the hard work of recovery and rebuilding that lies ahead," and told the victims, "You face a long road ahead, but you will not travel it alone. Your country will travel it with you."
Apparently that sentiment is not shared by Oklahoma senator Tom Coburn (R). Just hours after the storm hit, Senator Coburn told CQ Roll Call that he would not support providing disaster aid to his own constituents unless it is offset by other federal spending cuts.
"The tornado damage near Oklahoma City is still being assessed and the death toll is expected to rise, but already Sen. Tom Coburn (R-OK) says he will insist that any federal disaster aid be paid for with cuts elsewhere.

CQ Roll Call reporter Jennifer Scholtes wrote for CQ.com Monday evening that Coburn said he would 'absolutely' demand offsets for any federal aid that Congress provides.

Coburn added, Scholtes wrote, that it is too early to guess at a damage toll but that he knows for certain he will fight to make sure disaster funding that the federal government contributes is paid for. It's a position he has taken repeatedly during his career when Congress debates emergency funding for disaster aid."
On Tuesday, after Coburn's stance attracted widespread criticism from both his constituents and the media, the senator's office released a statement slamming those who charge that he is more concerned with ideology than he is with economic reality or the well-being of his constituents.
"It is crass for critics to play disaster aid politics when first responders are pulling victims from the rubble," the statement reads, ignoring the fact that Coburn himself barely waited before announcing his preemptive opposition to the still-undefined aid package.
"Dr. Coburn has opposed disaster aid bills in the past because he believes disaster funding should be used to pay for disasters, not a wish list of parochial or backlogged priorities that have nothing to do with helping victims," his office continued. "If an additional emergency aid package is necessary Dr. Coburn will not change his long-standing position on offsets."
Indeed, Senator Coburn — a licensed physician who earned the nickname "Dr. No" for his tendency to block bills with which he disagrees — has a long history of opposing federal aid without offsetting cuts. Coburn voted to slash funding for Hurricane Sandy victims in December, arguing that it contained too much "wasteful spending," and claimed in 2011 that funding FEMA without offsets would be "unconscionable." Both of these actions stood in contrast to the long, but apparently faded precedent of Congress providing swift aid to their fellow Americans. So Coburn's opposition to disaster relief for the Moore tornado is relatively consistent (although, as Think Progresspoints out, Coburn has occasionally supported federal spending without any conditions — including a vote for Hurricane Katrina aid).
Oklahoma's senior senator, Jim Inhofe (R), declined to endorse Coburn's position during a Tuesday morning appearance on MSNBC's Morning Joe. Inhofe, who called the Hurricane Sandy relief bill a "slush fund" before voting against it, insisted that the situation in Oklahoma is "totally different."
"Everyone was getting in and exploiting the tragedy that took place," Inhofe said of the Hurricane Sandy relief effort. "That won't happen in Oklahoma." Although he did not specify how he would keep others from "exploiting" disaster relief in the Sooner State, Inhofe's comments strongly suggest that his opposition to disaster relief ends at the Oklahoma border.
Happily for the citizens of Moore, their senators' controversial positions will not prevent victims from receiving some immediate help. White House Press Secretary Jay Carney said Tuesday that "right now, FEMA has sufficient resources" to respond to the disaster, and added that "the president has made clear that we will make sure Oklahoma has the resources that it needs, including the resources that have already been announced."
AP Photo/Steve Gooch