On Budget And Wall, Trump Demands Exasperate Senators
@alexvhenderson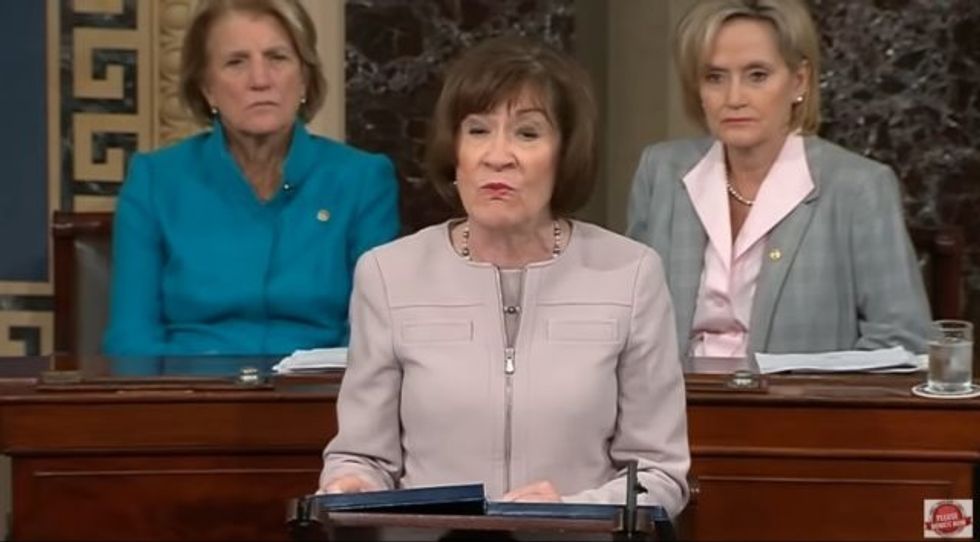 Reprinted with permission from AlterNet.
On Wednesday night, Republicans in the U.S. Senate—hoping to avoid a government shutdown—passed a spending bill that would fund the federal government through February 8, 2019. But the bill did not include the $5 billion for a U.S./Mexico border wall that President Donald Trump has been demanding—and the president is refusing to sign it. To further complicate matters, most senators have already left town for the holidays.
Today on Twitter, CNN's Manu Raju reported that when Sen. Susan Collins of Maine heard that Trump was refusing to sign a Senate bill that lacked funding for a border wall, she "almost dropped her handbag."
"Did he just say that?" Raju quoted Collins as saying. "Ugh, are you ruining my life?"
Republican Sen. Ron Johnson of Wisconsin told CNN that so many senators had left Washington, DC for the holidays that the nation's capital resembles a "ghost town." That means there may not even be enough senators to vote if Trump wants to force another piece of legislation through — which would be almost guaranteed to fail in any event.
Johnson expressed frustration with Trump's unwillingness to compromise on a border wall, asserting, "I'm not sure what leverage the president thinks he has at this moment. The way you create leverage is [you] keep this issue alive and keep arguing why we need to secure the border."
Meanwhile, Republicans in the House of Representatives have been discussing a possible spending bill of their own.
Via Twitter, MSNBC's Kasie Hunt (host of "Kasie DC") reported, "On the House floor, leaders scrambling to see if they can pass $5 billion in wall funding as Republicans say they want President Trump to tweet before they say 'yes.'"
Hunt added that "one GOP member of Congress" told her, "That's what the fuck serving in Congress has come to."
As difficult as it is for Trump to get funding for a border wall through Congress in the late 2018 lame duck session, it will become even more difficult in 2019—when Democrats, having achieved a net gain of 40 seats in the House—will have a majority in Congress' lower chamber.
Alex Henderson is a news writer at AlterNet and veteran political journalist. His work has also appeared in Salon, Raw Story, Truthdig, National Memo, Philadelphia Weekly, Democratic Underground, L.A. Weekly, MintPress News and many other publications. Follow him on Twitter @alexvhenderson.