One America Network's Shameful Last Days On National TV
@revrrlewis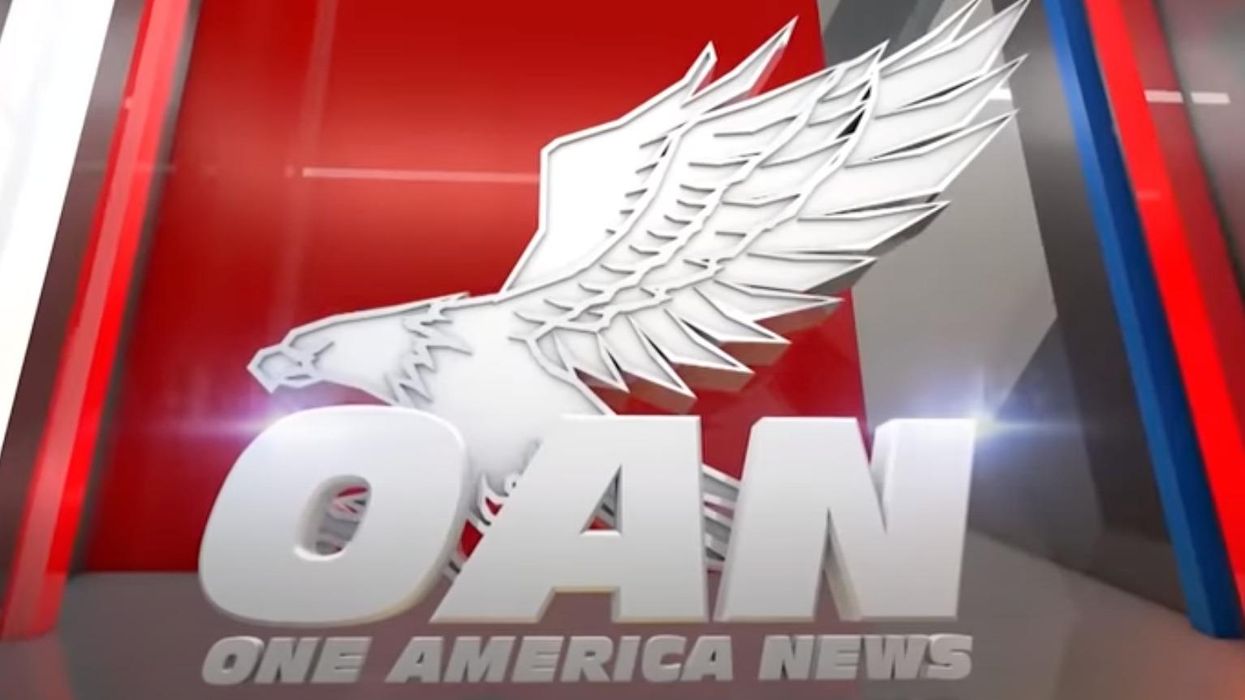 Youtube Screenshot
On July 21, Verizon followed in DirecTV's footsteps and announced it would not be renewing its contract with the far-right conspiracy theory network One America News. Having learned nothing from its catastrophic response to DirecTV, OAN denounced Verizon and encouraged viewers to harass and boycott the "radical Marxist corporation." And since then, OAN has only further proved its worthlessness.
Without a major carrier, OAN remains focused on national issues like a fear of roving transgender gangs harassing conservatives, Rep. Alexandria Ocasio-Cortez's support for gay men who flash "their genitals to little boys and girls" (she appeared on RuPaul's Drag Race -- a show with no children -- two years ago), and Verizon's "censorship" of OAN.
Before OAN was officially kicked off national television, however, the network spent its last week much like the years before, warning viewers of "Fauci-funded bioweapons" unleashed against the people, hand-wringing over billionaires "pushing the transgender issue," speculating about gay men with monkeypox sexually assaulting children, lamenting the need for a literal war against drug cartels, and discussing the left's grand plot to steal the 2022 midterms, beginning with the "Marxist censorship" of OAN and other right-wing voices.
Prior to the drop, Pearson Sharp, Infowars' favorite OAN correspondent, delivered one more report about the "predator class" using COVID-19 vaccines to "depopulate the world" by 15 percent.
"They want to kill off the useless people, as they call us," Sharp ominously said. "And you can already see it happening. … We know these vaccines are hardest on the elderly, so it makes perfect sense that the Bolsheviks in our government would want to wipe out as many retired Americans as possible. Can't pay Medicare and Medicaid and Social Security if people are dead, don't you know?"
"These Fauci-funded bioweapons," Sharp warned, "are products of a rogue globalist government that hates America and hates its citizens, and is doing everything in its power to wipe us out. This is corporate domestic bioterrorism, plain and simple," and "the predator class in Washington" which is "responsible for this genocide" must pay the price.

OAN's final days of national carriage also targeted LGBTQ people with bigoted nonsense. For making investments in transgender issues and "quote-unquote, 'gender care,'" Tipping Point host Kara McKinney labeled Democratic Illinois Gov. J.B. Pritzker and his cousin, Jennifer -- whom McKinney also deadnamed and misgendered -- "two prime examples of transhumanists trying to play God by reshaping the world through technology." McKinney said the Pritzkers are an example of billionaires who are " really pushing the transgender issue" alongside Big Pharma, which she said sees it as "another potential moneymaker" as "COVID starts to wind down at least somewhat."
Before inisting that he did not want to sound homophobic, Real America's Ball took news of multiple children testing positive for monkeypox as a potential sign that they had been sexually assaulted by gay men. "How does a kid in Washington, D.C., and a kid in California -- we're talking toddlers -- get monkeypox if it's barely ever transmitted through just touching the skin," Ball asked, exactly describing monkeypox transmission, "because otherwise, you know where I'm going with this."
Ball's guest, the anti-COVID-19 vaccine Dr. Brian Tyson, replied that he believed that both children "came from a gay relationship family, or had contact with somebody in the gay community, and I think that that's really where we're going with this." Speculating that one child may be undocumented, Tyson said, "Who knows what's happened to that kid. And we see bad things happen to kids all the time in those situations."
"That's what I'm saying. That's where I'm going with it," Ball replied, talking over Tyson's hedge that "it's a little too early to draw conclusions on that."
Speaking of Ball and children, the Real America host also spent part of his last week on national television encouraging parents to hit their children for misbehaving. After a guest blamed "psychotropic drugs" and other "externalities" for mass shootings, Ball suggested parents should ignore medical treatments for behavior problems and just hit them instead.
"We can't say enough about what we're doing to our children, folks. The next time you take your kid who you think's a little bit hyper, or a little bit despondent, or a little bit sidetracked in the classroom, don't feed him drugs." Ball continued, "I'm of a different age … and when they said, 'Dan's hyperactive. Dan won't sit still in class. Dan won't shut his mouth,' nobody said, 'Pump Dan full of drugs' 40 years ago when I was seven or eight. You know what they did? They cracked me one and then I got in line."

In its final days of national carriage, OAN also called for military action against drug cartels. With no concern for the possibility of starting a war with Mexico, or U.S. airstrikes on U.S. soil, host Addison Smith called for "using the unfathomable power and strength of our military to deal with Mexican drug cartels" and compared the would-be war to ongoing U.S. special operations and drone campaigns.
"The Mexican drug operation is one of, if not the, biggest threat to this nation right now," Smith warned. "If our United States military has a job to deal with any group, that should be target number one, and we could do it very easily." His guest, Rep. Pat Fallon (R-TX), agreed that the U.S. should "use every means necessary to secure our southern border, to protect the American people against the Mexican drug cartels."
OAN's final days on national television were a shameful mess of the vitriol and dangerous conspiracy theories it is known for, down to the network's explanation of why it was leaving Verizon. According to Sharp, "there's no chance in hell" Democrats will allow Republicans to win control of Congress in November, so they will cheat as they did in 2020, "and the process starts, of course with a massive, widespread, coordinated campaign of censorship," which naturally included DirecTV and Verizon dumping OAN.
"It's essentially institutionalized discrimination," Sharp complained as his network's time ran out. "It's appalling to think that the criminals in Washington are colluding with the criminals in the media to prevent you, the American people, from figuring out just how much of the Constitution they're willing to shred to stay in power."
Reprinted with permission from Media Matters.