Stop Mocking Trump's Rallies — And Start Imitating Them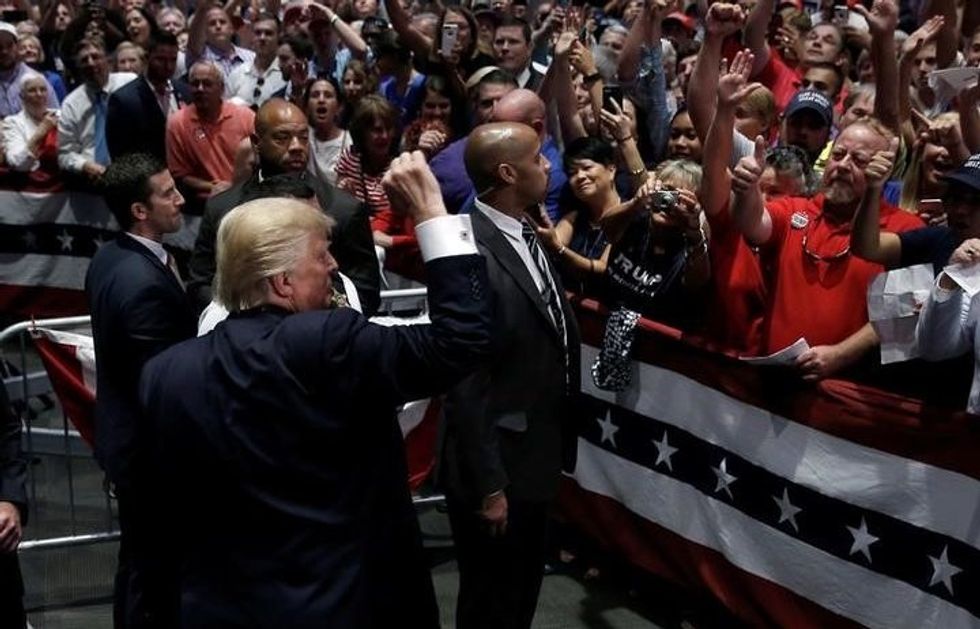 The cliche that remains to describe Donald Trump's presidential campaign is that it "broke all the rules." And it did, possibly even the "Logan Act."
A verbally incontinent, banally bigoted con artist proved that four decades of fame, a Twitter account, and a Republican Party in moral foreclosure (with lots of help from foreign hackers and a compromised FBI Director) was just enough to eke out a "victory" and become a minority president, despite losing the popular vote by a margin larger than the population of 15 of our states… and counting.
Most of Trump's sordid campaign — its know-nothingness, its scapegoating, and its middle-school-style smearing of opponents — might leave you with the impression that there's nothing to learn from his contemptible act. But then you, like me and nearly every human being who made any sort of prediction in 2016, would be wrong.
His fact-free framing and shameless repetition of simple themes were tactics that Democrats will have to counter. And his campaign also achieved another breakthrough that can't be ignored.
"Over 3,000,000 confirmed tickets were issued for @realDonaldTrump rallies," Brad Parscale, Digital Director for the Donald J. Trump presidential campaign, tweeted late last month.
Trump's rallies often seemed like commercials from an anti-Trump campaign. They were rabid, unruly, and centered on slogans designed to alienate specific voters. You could almost smell them through the TV. The idea that his rallies substituted for the granular, targeted campaign the Clinton campaign was running seemed mockable.
But, in the end, they worked. You could even argue that they were key.
"When you really drill down on this election, if you change the vote in five counties, four in Florida, one in Michigan, we'd be having a totally opposite conversation right now," Trump campaign pollster Tony Fabrizio said last week. "For all the money that was spent, for the all the effort that was made, literally four counties in Florida, one county in Michigan puts us at 261 [electoral] votes and makes Hillary Clinton the president. So, remember that."
President Obama won Macomb County in 2008 and 2012. Trump carried it by 50,000 votes and won the state of Michigan by just about 10,000.  The GOP nominee visited the Mitten, which Democrats have won in every presidential election since 1992, more than half a dozen times. One of his last rallies of the campaign was in Macomb. Showing up helped, but it wasn't enough.
Don't think of Trump's rallies as normal political events. They were more like Internet comment sections come to life.
Over the last two decades, online comments and forums have provided a safe space for all sorts of dialogue — though they tend to quickly descend into name-calling, racism, sexism, and someone typing "black-on-black crime" statistics in ALL CAPS. This online underbelly prospered even as America became more tolerant of the LGBTQ community and elected a black president twice, while "political correctness" was said to be spreading rampantly, threatening individuality, free speech, and Christmas.
Apparently, being allowed to be purposely offensive on millions of web pages wasn't enough.
White dudes and their wives wanted to wear "Fuck Your Feelings" and "Trump That Bitch" shirts in public as they screamed in the faces of the lame-stream media that covered up ACORN and invented climate change. Trump's rallies gave them a chance to do that.
That kind of behavior is easy to mock. I just did it! But Trump's rallies also represented something bigger for Americans who felt alienated from an electorate that sent Obama to the White House twice — a chance to participate in the process without being bored as hell.
Bill Mitchell was a generic local conservative radio star host until he became the official spokesman for the blind optimism of Trump true believers, which never faded even as Trump trailed in the polls and the models of the polls and the models of the models of the polls; basically, until Election Day. Mitchell was widely ridiculed for tweeting that Trump's ground game was "in our hearts."
Turns out that it was — and also in their Facebook feeds and in the evangelical spirit fed by Trump's rallies. Of course, that ground game was actually quietly supported by an improved RNC vote-pulling effort. And the Koch network's shadow party efforts to re-elect Republican Senators in Pennsylvania and Wisconsin may have swayed the presidential election, too. (Someone should really look into this!)
But for Trump voters, his rallies were a form of democracy that could grab your heart and make you feel that you were part of something important. And while the Clinton campaign countered with their own rallies boosted by extraordinary star power, they lacked the bandwagon effect achieved by Trump, as her campaign focused on the high-tech tools and TV ads that helped elect our current president twice.
In their podcast Keepin' It 1600 last week, former Obama chief speechwriter Jon Favreau and senior advisor Dan Pfeiffer argued that the next generation of Democratic leaders need to persuade and reach voters in a much more direct — almost Trumpian — style.
Talking like a cab driver actually takes a lot of practice.
Democrats need their own counter-programming to Trump's rallies, which he has promised to keep doing in order to avoid reading briefing books and being near Mike Pence throughout his presidency.
Building up a circuit of progressive speakers who hone and craft their message directly to voters would force Democrats to match their message to the mood and needs of the people who will become the next generation of activists. It could bring the Democratic message back to places like Macomb that Democrats need to win in 2020. And most importantly it will serve as a visible reminder that the left will not let Trump destroy American norms and values as president without putting up a helluva fight.
Call it the 50-state Moral Mondays movement that many, including The Nation's Ari Berman, have been calling for. Call it an American Majority movement that won't let Trump forget that he's the biggest "loser" ever elected president. Just do it.