Only Scant Majority Of White Voters Pleased By Trump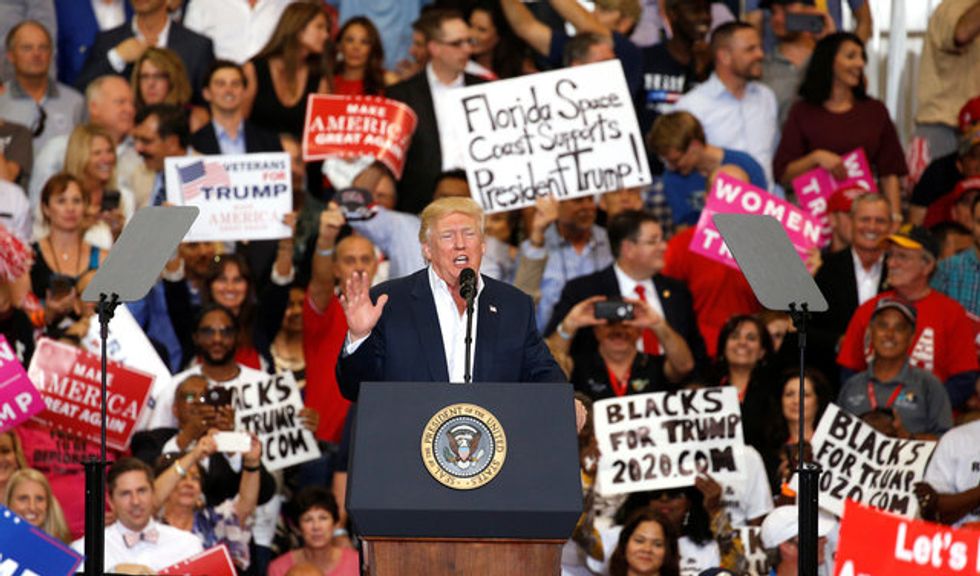 Reprinted with permission from Alternet.
White Americans remain the only major demographic group in which the percentage of people who think Donald Trump is doing a good job outpaces the number who think he's doing poorly.
That finding comes from Pew Research Center, which polled more than 2,500 adults around the U.S. between June 8-18. While African Americans and Latinos overwhelmingly gave the president's performance a thumbs-down, 50 percent of white respondents report feeling good about Trump's presidency. Just 44 percent think that Trump deserves a poor performance review.
Contrast that with people of color who responded to the survey. A staggering 88 percent of black Americans say they disapprove of the Trump administration, while 72 percent of Hispanics are similarly dismayed with the president. That means 12 percent of African Americans and 28 percent of Hispanics believe Trump's pros outweigh his cons, figures that seem extraordinarily high considering the evidence.
The findings of the Pew survey reveal that Trump's historically low approval numbers have reached their current depths—just 39 percent of Americans overall applaud the job he's doing—because of voiced dissatisfaction from nonwhites. Despite signing no significant legislation since he took office, spending an extraordinary amount of time golfing, and mounting evidence that he and his team may have colluded with a hostile foreign power, white Americans haven't yet hit a tipping point of majority outrage.
Trump ran on a campaign of racism and xenophobia. Hate crimes against racial and religious minorities, including bias-motivated murders, have increased precipitously under this administration. A recent data analysis by Buzzfeed News found over "50 incidents, across 26 states, in which a K-12 student invoked Trump's name or message in an apparent effort to harass a classmate during the past school year." The president has been eerily silent about nearly all of these violent incidents, though he has taken to Twitter to complain to his 32 million followers (nearly half of which are fake accounts) about factual media coverage of his policies, as well as to promote television appearances by his surrogates.
Kali Holloway is a senior writer and the associate editor of media and culture at AlterNet.
This article was made possible by the readers and supporters of AlterNet.