An Open Letter Of Thanks To Trump Voters From The Billionaires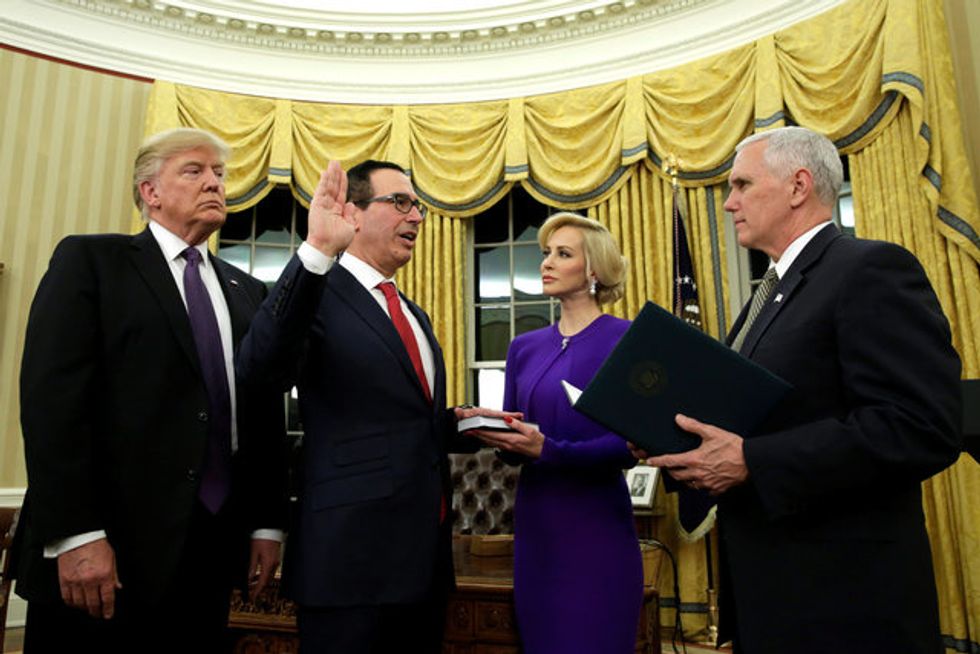 Dear Joe,
Sorry, if your name isn't actually Joe, Joe. But that's what we call anyone who isn't in the top 1 percent. "Joe the Plumber" liked it so much that he still lets us call him that, even though his first name is Samuel. "Samuel the Plumber" sounds like a character from kids' book about a precocious yet handy mouse. Joe got that. He's a good Joe and so are you, Joe.
Anyway, we just wanted to say a quick thanks for voting for Donald Trump without paying nearly any attention to what his actual policies would be. It's the least we can do, given that you've already done so much for us.
Whether we enjoy restoring natural coal-flavoring to river water or seeing the cabinet stocked with our fellow billionaires and buddies from Goldman Sachs, it's the little things — like being allowed to destroy the climate so we can be a tiny bit richer — that we appreciate so very much.
We get it, Trump voters. It's not easy to be a minority, as our housekeepers might insist if we let them learn English. But you approximately 70,000 voters in Wisconsin, Pennsylvania and Michigan deserve a big thanks and a tiny tax break that will ultimately make sure you never get to retire.
Well played, as our caddies say, each and every hole.
Now we have to make a confession, even though confession is a tool we generally use to keep the powerless indebted to us: We didn't think you'd actually do it.
We knew the problem with Romney was that he was too poor, too nice to Mexicans and actually paid some taxes? Mitt got crap for his binders full of women, so we never imagined that the solution was nominate a beauty pageant owner known for "wandering" in on Miss Teen USA contestants while they were changing.
As our new Secretary of Energy Rick Perry would say, "Oops."
We spent decades and hundreds of millions of dollars spreading the idea that rich people are geniuses who if left unmolested would make you a working-class millionaire or at least protect you from the government, which only cares about helping "them." But we thought we needed a smiling Reagan or a cuddle-bug Rubio who didn't inherit his life or brag about grabbing women in their baby spot to pull it off.
You may know that Trump never quite fit in with us billionaires. He always stood out like a sore thumb, which is the name of the toner he uses to get that unusual skin color. But we didn't think that his penchant for stiffing contractors and workers, and trading in a wife each decade, as if there were some sort of lease, would make him more relatable to you.
We honestly thought that Trump's dependence on government bailouts, and his refusal to pay taxes or veterans' charities, would end up costing us the House. Little did we know that if we put a rich guy at a board-room-table TV set, and let him fire Flavor Flav, he would look like a genius, at least compared to Mike Pence.
Now look what we have: a delicious tax break for us, dressed up as a health care reform plan. We billionaires in the richest/best 400 families get a $7 million a year tax break. You? You get a chance to pay more for worse health insurance!
We admire your willingness to sacrifice so that our service animals never have to worry about flying anything but private.
Trump and the GOP figured out that the reason you hate the individual mandate is that the tax penalty goes to the government and too few people pay it. So very soon 30 million Americans will be able to pay a mandate penalty directly to the insurance companies (which will make us richer, too).
And that's not all!
AARP estimates that a 64-year-old who makes $15,000 a year could see an $8,400 hike in premiums, before you add in copays. That and a chance to deport immigrants who want to pay taxes, and ban Muslims who want to flee ISIS,  is what your generation gets for backing Trump by a nine percent margin!
Your generosity toward us, the billionaires who need it least, will not be forgotten. In fact, we're going to put a fair share of this tax break and the other tax breaks Trump is planning for us right back into the system. We're going to invest in elections in all 50 states until we've made it so hard to vote that only seniors — the good kind with IDs — who have all day to wait in line (and people with limo drivers to hold their place) can do it.
Then as we're gutting Medicaid and later Medicare, we're going to show our appreciation by not laying a finger on Social Security, until Trump's second term or late in his first — depending how this Russia stuff pans out.
You believed in Trump, despite his willingness to lie about his crowd size, his anatomy, and anything else that could possibly be considered phallic. So now we know that anything is possible.
You thought Mexico was going to pay for the wall? Uh, no.
You thought Trump would punish China? Instead he's opening the door for it to dominate the Western hemisphere.
You thought he cared about you? Well, he could! Just pay Mar-A-Lago's $200,000 annual membership fee.
So thanks again, Joe. If there's ever anything we billionaires can do for you, please don't hesitate to let Donald Trump know about it. Surely, he'll get to it after he releases his tax returns and finishes suing the women who accused him of sexual assault.
Hearts,
The Real Billionaires
IMAGE: President Donald Trump (L) watches as Vice President Mike Pence (R) swears in Steve Mnuchin as Treasury Secretary in the Oval Office, February 13, 2017. REUTERS/Yuri Gripas