Optimism But No Deal In U.S. Fiscal Showdown
@AFP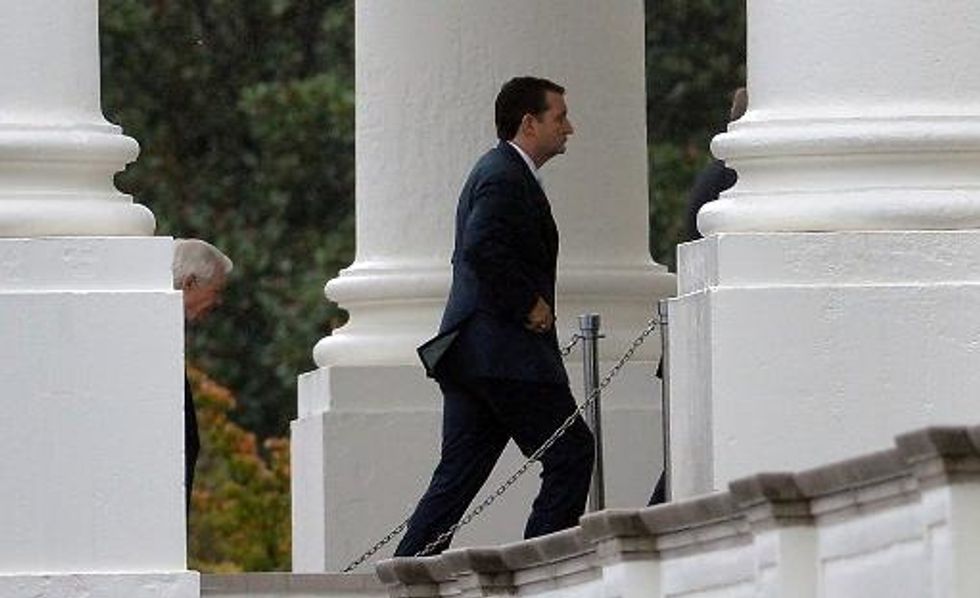 Washington (AFP) – President Barack Obama met Republican senators Friday to kick around ideas for ending Washington's fiscal showdown, but a deal to stave off default or reopen the U.S. government remained elusive.
Lawmakers expressed optimism that, while the mechanics of a solution are unclear, both sides are committed to act, just six days before the deadline for Congress to increase U.S. borrowing authority.
Talks were also taking place between Obama's top aides and House Republican leaders on a temporary truce which would hike the debt ceiling for six weeks, and on the president's demand for an end to a partial government shutdown.
Republicans from the lower house have offered to talk to Obama about a short-term resolution to fund the government, and then to move to long term budget and fiscal talks.
But the president insists he will not negotiate until both the $16.7 trillion debt ceiling is raised and the government, partially shuttered on October 1 when Congress failed to provide an operating budget, is reopened.
A plan advanced by Republican Senator Susan Collins would raise the borrowing authority for a longer period, fund the government and repeal a tax on medical devices introduced under Obama's health care law — as an incentive to get conservative Republicans on board.
With negotiations ongoing, the White House is yet to definitively weigh in on either plan, other than to restate Obama's core position.
Republican senators emerged from the White House talks into a rainstorm, and told reporters they were optimistic.
Arizona Senator Jeff Flake said there had been a "good talk" but no deal was reached.
Republican Senator Lindsey Graham said he was "confident that in the next 24 to 48 hours the House will produce a continuing resolution that will allow the government to be open in total."
Senator Mike Johanns added: "everybody is talking to everybody now, and I'm encouraged by that."
The intensifying contact reflected the proximity of the October 17 deadline, moves by both sides to find a face-saving exit strategy, and new polls showing the Republicans' image taking a battering.
But Senate Majority Leader Harry Reid signaled that Democrats were driving a hard bargain.
He suggested holding out for a debt ceiling hike for more than six weeks, to avoid a similar round of brinkmanship in the run-up to the Thanksgiving and Christmas holiday period — the peak spending period for many consumers.
"We do not believe a six-week delay of a catastrophic default is enough to give the economy the confidence it needs to continue growing and recovering," said Reid.
The Senate will on Saturday vote on a 15-month extension of the debt ceiling, to take the issue off the table until after the mid-term congressional elections next year.
While the measure is unlikely to become law because it needs House support, it could provide a template for an eventual solution in the event of a longer term fiscal deal between Obama and Republicans.
Hopes for a deal spurred a rally in Asian stocks overnight and Wall Street followed the trend into positive territory in early trade.
The Dow Jones Industrial Average was up 0.5 percent or 82 points to 15207.98 in mid afternoon trade.
If the U.S. debt ceiling is not raised by October 17, the Treasury would run out of money and could begin defaulting on U.S. obligations for the first time in history, with likely dire consequences for the world economy.
New signs of Republican flexibility may have been spurred by devastating polling numbers showing their party brand badly hurt by the political showdown.
An NBC News/Wall Street Journal poll showed 53 percent of those asked blamed Republicans for the government shutdown and only 31 percent pinned the blame on Obama.
Some 70 percent of those polled blamed Republicans for putting their political agenda before what was good for the country, compared to 51 percent who said the same of Obama.
Top Republican Paul Ryan, a hero to conservatives, made the case to for compromise to social conservatives wary of any climb down to a president they despise.
"It's been slow going. But I want to make the most of this moment. We have an opportunity here to pay down our national debt and jump start our economy," Ryan told a Values Voters Summit in Washington.
"You know, divided government, it's frustrating. But our country is worth the effort. We have to find a way to make it work."
Top finance officials from China, Europe and Latin America have joined International Monetary Fund Managing Director Christine Lagarde and World Bank President Jim Yong Kim in warning of a potential catastrophe if Washington is forced to slash spending or default on its debt.
G20 finance minister meeting in Washington demanded urgent action.
"The U.S. needs to take urgent action to address short-term fiscal uncertainties," the group of leading economies said in a statement.
Gang Yi, deputy governor of China's Central Bank warned that Washington should have the "wisdom" to overcome the gridlock as soon as possible.
AFP Photo/Jewel Samad