Oscar Pistorius Convicted Of Negligent Killing, Could Face Jail Time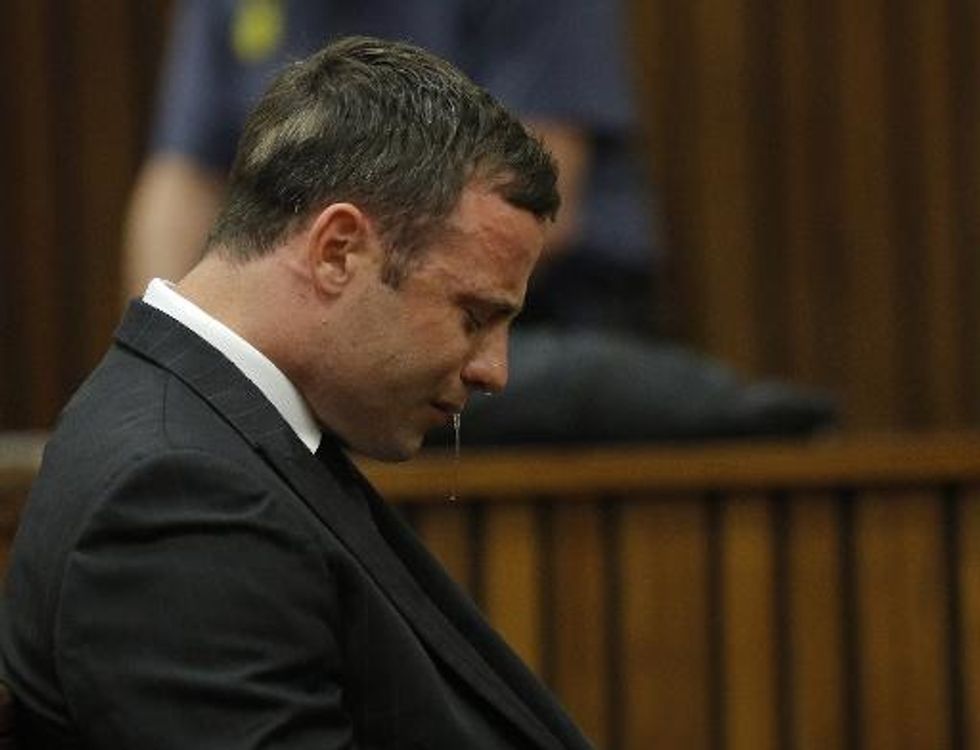 By Robyn Dixon, Los Angeles Times
PRETORIA, South Africa — South African Olympian Oscar Pistorius, who was cleared of murder in the killing of his girlfriend, was convicted Friday on the lesser charge of culpable homicide.
Judge Thokozile Masipa accepted the athlete's defense that he mistook Reeva Steenkamp for an intruder. But she found that he was negligent when he fired four shots into the door of a toilet cubicle where the 29-year-old model had locked herself in the early hours of Valentine's Day last year.
The judge asked Pistorius to stand to hear the verdict.
"The accused is found not guilty and discharged," she said of the murder charges. "Instead he is found guilty of culpable homicide."
Pistorius, who repeatedly broke down in tears during months of testimony, stood straight, staring ahead without showing any emotion.
Prosecutors had contended that Pistorius, 27, wanted to kill Steenkamp after they had an argument. South Africa's National Prosecuting Authority expressed its disappointment over the verdict and said it would make a decision about whether to appeal after sentencing.
Pistorius could face significant prison time — or none at all — depending on how reckless he was in the judge's view. A sentencing hearing is scheduled Oct. 13, when the defense and prosecution will make submissions to the court.
Pistorius, a double amputee, won fame and adulation for running in the 2012 Olympic Games in London on prosthetic legs, attracting sponsorships worth millions of dollars. Sponsors abruptly dropped him after the murder charges, and he appeared to lose public support after his poor performance on the witness stand.
His acquittal on the murder charges raises the possibility that he might resume a sporting career. But the emotional frailty he showed throughout the trial, weeping frequently and vomiting on hearing descriptions of Steenkamp's wounds, may have irreparably damaged the Pistorius brand that sponsors once clamored for.
Although Masipa concluded there was insufficient evidence to convict the athlete of murder, she found him guilty of a negligent, although unintentional killing, known in South Africa as culpable homicide.
"The conduct of the accused shortly after the incident is inconsistent with the conduct of someone who intended to commit murder," Masipa said.
Pistorius shouted for help, called an ambulance and security, tried to save Steenkamp's life, and prayed to God to save her.
"From the above it cannot be said that the accused did not entertain a genuine belief that there was an intruder in the bathroom who posed a direct threat to his life," Masipa said.
She also said there was no evidence that Pistorius foresaw the consequences of firing four bullets into the cubicle.
Prosecutor Gerrie Nel asked Masipa not to extend the athlete's bail because of the serious nature of the conviction. He noted that Pistorius was involved in "an incident" at a nightclub in July. He also argued that Pistorius was a flight risk, saying he had sold his two last properties, and that there was nothing to keep him in South Africa.
Defense lawyer Barry Roux conceded that Pistorius should not have been at the nightclub and knew that appearing in public "invites problems." But he said Pistorius sold the property to cover his legal costs and that that move showed his respect for the legal system.
Masipa was not persuaded by Nel's argument. Pistorius remained free on bail.
Masipa began Friday by acquitting Pistorius of an unrelated charge of recklessly firing a weapon out of the sunroof of a car. She said the prosecution witnesses, both former friends of Pistorius, contradicted each other and that one of them was dishonest.
The judge also acquitted Pistorius on a charge of illegal possession of ammunition.
However, Masipa convicted Pistorius of recklessly discharging a firearm in a public place, in connection with an incident at a crowded restaurant north of Johannesburg called Tashas. Pistorius said the gun went off in his hands. The judge said he should not have asked to handle a gun in a crowded place, and she accepted the evidence of witnesses that he was warned that the weapon was loaded.
Many South Africans were surprised that the judge, though she found that Pistorius was dishonest when he repeatedly insisted that he never intended to fire the fatal shots, still acquitted him of murder. Some legal analysts suggested that Masipa had made a mistake that could provide a basis for an appeal.
But Masipa cited a legal precedent cautioning a judge against a guilty conviction just because an accused person lied under oath.
After the court recessed for a short break Friday, Pistorius remained in his place for a few minutes, then stood up, alone, fiddling with notes, still showing no emotion. His sister, Aimee Pistorius, was the first to approach and comfort him. Other family members stood in their places, as though still digesting the news of Pistorius' conviction.
His uncle, Arnold Pistorius, turned to journalists, saying the damage done to the athlete by the trial was "tragic" and could never be rectified.
Later, he delivered a brief statement to reporters expressing the family's gratitude to the judge for acquitting Pistorius of murder and saying a huge burden had been lifted.
With his wife, Lois, beside him, he said the family never doubted his nephew's account. He added that they were deeply affected by Steenkamp's death and said their hearts went out to her family, friends and supporters.
The Steenkamp family sat talking quietly among themselves.
AFP Photo/Kim Ludbrook
Interested in world news? Sign up for our daily email newsletter!