Oscar Pistorius Defense Team Rests Case In Athlete's Murder Trial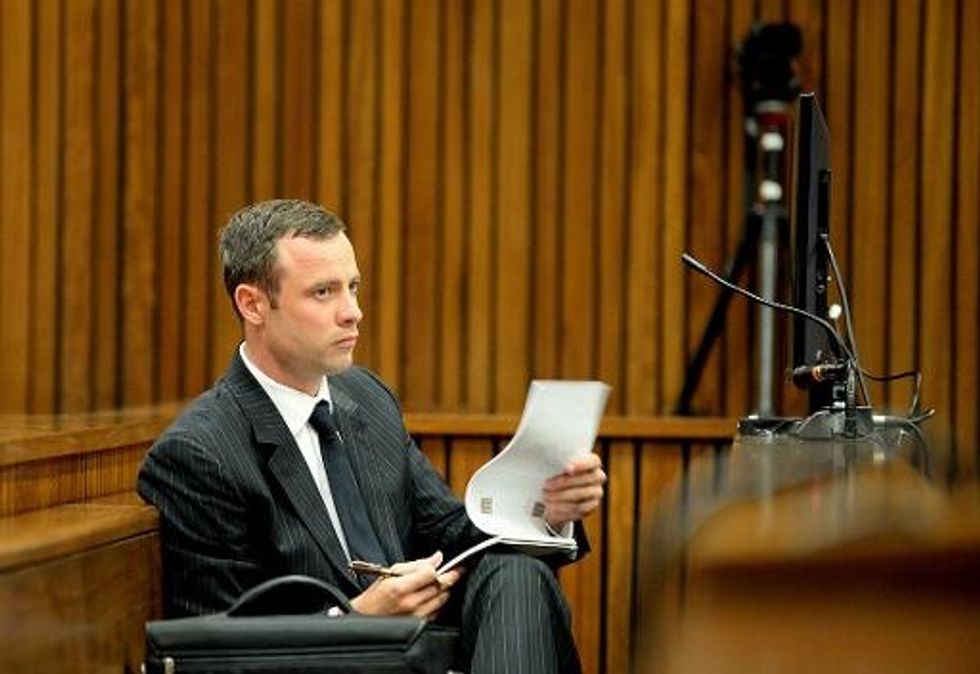 By Robyn Dixon, Los Angeles Times
PRETORIA, South Africa — The defense team for Olympic sprinter Oscar Pistorius closed its case Tuesday in the murder trial of his girlfriend model Reeva Steenkamp, sending the trial into a new phase and ending months of emotionally wrenching cross-examination.
The court was adjourned to allow both sides to prepare written legal arguments based on the thousands of pages of testimony in the trial that has enthralled South Africans, who've witnessed Pistorius, once a national hero, at times weeping and retching over gruesome details of Steenkamp's shooting death.
Pistorius, the double amputee athlete known as the Blade Runner because of the carbon fiber blades he wore to compete, shot to international fame as the first disabled athlete to compete in the London Olympics in 2012.
His golden future was shattered when he was charged with murder for shooting Steenkamp at his house in the early hours of Valentine's Day last year. A psychologist's report to the court last week said Pistorius is depressed, has a sleep disorder, and is suffering from post-traumatic stress.
Steenkamp was locked inside a toilet cubicle off his bathroom when he shot her. Prosecutors allege he murdered her after a lover's quarrel, but Pistorius insists he heard a noise and mistook her for a burglar when he fired four shots toward the bathroom. Four Black Talon-style expanding bullets, designed to exact maximum tissue damage, went through the door. Three hit Steenkamp, killing her within minutes.
Pistorious also faces three charges related to illegal handling of guns and ammunition.
On bail, he has been out of competition and has rarely been seen exercising or going out in public.
Pistorius' advocate Barry Roux told Pretoria's High Court on Tuesday that the televised broadcast of the trial had caused witnesses favorable to Pistorius' case to decline to testify on the athlete's behalf.
The defense advocate acknowledged that he could have asked Judge Thokozile Masipa to subpoena the witnesses but told the court that he chose not to.
The case was broadcast live, but witnesses who did not want their faces shown were not shown on television. Even so, the aggressive cross-examination style of prosecutor Gerrie Nel, who shredded some star defense witnesses, was on display for South Africans who got an intimate picture of the workings of their legal system.
During his cross-examination of Pistorius, Nel accused the athlete of using emotional outbursts during questioning to cover up moments when he felt under pressure.
Roux also put state witnesses under intense scrutiny, including Pistorius' neighbors who claimed they heard a woman screaming the night of the killing.
The prosecution now has until July 30 to submit its written legal arguments. The defense must submit its arguments by Aug. 4. The court will resume on Aug. 7 for both sides to present closing oral arguments to the court.
Masipa granted the prosecution's request to ban publication of leaked details of the arguments before the trial reconvenes in court.
Pistorius faces life in jail if convicted of murder. If convicted of culpable homicide, the penalty is up to the discretion of the court, depending how reckless his actions are deemed to have been.
AFP Photo/Bongiwe Mchunu
Interested in world news? Sign up for our daily email newsletter!