Oscar Predictions: Will The Weepies Win?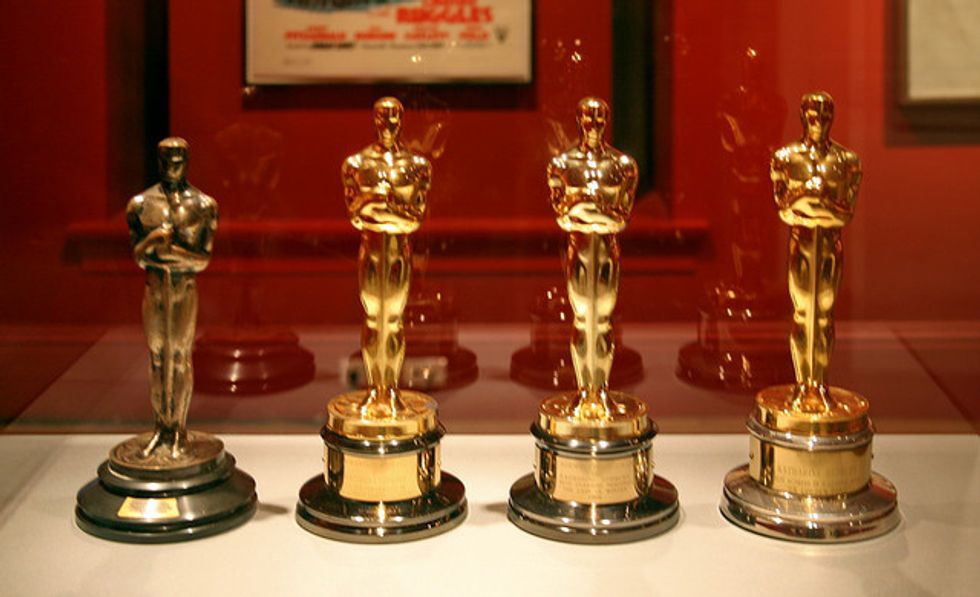 By Moira Macdonald, The Seattle Times
It's Oscar time. Got your handkerchief out?
It's long been an accepted bit of Oscar wisdom that weepy movies win. That is, dramas prevail over comedies and sad performances win out over cheery ones. (Cheery ones, in fact, rarely get nominated; just look at this year's list of nominated acting roles and see if you find any happy, well-adjusted people.)
Like most bits of Oscar wisdom, this one is mostly if not entirely true. (One word: Titanic.) So, in the spirit of the occasion, we've laid out a helpful Oscar sob-o-meter, by whose standards the big winners Sunday night should be 12 Years a Slave, Philomena, Dallas Buyers Club and Gravity. All winners those categories should plan on choking up at least once during their acceptance speeches, in tribute.
The Oscar broadcast, with host Ellen DeGeneres (not somebody we normally associate with weeping, but somebody's got to offset all that drama), gets under way at 8:30 p.m. EST Sunday. Here's a look at how the major categories might unfold.
Best picture
12 Years a Slave looked like a lock for this award before it was even released: a Big, Historical epic, based on a True Story, about an Important Issue. That it happens to be a masterfully made, wrenching film seems to turn the key — or does it? It seems certain that the Big Two awards (best picture, best director) are down to a Big Three: 12 Years, Gravity and American Hustle, and many are calling for a picture/ director split. I'm thinking 12 Years takes the top prize, but I wouldn't be shocked to hear either of the other two titles. The other six films in the category? Congratulations, and no way.
Prediction: 12 Years a Slave
My vote: Gravity
Wish you were here: Much Ado About Nothing
Best director
I've never quite understood how the best-directed picture might not be the best picture, but so be it. Things were split last year (Ben Affleck, director of the best picture winner Argo, wasn't even nominated for director), and they might well be this year, with Oscar voters recognizing the amazing technical — and soulful — achievement of Alfonso Cuaron in Gravity. Of course, Steve McQueen is out in front too, for 12 Years a Slave, and David O. Russell's coming off a stunning three-movie run (American Hustle, Silver Linings Playbook and The Fighter, all in the space of four years). Less likely are frequent nominees Alexander Payne (Nebraska) and Martin Scorsese (The Wolf of Wall Street); it's not their year.
Prediction: Alfonso Cuaron
My vote: Cuaron
Wish you were here: Stephen Frears, Philomena
Best actor
It appears that the Great Career Revitalization of Matthew McConaughey will be completed by a win in this category, and certainly his performance in Dallas Buyers Club has Oscar written all over it (true story, dramatic physical transformation, character who becomes a better person in adversity) — and is pretty terrific to boot. But don't rule out a sentimental vote for Bruce Dern (Nebraska), who's been campaigning hard this season, or for voters to note the emotional power of Chiwetel Ejiofor's performance in 12 Years a Slave. Also nominated, and likely to stay in their seats: Christian Bale (American Hustle) and Leonardo DiCaprio (The Wolf of Wall Street).
Prediction: Matthew McConaughey
My vote: Chiwetel Ejiofor
Wish you were here: Tom Hanks, Captain Phillips
Best actress
This is a powerhouse category: The five nominees have 38 Oscar nominations among them; nearly half (18) belonging to Meryl Streep. She won't win — her August: Osage County performance felt over-the-top even by Oscar standards, and this race has been dominated by Cate Blanchett ever since Blue Jasmine came out last summer. Blanchett's never won Best Actress (her win for The Aviator a decade ago was in the supporting category), and her performance in Blue Jasmine is a gem, in a career full of them. Possible competition: the well-liked Sandra Bullock, who was the gentle soul of Gravity; a late-career win for Judi Dench, for Philomena; or an Oscar for the only woman in this category who's never won one before — five-time nominee Amy Adams (American Hustle).
Prediction: Cate Blanchett
My vote: Blanchett
Wish you were here: Emma Thompson, Saving Mr. Banks
Best actor in a supporting role
Interesting crowd here: all young (Jared Leto is the oldest, at 42 — and who would have ever seen Leto as an elder statesman?), no previous Oscar winners, three first-time nominees (Leto, Michael Fassbender, Barkhad Abdi). Leto, who won the SAG supporting actor award, would seem to have the momentum; but don't rule out Abdi, who just won a surprise BAFTA and has an endearing backstory (when cast in Captain Phillips, he was working as a limo driver and had never acted before). Jonah Hill might be the best chance The Wolf of Wall Street has at an Oscar, but he's still a longshot here; Fassbender and Cooper will have Oscars in their future, but likely not this year.
Prediction: Jared Leto
My vote: Michael Fassbender
Wish you were here, in every way: James Gandolfini, Enough Said
Best actress in a supporting role
Here's who's not going to win this category: Julia Roberts, whose movie (August: Osage County) doesn't have enough support, and Sally Hawkins (Blue Jasmine), whose fine work is nonetheless overshadowed by Blanchett. Then it gets interesting. Will voters go for the familiar — i.e., Jennifer Lawrence, who won an Oscar last year and who's hilarious in American Hustle? The new — i.e., Lupita Nyong'o, heartbreaking in 12 Years a Slave? Or the sentimental vote — i.e., 84-year-old June Squibb, enjoying her first Oscar nomination for Nebraska? I'm thinking it's a dead heat between Lawrence and Nyong'o, with the latter eking out the win.
Prediction: Lupita Nyong'o
My vote: How on earth do you compare these two performances? I say a Jennifer Lawrence / Nyong'o tie.
Wish you were here: Octavia Spencer, Fruitvale Station
Photo: Cliff via Flickr