Out Of Control and Fact-Free, Rove Gang Snarls Over Bryson Accident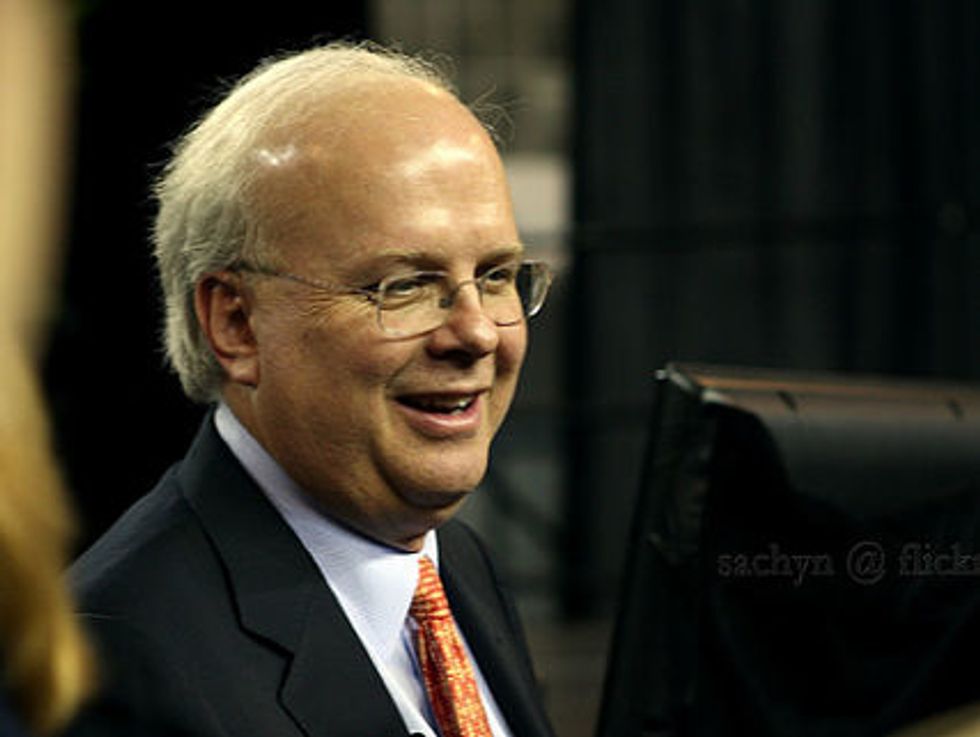 Commerce Secretary John Bryson has taken medical leave following a series of car accidents that evidently resulted from a stroke. Authorities said there was no evidence that Bryson was driving while impaired by alcohol – but that news didn't arrive swiftly enough to prevent an obnoxious, insinuating tweet from American Crossroad, the SuperPAC operated by Bush White House political boss Karl Rove.
"How does @CommerceSec have 3 car crashes in 5 minutes and alcohol NOT be involved? #Skills," snarked whoever was operating the American Crossroads Twitter account around 8 am Eastern time on Monday morning. Half an hour later, someone took down the offending drivel, which fortunately was captured in a screen grab by a Tweep called Josh Dorner.
Whoever typed that gloating tweet would not have had to wait long – an hour or less– to learn that Bryson had voluntarily taken a Breathalyzer test, with negative results. Police had found the Commerce Secretary unconscious in his car after it had collided with another vehicle twice, a nearly tragic situation that might have evoked compassion instead of scorn.
But decency is hardly the norm with Rove, master of no-holds-barred political wrestling. As the mastermind of the Swift Boat campaign against John Kerry and the White House assaults on Valerie Plame and former Ambassador Joe Wilson – patriots who are morally superior to him in every conceivable respect – smearing is an impulse he clearly cannot resist, whether he was directly responsible this time or not.
Then again, perhaps Rove ordered the "apology" that appeared about 40 minutes after the original tweet vanished. "Earlier Bryson tweet with hashtag ‪#skills‬ attempted levity (before facts known) and failed miserably. We took it down and regret the tweet."
That plea scarcely impressed anyone familiar with the combative Rove gang, whose dim triggermen never quite control their itchy fingers and big mouths. "Popped off w/ something snarky B4 all facts in AGAIN, huh?" responded a post that went on to express a doubt shared by several others: "Betting u regret the heat more than the tweet."
Yes, we learned more about the character of the Rove gang than of Secretary Bryson from this little episode – and what to expect from American Crossroads as the election unfolds. But anyone paying attention has known all that about Karl for a long time.