Policy Encouraging Citizens To Act Like Anti-Immigrant Snitches Sparks Wave Of Protest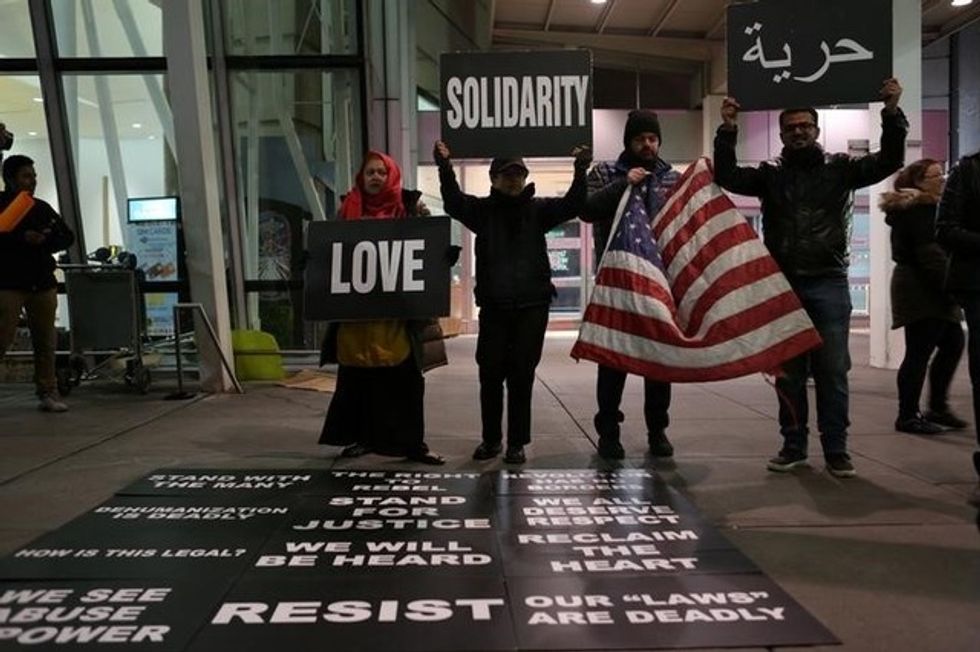 Reprinted with permission from AlterNet.
On Wednesday, DACA recipients and allies from across the country arrived in Austin, Texas for a rally and sit-in to show their commitment to protecting the Deferred Action for Childhood Arrivals program. Fifteen people were arrested for blocking traffic in front of the Texas Capitol (four DACA recipients and 11 allies). It was the first action orchestrated by undocumented teens since Trump took office, according to the immigrants' rights coalition Movimiento Cosecha.
The organization said in a statement, "Mayor Steve Adler and Travis County Sheriff Sally Hernandez have said that the police department does not transfer immigrants over to ICE and we expect them to honor that commitment. Allies participating in the action are refusing to leave the jail until all four DACA recipients are released."
We have faith that courage & fearless action for permanent protection will save our community, not politicians #OutragedAndUnafraid pic.twitter.com/ptAfD9zLyd

— Movimiento Cosecha (@CosechaMovement) July 26, 2017
Today's actions are a reminder that we'll keep fighting until we have permanent protection for our communities #OutragedAndUnafraid pic.twitter.com/D73XS9DoDW

— Movimiento Cosecha (@CosechaMovement) July 26, 2017
Texas is a battleground for immigration activists. The state legislature recently passed SB4, a comprehensive anti-immigration bill best known for banning sanctuary cities. It also forces government officials at all levels to turn in undocumented immigrants to Immigration and Customs Enforcement. If they don't, even ordinary citizens are encouraged to go to ICE if they see a police officer or government official who has the opportunity to turn in an undocumented Texas resident but doesn't. It was Texas state Attorney General Ken Paxton who led a group of 10 state attorney generals in writing to Attorney General Jeff Sessions demanding he end DACA.
For the fiercely anti-immigrant Sessions, that's not a hard sell. As the Daily Beast reported Tuesday, Sessions is threatening to pull federal funding from cities that don't allow ICE officers into their jails.
Immigration advocates remain undaunted. DACA recipient and Cosecha spokeswoman Maria Fernanda Cabello emphasized the importance of undocumented youths speaking for themselves and not waiting for a politician to save them: "We won DACA not because of any politician," she said, "but because our community took fearless action. We marched, we walked-out, we stopped deportations and shut down detention centers. We took risks and put our bodies on the line to tell the people of this country that we were undocumented, unafraid and unapologetic."
Catalina Santiago, a DACA recipient arrested in Wednesday's action, said in a statement that she decided to participate for her family: "DACA is under attack while my parents, who are farmworkers, were never even given the temporary protection DACA provides. I am getting arrested today for telling my parents, my community, and the rest of the 11 million that no matter what politicians say, you are worthy and we will not settle for the crumbs they offer us in exchange for being the economic and labor force that sustains this country day in and day out."
Ilana Novick is an AlterNet contributing writer and production editor.