Outside Supreme Court, Same-Sex Marriage Is Rallied For, Prayed Against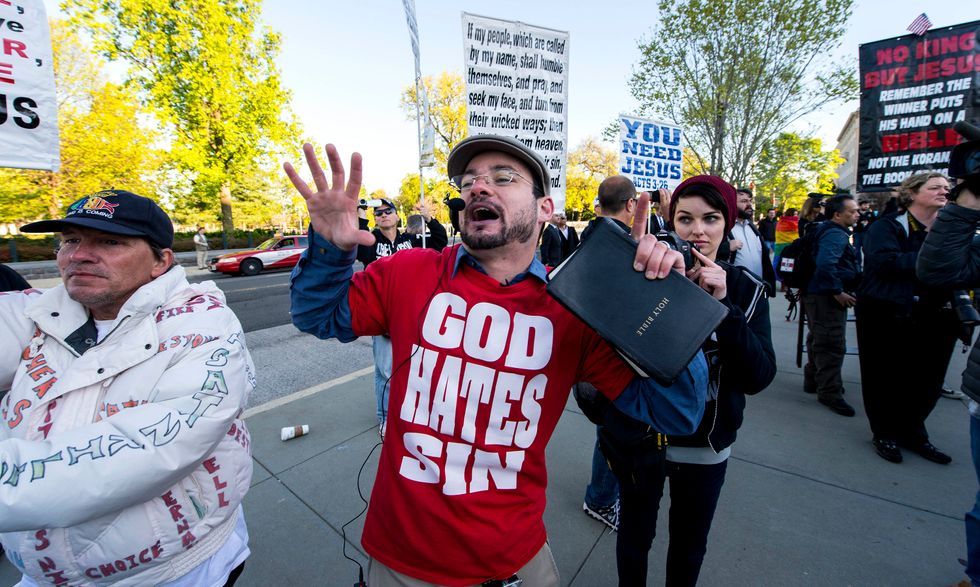 By Sean Cockerham and Ellie Silverman, McClatchy Washington Bureau (TNS)
WASHINGTON — Scott Ackerman and Jaime Carpenter, from Lexington, Ky., stood among hundreds of people in front of the U.S. Supreme Court building Tuesday, Ackerman's birthday, hoping that the nation's highest justices can be convinced that the two men have a right to be married.
"It's a historic moment," Ackerman said. "We'll be glad we were here."
The scene in front of the Supreme Court on Tuesday was a melange of carnival, protest, and political rally, as the justices inside heard arguments on whether there's a constitutional right to same-sex marriage.
Beneath the marble columns of the high court, many in the crowd celebrated with rainbow flags and signs bearing messages such as "All Love is Equal" and "Don't Like Gay Marriage, Don't Get Gay Married." The Gay Men's Chorus of Washington, D.C., sang "We Shall Overcome" in the sunshine.
Most in front of the courthouse appeared to support same-sex marriage, and there was a prevailing air of confidence that the justices would side with them, creating an atmosphere more of celebration than of tension.
Protesters of same-sex marriage were also there, calling others in the crowd perverts, with one man shouting over and over again through his bullhorn that "sin has consequences!"
Carpenter and Ackerman were married last year in California, but their home state of Kentucky won't recognize the union. Kentucky is one of four states whose bans on same-sex marriage were being challenged before the Supreme Court on Tuesday, and Carpenter and Ackerman stood in line to see the arguments.
Carpenter marveled that he was able to witness a landmark case that will determine marriage rights in America. "Little old me, from Kentucky," he said with a grin.
A group of Orthodox Jews stood on the edge of the crowd, holding a banner declaring, "LGBT Marriage, Rebellion Against God." Rabbi Dovid Feldman of New York state said the question of federal recognition of same-sex marriage was a painful one, and that his group was representing others who shared their faith.
"Same-sex marriage is against God," he said.
Sara Baquero, 41, said she'd traveled from the Boston area with her 2-year-old daughter and husband, Jairo, pastor of Iglesia El Ejercito De Dios in Saugus, Mass.
"We prayed, 'God, if you really want me to be there, we need an answer,' and then one of the brothers from the church here sent a text and said, 'Pastor, we need you here,' and that's the answer," Sara Baquero said.
"If the government of the U.S. accepts this situation with equal marriage it's going to be a disaster," she said. "Something bad is going to happen."
Episcopal priest Jacob Pierce, from Alexandria, Va., said he was tired of religion being used to discriminate.
"There are many Christians who believe in marriage equality and believe that God loves all people," Pierce said.
Many of the protesters against same-sex marriage were not subtle, shouting and carrying signs such as "Fags are Beasts." Some were from tiny Westboro Baptist Church in Topeka, Kan., best known for protesting at the funerals of slain American soldiers.
But Brent Keilen of Lansing, Mich., was quiet as he waited to go inside to hear the arguments.
He said "words matter" and marriage should be defined as between a man and a woman. Traditional marriage is better for children, he said, and the justices shouldn't force people to accept a new definition.
"The court should let the states decide," he said.
John Paul-Hayward, president of the Gay Men's Chorus of Washington, D.C, said states couldn't be allowed to discriminate. "The fact that we are here having to fight for our equality is kind of ridiculous," he said.
Michael Aldridge, executive director of the American Civil Liberties Union of Kentucky, said marriage granted rights such as hospital visitation and the ability to jointly file taxes, along with the benefit of having the union legally recognized like everyone else and not being considered a second-class citizen.
"It's immeasurable, really, what it would mean," Aldridge said.
Chris Hartman of Louisville, Ky., director of the Fairness Campaign, an LGBT advocacy group, took pictures of the scene with his Google Glass and reflected on how far the cause of same-sex marriage has come in recent years.
He said the fight remained, especially in getting anti-discrimination laws passed in Kentucky and other states. Tuesday's Supreme Court hearing was a landmark moment, he said, a historic day he couldn't miss.
"Folks are anxious to get married in Kentucky," Hartman said.
Joe DeIorio and Thos Shipley, who wore matching red T-shirts that read "Thos and Joe's wedding," were married in New York in September 2013. But their relationship was considered only a civil union when they went home to Roselle Park, N.J., and the men joked that they were "just friends" on a vacation in Pennsylvania.
"You can't have two classes of people being recognized differently based on where you live in the U.S.," DeIorio said.
Although one individual can't change a law, it's important to try to make a difference in the community, Shipley said.
"Life is about showing up," he said, "Too many times you sit there, you pray, but show up, be seen."
(c)2015 McClatchy Washington Bureau, Distributed by Tribune Content Agency, LLC.
Photo: Pro and anti-gay marriage demonstrators rally outside the U.S. Supreme Court as it hears arguments on the question of same-sex marriage on Tuesday, April 28, 2015, in Washington, D.C. (Brian Cahn/Zuma Press/TNS)