Oversight Chair Cummings Warns Officials Against Trump Tactics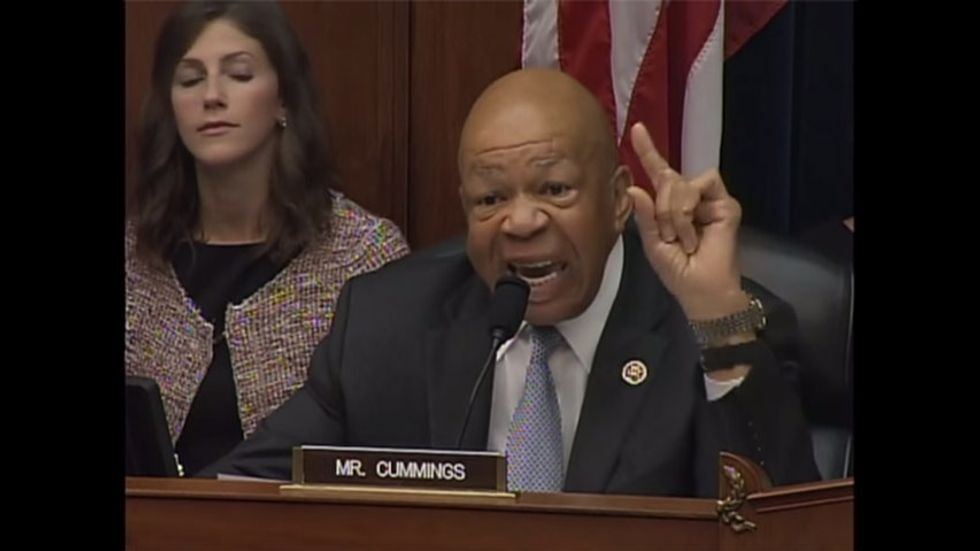 Reprinted with permission from Alternet.
Maryland Democrat Rep. Elijah Cummings, the chair of the House Oversight Committee, is part of the ongoing battle to assert Congress's constitutional right and duty of investigation over President Donald Trump. And in a new statement Wednesday, Cummings sent a stern warning to Trump aides who might try to protect him.
"This is a massive, unprecedented, and growing pattern of obstruction," Cummings said. "Yesterday, President Trump declared to the entire country that he would obstruct Congress and order all White House officials to defy lawful subpoenas from Congress. Today, the Trump Administration went even further by expanding this policy to employees at federal agencies — even when the subpoenas are bipartisan and supported by Republican Members of Congress."
He continued: "Both President Trump and Attorney General Barr are now openly ordering federal employees to ignore congressional subpoenas and simply not show up—without any assertion of a valid legal privilege."
Then he turned to address the administration staffers who, unlike Trump, are not immune from legal consequences because of the protection for sitting presidents.
"These employees and their personal attorneys should think very carefully about their own legal interests rather than being swept up in the obstruction schemes of the Trump Administration," Cummings said.
The administration is attempting to thwart congressional oversight on many fronts. In his statement, Cummings was directly addressing Barr's ordering to Principal Deputy Attorney General John Gore not to comply with a subpoena to testify about the addition of a citizenship question to the U.S. Census. But the administration is also trying to prevent former White House Counsel Don McGahan and ex-White House staffer Carl Kline from testifying, and it is working to keep the IRS from handing over the properly requested copies of Trump's own tax returns to the House Ways and Means committee.