Trump Coup Lawyer Still Trying To Overturn 2020 Election
@Brandi_Buchman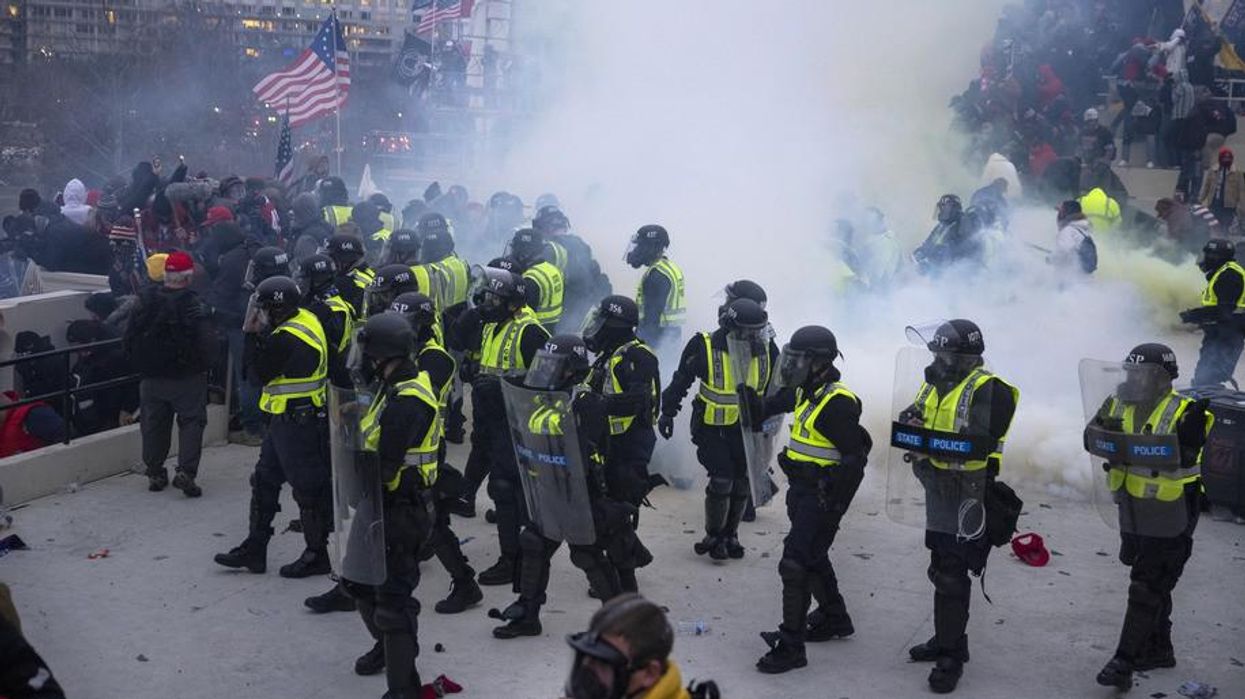 Getty Images
Some of the police officers attacked by the mob former President Donald Trump incited on January 6, 2021 are only now regaining greater mobility in their bodies—461 days since the insurrection at the U.S. Capitol.
But according to a new report by ABC, attorney for Trump John Eastman took a meeting with a Republican state assembly official in Wisconsin just a few weeks ago. While there, Eastman pushed the official to overturn the 2020 election results by "reclaiming" those electoral votes that went to President Joe Biden.
The meeting was reportedly held on March 16 between Eastman and Robin Vos, the GOP speaker for the Wisconsin state assembly, as well as a number of pro-Trump activists, including right-wing activist Jefferson Davis. Davis has been a vocal advocate of election fraud conspiracy theories central to Trump's push to overturn the 2020 results.
NEW: Nearly a year and a half after the election \u2014 LAST MONTH \u2014 Trump coup memo lawyer John Eastman pressured Wisconsin Speaker of the House Robin Vos to decertify the 2020 results and threatened to oust state legislators who refuse to do so.pic.twitter.com/ZgVNahGLF7

— Lauren Windsor (@Lauren Windsor) 1649783810
Other attendees reportedly included Douglas Frank, a friend to pro-Trump MyPillow CEO Mike Lindell; Shawn Smith, one of Lindell's reported financial backers; and Ivan Raiklin, a U.S. Army Reserve lieutenant colonel with close ties to Michael Flynn, Trump's disgraced former national security adviser and Q-Anon enthusiast. Raiklin's political advocacy put him under an internal review by the Army in December 2021.
Lindell did not attend the meeting with Eastman, Frank, Smith, and Raiklin.
Eastman told ABC he would not discuss the meeting.
"By explicit request from Speaker Vos, that meeting was confidential, so I am not able to make any comment," he said Tuesday.
An attorney for Eastman did not immediately respond to a request for comment by Daily Kos, nor did Vos.
The January 6 committee declined to comment to Daily Kos on Tuesday.
For the last several months, the committee has been slogging it out in court with Eastman as he fought to keep thousands of emails away from the probe. He rebuffed an initial subpoena from the committee, but the probe maneuvered around him and subpoenaed his professional emails from his tenure at his ex-employer, Chapman University.
Ultimately, a federal judge cut Eastman's obfuscation short and in the course of reviewing some of the attorney's emails, found information that led him to believe Trump and Eastman "more likely than not" engaged in a federal crime by trying to stop Biden's victory from being certified.
Eastman's March 16 engagement is not his first get-together with Trump allies or election fraud conspiracy theory peddlers since he was first subpoenaed by the January 6 committee.
As noted by ABC, a month before his appointment in Wisconsin, Eastman was in Castle Rock, Colorado, meeting with activists bent on ousting the state's Democratic secretary, Jena Griswold. Republicans in the Colorado legislature have been stumping hard on election fraud conspiracy for weeks to reverse their defeats.
All the while, Trump has continued to push bunk election fraud claims and call for new investigations by state officials.
A day after Eastman's meeting with Vos, Trump issued a statement through his chief spokeswoman, Liz Harrington, on Twitter.
Vos "just said there was widespread fraud in the 2020 presidential election but that the state legislature cannot do anything about it. Wrong!" Trump said on March 17.
The twice-impeached ex-president continued: "If you rob the diamonds from a jewelry store, if you get caught, you have to give the diamonds back, votes should be no different."
Trump demanded that Vos "do the right thing and correct the crime of the century—immediately."
On Tuesday, the former president openly said he would not endorse Republican and former ally Bill McSwain for governor in Pennsylvania. Trump said he chucked the endorsement because when McSwain was the U.S. attorney for Philadelphia, he wouldn't overturn the election results for that state despite being aware of so-called voter fraud.
"It was there for the taking and he failed so badly," Trump said.
Trump in a new statement says he won\u2019t endorse Bill McSwain for Governor because he didn\u2019t help overturn the election when he was top fed prosecutor in Philadelphia\n\ntelling line from Trump: \n\n\u201cIt was there for the taking and he failed so badly.\u201dpic.twitter.com/EGbb9gGLLb

— Will Steakin (@Will Steakin) 1649774259
No extensive voter fraud was uncovered in the 2020 election because none occurred. In a place like Pennsylvania, what very little voter fraud that was found, was was determined negligible to the election outcome.
Trump's kicking of McSwain to the curb is less surprising but more predictable. Trump has often turned on those political candidates who will not or cannot carry his election fraud message for him. This may be a bitter pill for McSwain given the heavy lifting he did to support the ex-president's claims of rampant election fraud.
According to Politico, McSwain even went so far as to write a letter suggesting the DOJ under Trump-appointed attorney general Bill Barr instructed him not to investigate irregularities in the election.
Meanwhile, the government watchdog group American Oversight has successfully sued Vos for access to tens of thousands of pages of emails from the Wisconsin state assembly. The oversight group was interested in reviewing the many inquiries that were made to the assembly about the 2020 election.
On Monday, the Wisconsin Examinerreported in-depth on Vos' communications during that time. Many of the emails had been deleted,
Emails showed messages sent and received between Vos and Trump attorney Rudy Giuliani and other election fraud conspiracy theory-peddling lawyers like Victoria Toensing.
Giuliani was subpoenaed by the January 6 committee on January 18, 2022 for his records and deposition. The former New York City mayor was often the public face of Trump's plan to install "alternate electors" and according to at least one prosecutor in the 2020 election battleground state of Michigan, Giuliani also pressured him to seize voting machines and send them to Trump's team.
Printed with permission from Dailykos.