PA Governor Won't Appeal Decision To Overturn Ban On Gay Marriage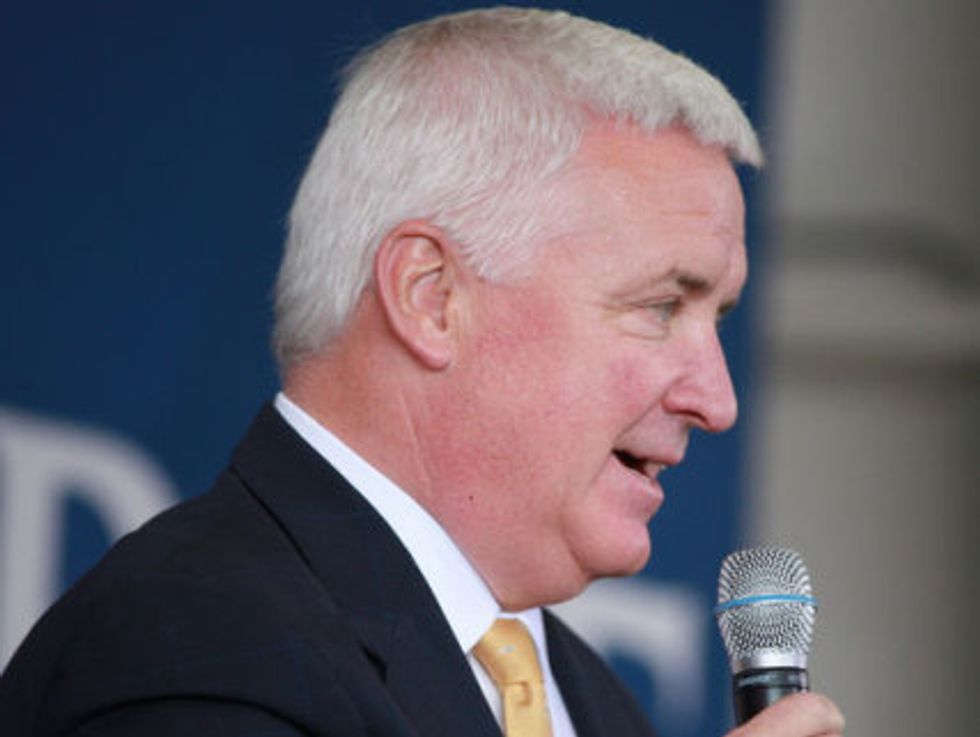 By Amy Worden and Angela Couloumbis, The Philadelphia Inquirer
HARRISBURG, PA — Pennsylvania Gov. Tom Corbett said Wednesday that he would not appeal the federal court decision overturning the state's ban on same-sex marriage, making Pennsylvania the 19th state to recognize such marriages.
Corbett's announcement, coming one day after the landmark ruling by U.S. District Judge John E. Jones III, eliminated the prospect that a higher court could reinstate the ban.
"Given the high legal threshold set forth by Judge Jones in this case, the case is extremely unlikely to succeed on appeal," the governor said in a statement.
He said that as a Roman Catholic, his decision went against his lifelong religious beliefs.
"I continue to maintain the belief that marriage is between one man and one woman," Corbett said. But, he added, "my duties as governor require that I follow the laws as interpreted by the courts, and make a judgment as to the likelihood of a successful appeal."
In a 39-page opinion Tuesday, Jones struck down the state's 1996 law banning gay marriage, calling it unconstitutional because it failed to give gay and lesbian couples the same protections and recognition as heterosexual couples.
"We are a better people than what these laws represent, and it is time to discard them onto the ash heap of history," Jones wrote.
Corbett's decision was widely praised by the civil rights and civil liberties groups that support gay marriage and had feared a dragged-out appeal process.
"We applaud the governor for letting the constitutional principles of freedom and equality ring throughout Pennsylvania by allowing loving same-sex couples to marry," said a statement from attorneys for the ACLU, the Philadelphia law firm of Hangley Aronchick, and University of Pennsylvania law professor Seth Kreimer — who together represented the 23 plaintiffs who brought the case in July.
Conservative groups and others opposed to nonheterosexual unions roundly criticized him.
Randall Wenger, chief counsel for the Pennsylvania Family Institute, said the governor had been critical of state Attorney General Kathleen G. Kane, a Democrat, when she announced last year that she would not defend the same-sex marriage ban.
"Now the governor is refusing to defend marriage," said Wenger. "Until the Supreme Court rules definitively on the issue, it's premature to say these cases are not worth fighting for."
The state had hired outside counsel — the West Chester company Lamb McErlane — to defend the law, which has cost taxpayers nearly $600,000, according to the state treasurer's office.
But the odds of succeeding may not have been in Corbett's favor. Since the U.S. Supreme Court ruled in two historic marriage cases last summer, no state marriage ban has survived a court challenge, according to the Human Rights Campaign, an LGBT advocacy group.
The governor's decision is also likely to have political implications among grass-roots Republicans, particularly as he faces a tough re-election battle this fall.
The Pennsylvania Republican Party on Tuesday blasted Jones' decision, calling it an example of "judicial fiat" by an "activist judiciary."
GOP state Rep. Daryl Metcalfe, one of the legislature's most vocal opponents of same-sex marriage, said Corbett "failed to finish the fight."
Metcalfe said the decision on legalizing same-sex marriage should be left to the voters through a constitutional amendment — not made by "an activist judge."
"The appropriate forum to debate and discuss this important issue is the legislature," said Metcalfe, "not the disconnected judiciary."
Ted Martin, executive director of Equality PA, an LGBT advocacy group, lauded Corbett's move and thanked him for "letting love win."
Among others issuing a vote of support Wednesday for Corbett was the last elected Republican governor of Pennsylvania, Tom Ridge.
"While it may not be a universally popular decision within our party, it's the right decision at the right time. That's what strong leaders do," Ridge said. "Gov. Corbett is proving yet again to be a pragmatic leader who at all times shows respect for those on either side of difficult social issues."
Photo via Wikimedia Commons
Want more gay marriage news? Sign up for our free daily newsletter.