Paid Protesters? Yes, Sent By The 'Alt-Right'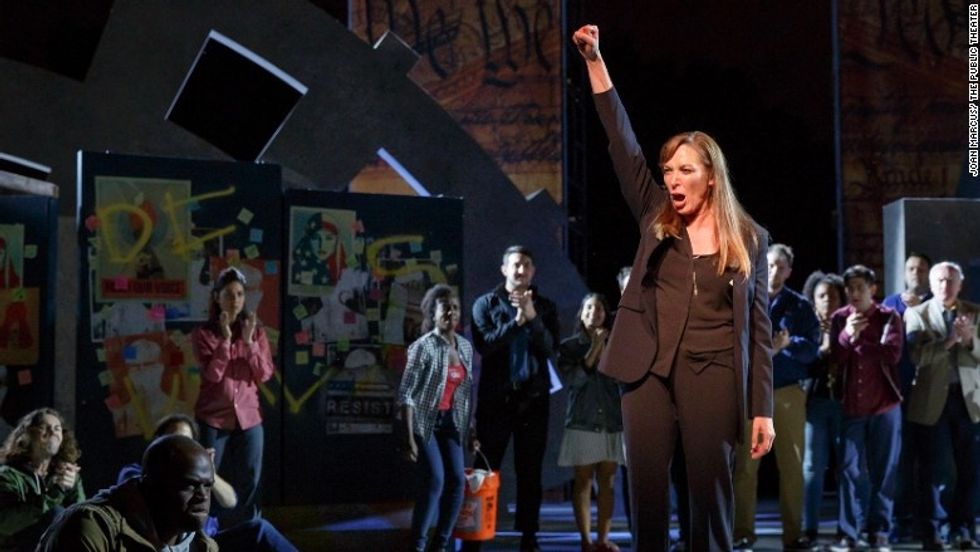 Reprinted with permission from Alternet.

You may have mocked claims about the existence of paid protesters as just another lie from the right. As it turns out, at least on this one issue, they're actually telling the truth. The problem is, the right neglected to mention those paid protesters are part of the right wing apparatus.
The story starts last week, when the right wing decided to aim its collective outrage at a free staging of Shakespeare's play "Julius Caesar" held in New York City's Central Park. Mike Cernovich, a self-described member of the alt-right who thinks the U.S. should give immigrants IQ tests, put up a YouTube video in which he offered cash to any protesters willing to disrupt the play for pay.
"I'll give up to 10 people $1,000," Cernovich says in the footage. "I need you to get up with either a 'CNN is ISIS' or 'Bill Clinton's a rapist' or 'The media is terrorism' [sign]. And if you're able to get up and be escorted out by security, then I will give you $1,000."
In other words, Cernovich was actively and openly looking to recruit paid protesters. You know how conservatives made up that ridiculous myth about George Soros sending checks to liberals who march in protests? This is the real version of that, only sponsored by Cernovich.
The story actually gets richer, so to speak, as it continues. The night after Cernovich's offer, two protesters went to see "Julius Caesar" in the park. Semi-notorious right-wing media figure Laura Loomer snagged a ticket for a second-row seat that definitely should have gone to someone who actually wanted to see the play. Alt-right provocateur Jack Posobiec, whose greatest hits include pizzagate and the Seth Rich conspiracy lie, also showed up. The two Trumpites told the New Yorker they hadn't planned to meet—which may or may not be true—and once they spotted each other, they sat apart so as not to arouse suspicion. "Are you here for the Cernovich contest?" Posobiec reportedly texted Loomer, according to the New Yorker. She responded, "Just stay tuned."
In the middle of the production, Loomer stormed the stage, briefly halting the action and earning a chorus of boos from an audience that just wanted to see some Shakespeare. There's footage of the whole thing, including Loomer being removed from the stage as she shouts "CNN is ISIS"—the exact phrase Cernovich suggested—over and over. As Loomer was escorted out, Posobiec stood up and began yelling "Nazis" and "Goebbels" at the audience, until he was removed. He also recorded his outburst, possibly because Cernovich wants proof before he'll pay out.
Loomer continued yelling even once she was put outside the venue, and police finally showed up at some point to arrest her. She was then led away, upright and intact, like a human being who does not also happen to be an unarmed black kid.
It's important to note that Loomer works for right-wing Canadian media outlet Rebel Media, and until late May, so did Posobiec. The blog Canadaland describes it as a Breitbart-esque site filled with contributors who "have called for a new Crusade to expel Muslims from the 'Holy Land," outlined what they "hate about the Jews," and most recently, said that British Muslims are "enemy combatants," at least some of whom should be placed into camps."
Loomer was released hours after her arrest. Rebel Media put up a "Free Laura page" on its website, including a link to a fundraising section for her "legal defense fund." Loomer herself also tweeted a request to "support [her] legal defense fund." The link in the message leads to a campaign on WeSearchr, a crowdfunding site that's like a Go Fund Me for hard-right causes. As of this writing, Loomer's page has banked more than $12,000. Josh Jordan, who's written for both Forbes and the conservative National Review, poined out that Loomer's page previously noted she had a fundraising goal of $25,000, complete with screengrab. That target number has been erased, but the total intake keeps climbing. And presumably, while the Rebel Media "Free Laura" page doesn't display tallies, there've been contributions via that site as well.
Laura Loomer has now banked over $10K for her play publicity stunt that will carry at most a $1,000 fine and she's asking for another $15K. pic.twitter.com/jFlaIICgpt

— Josh Jordan (@NumbersMuncher) June 19, 2017
There are a few things that are curious here, that brought out the social media detectives. The first is that Rebel Media creator Ezra Levant made the Free Laura page at 6pm UTC or 2pm Eastern time, a full four hours before Loomer was actually arrested. It's safe to assume that Levant doesn't have the power to see into the future, but that he and the team at Rebel hoped she'd get arrested and planned to use the fabricated injustice to raise funds.
That's interesting. https://t.co/a1n7mMOOAY was created by Ezra Levant at 6pm UTC, 2pm EDT. Laura crashed the play at 6pm EDT. pic.twitter.com/KcLCanvMo6

— Gowilla Minethet (@anonops_nato) June 17, 2017
There's also the matter of Loomer's hefty request for donations. She faces charges of disorderly conduct and criminal trespass in the third degree. The latter is a class B misdemeanor, while the former is merely a violation, meaning it's even less serious. I spoke to Matthew Galluzzo, a New York City criminal defense attorney and former prosecutor for the Manhattan District Attorney's office. He isn't representing Loomer, so he can't speak specifically to her case.
"Most people charged with trespass with no criminal record are unlikely to be convicted of a crime or serve jail time," he noted, "or have to pay a fine in excess of $120."
In fact, based on the charges she faces, there's no outcome that could account for the funds being requested, unless Loomer has a rap sheet as a serial killer that's been kept hush-hush. So why is Loomer raising so much money? It's unclear, and no one aside from Loomer and Rebel Media know. However, it is worth noting that Levant recently lost a libel case on appeal, which keeps him on the hook for an $80,000 fine. It's also true that a company that targeted Breitbart for a boycott has done the same with Rebel Media, which has resulted in the loss of at least one major company pulling ads from the site.
If it seemed incongruous that the "new right"—whose members have declared themselves the defenders of free speech and conservationists of Western culture—claimed to be so outraged by the recent staging of a Shakespeare play, this might explain why. And when the right talks about "paid protesters," just assume they personally know whence they speak.
Kali Holloway is a senior writer and the associate editor of media and culture at AlterNet.
This article was made possible by the readers and supporters of AlterNet.
Header image source.