Pakistan Presidential Aide Killed In Blast
@AFP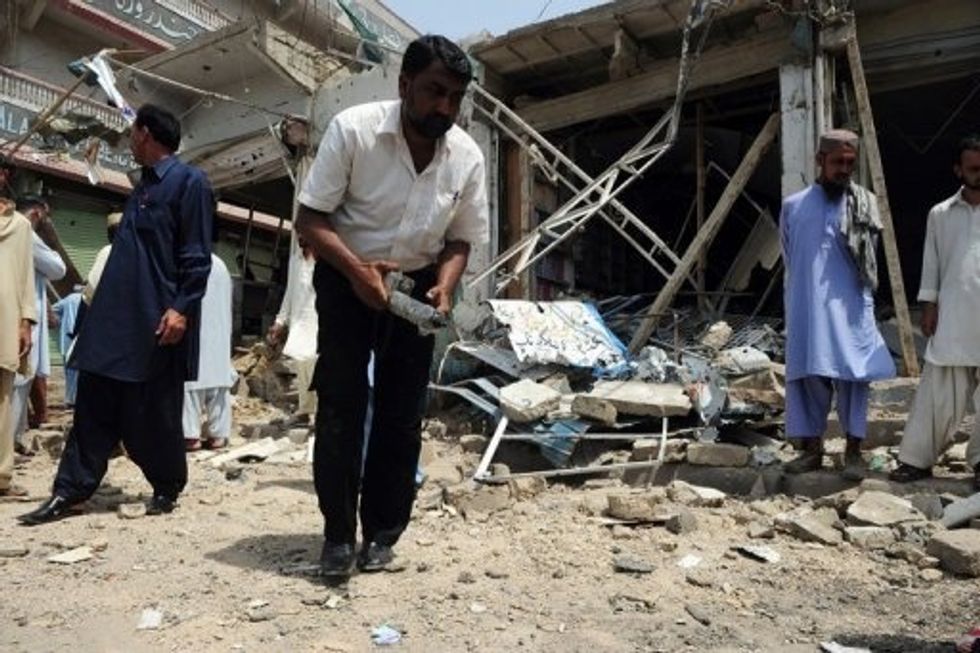 A bomb attack killed a senior aide to Pakistani President Asif Ali Zardari on Wednesday and at least two other people in the country's business capital Karachi, officials said.
The bomb exploded in a middle-class neighbourhood in central Karachi, close to an office for Zardari's Pakistan People's Party (PPP), which rules southern Sindh province.
Zardari was at his official residence around 10 kilometres (six miles) away when the attack happened, officials said.
"It was a bomb blast and at least three people were killed and 10 others were wounded," police official Tahir Naveed told AFP.
Another police official, Usman Bajwa, said Bilal Sheikh, Zardari's top personal security officer in Karachi, was among those killed.
"I can confirm that Bilal Sheikh has expired," Bajwa told AFP.
Bajwa told reporters that pieces of human flesh at the scene indicate it "might" have been a suicide attack but said "it's just an assumption so far".
Naveed said the bomb was so powerful it shattered the bullet-proof vehicle in which Sheikh had been travelling.
Sheikh, his driver and a passer-by were killed, he added.
Both Zardari and Prime Minister Nawaz Sharif, the leader of the PPP's biggest rival, the Pakistan Muslim League-N party, strongly condemned the attack, state media said.
Ejaz Durrani, spokesman for Bilawal House, Zardari's official residence in Karachi, said the president was in the city but had no schedule to travel on Wednesday.
Instead, Sheikh and his driver had gone to buy food for Ramadan, the holy Muslim fasting month, which begins on Thursday.
Sheikh had survived two previous attempts on his life, but had remained committed to the PPP cause, Durrani said.
Sheikh had been in charge of security for Zardari's wife, former prime minister Benazir Bhutto when she returned to Karachi from exile on October 18, 2007.
Bomb attacks targeting her homecoming killed around 140 people. Bhutto survived, but was assassinated by a gun and suicide attack on December 27, 2007.
Sheikh had also been in charge of Zardari's private residence in the capital Islamabad, and when he became president in 2008 Sheikh was appointed his personal chief security officer, Durrani said.
Zardari, who is hugely unpopular in Pakistan and is nicknamed "Mr 10 Percent" due to unproven corruption allegations against him, is due to step down when his term in office ends in September.
Photo Credit: Asif Hassan