Palestinians Declare 'Day Of Rage' As Kerry Pushes Cease-Fire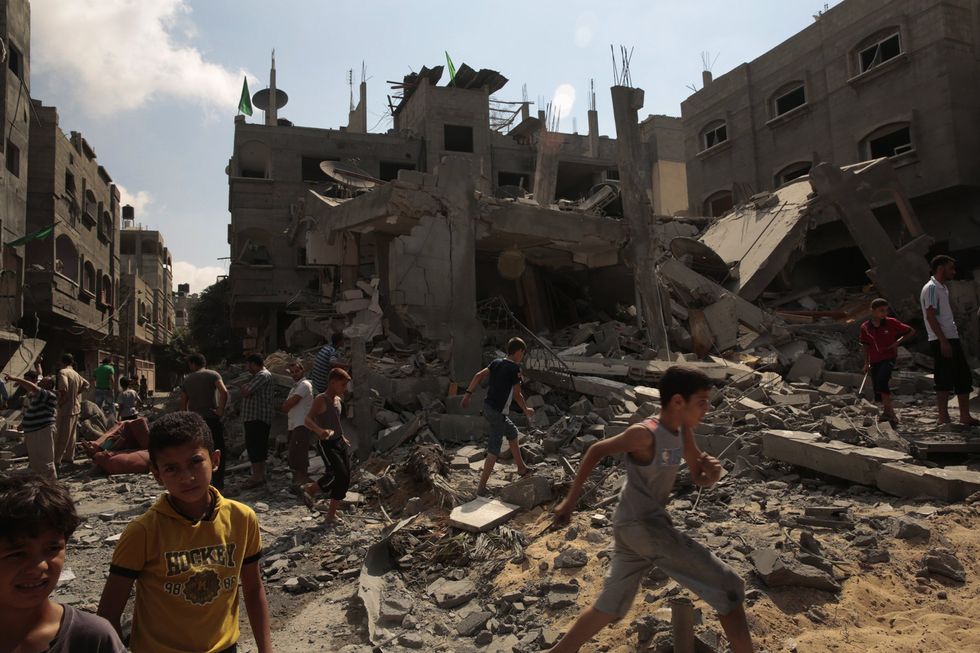 By Batsheva Sobelman and Laura King, Los Angeles Times

JERUSALEM — Amid a new U.S.-backed push for a cease-fire, Israeli forces pounded targets across the Gaza Strip early Friday, including the home of at least one senior militant leader, while security in the West Bank and Jerusalem was heavy after a night of Palestinian protests.
As the Israeli offensive against the militant group Hamas entered its 18th day, the Palestinian death toll reached 815 people, most of them civilians, Palestinian officials said. Thirty-two Israeli soldiers have been killed, along with three civilians on the Israeli side, one of them a foreign worker from Thailand.
Israel and Hamas were both reported to be weighing a call for a humanitarian truce of at least five days put forth by U.S. Secretary of State John F. Kerry, who has shuttled around the region this week in a bid to stem the fighting. A previous Egyptian-authored cease-fire plan last week was accepted by Israel but rejected by Hamas.
Israel's security Cabinet — its inner circle of senior officials — was to meet Friday to consider the plan, laid out by Kerry on a visit to Israel and the West Bank on Wednesday.
The day also marks the final Friday of Ramadan, the Muslim month of fasting and prayer, and a feast was expected to begin Sunday or Monday. The upcoming occasion lends symbolic weight to a proposed short-term halt to hostilities.
But Friday, the main Muslim prayer day of the week, is also a traditional flash point for protests, and the Palestinian Fatah movement called for a "day of rage" in solidarity with those suffering in Gaza. Thousands of Palestinians clashed with Israeli forces on Thursday night in Palestinian neighborhoods in east Jerusalem and a main crossing point between Israel and the West Bank. At least one protester was killed.
The demonstrations, the most serious since the start of the offensive, were sparked by at least 15 deaths in explosions at a U.N. shelter in northern Gaza on Thursday. Hamas blamed Israel, but the Israeli military said the incident was still under investigation, leaving open the possibility that errant rocket fire from militants might have been to blame.
Meanwhile, Hamas and other fighters in Gaza unleashed a new volley of rockets at Israel, most of them intercepted by its antimissile defense system. One scored a direct hit on an apartment building in the southern town of Ashkelon, causing damage but no injuries.
Tel Aviv's Ben Gurion International Airport, the country's main international gateway, remained hobbled by flight cancellations on Friday, even though aviation safety officials in the United States and Europe had lifted a flight suspension imposed after a rocket fell near the airport on Tuesday. Most United States, European, and regional carriers were still refraining from takeoffs and landings at Ben Gurion, though Israel's national airline El Al kept flying.
Special correspondent Sobelman reported from Jerusalem and staff writer King from Cairo. Special correspondent Maher Abukhater in Ramallah contributed to this report.
Photo: Los Angeles Times/MCT/Carolyn Cole
Interested in world news? Sign up for our daily email newsletter!