Palin Slams Rubio On Immigration Reform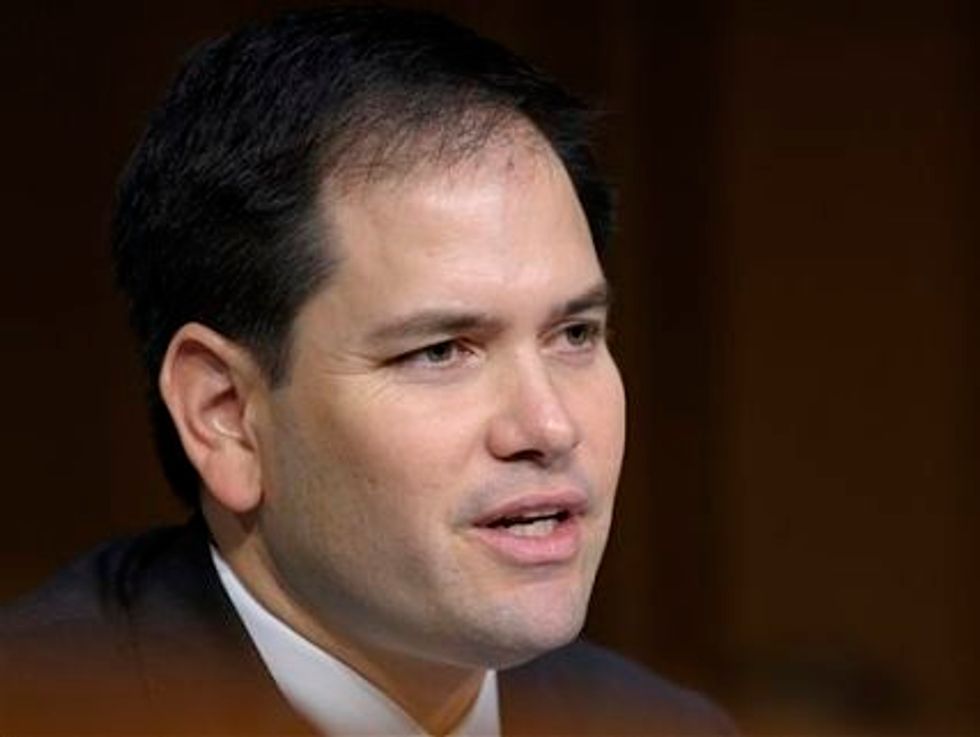 Former Alaska governor and current Fox News talking head Sarah Palin is the latest Republican to attack Senator Marco Rubio (R-FL) for his high-profile role in the Senate "Gang of Eight" immigration reform negotiations.
Palin repeatedly slammed Rubio's immigration plan over the weekend via her Facebook and Twitter pages. "It's beyond disingenuous for anyone to claim that a vote for this bill is a vote for security," Palin wrote on Facebook. "Look no further than the fact that Senator Rubio and amnesty supporters nixed Senator Thune's amendment that required the feds to finally build part of a needed security fence before moving forward on the status of illegal immigrants who've already broken the law to be here."
"And if shooting down the border fence wasn't proof enough, they blew another chance by killing Senator Paul's 'Trust But Verify' amendment which required the completion of a fence in five years and required Congress to vote on whether the border is actually secure before furthering any immigration measures," she continued. "And then they blew it yet again, nixing Senator Cornyn's 'Results' amendment, which also required border enforcement standards." Notably, Rubio broke from the rest of the Gang of Eight and voted against the motion to table the Cornyn amendment.
While Rubio could be excused for ignoring the recommendations of a woman whose primary experience with immigration policy revolves around her former view of Russia, his support for reform is attracting some far more relevant critics.
According to a new Rasmussen poll, Rubio's favorability among Republican voters has slipped to 58 percent — down 10 percent from May, and 15 percent from February. According to pollster Scott Rasmussen, Rubio's high-profile support for immigration reform has driven his decline.
"Most voters favor the concept of comprehensive immigration reform but do not believe that the government is likely to try and enforce the border security provisions of any new law," Rasmussen writes. "Many have viewed Rubio's role in selling the reform plan as convincing conservative voters that the border security provisions are acceptable."
Although Rubio's falling numbers could imperil his presidential hopes if the Florida senator does indeed pursue the Republican nomination in 2016, his support for reform could benefit him down the line. The same Rasmussen poll finds his favorability among self-described independent voters at 41 percent, up 4 percent from February. And according to a new Pew poll released Sunday, an overwhelming majority of Americans favor reform with a path to legalization — suggesting that Rubio's leadership on the issue could pay off in a general election.
AP Photo/Susan Walsh, File