Papadopoulos Fiancée Warns: "There's A Lot To Come"
@FAWFULFAN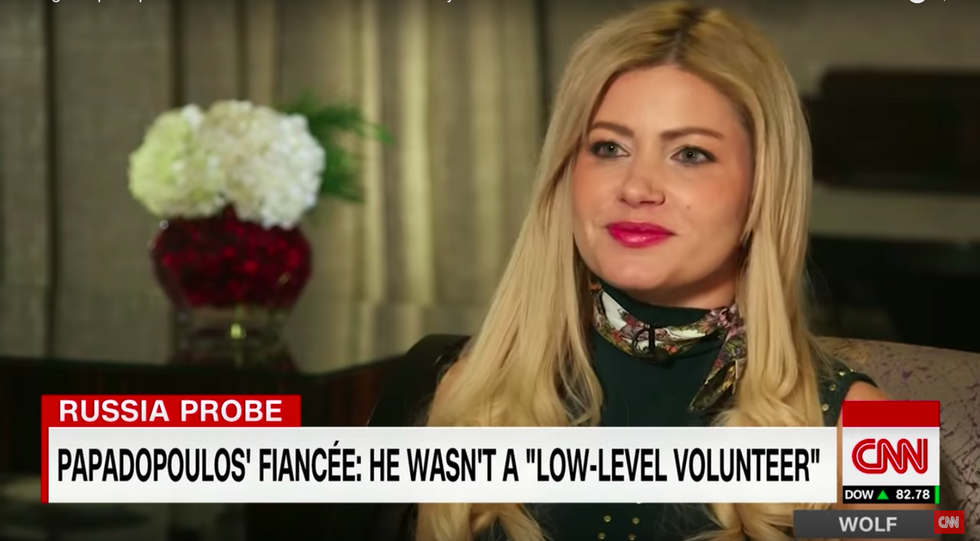 Ever since George Papadopoulos pleaded guilty to lying to the FBI in connection with the Russia probe, he has been an intense focus of special counsel Robert Mueller.
And according to his fiancée, he has quite a story to tell.
As
The Washington Post
reports
, Simona Mangiante, who became engaged to Papadopoulos in late 2017, is convinced that he is integral to the entire story.
"I believe history will remember him like John Dean," she declared.
Mangiante also suggested that "she believes [Papadopoulos] ultimately will emerge as more than a bit player in the Russia probe — and that his decision to cooperate after he was arrested getting off an airplane at Dulles International Airport in July was a key turning point."
 According to Mangiante, Papadopoulos is "very loyal" and "on the right side of history."
"There's a lot to come. He was the first one to break a hole on all of this," she added.
Papadopoulos, who served on the Trump campaign's national security team, gained attention last year following the revelation he met with a professor in London who claimed to have met with Russian President Vladimir Putin and said that Russia had "dirt" on Hillary Clinton.
Papadopoulos confided this in a drunken stupor to an Australian diplomat, who proceeded to tip off the FBI, sparking the initial inquiry into Russia in 2016.
Trump subsequently tried to dismiss Papadopoulos as a mere "coffee boy." But before he flipped, Trump proudly featured him in pictures of his security team on his Twitter feed.
Mangiante's insistence that Papadopoulos is a hero should be taken with a grain of salt. But it is clear that his eager cooperation with Mueller will be of no help to Trump.