Parade Of Speakers At DNC Paint Trump As Unfit For Presidency In Every Way, From Billionaire Bloomberg To An Ex-CIA Director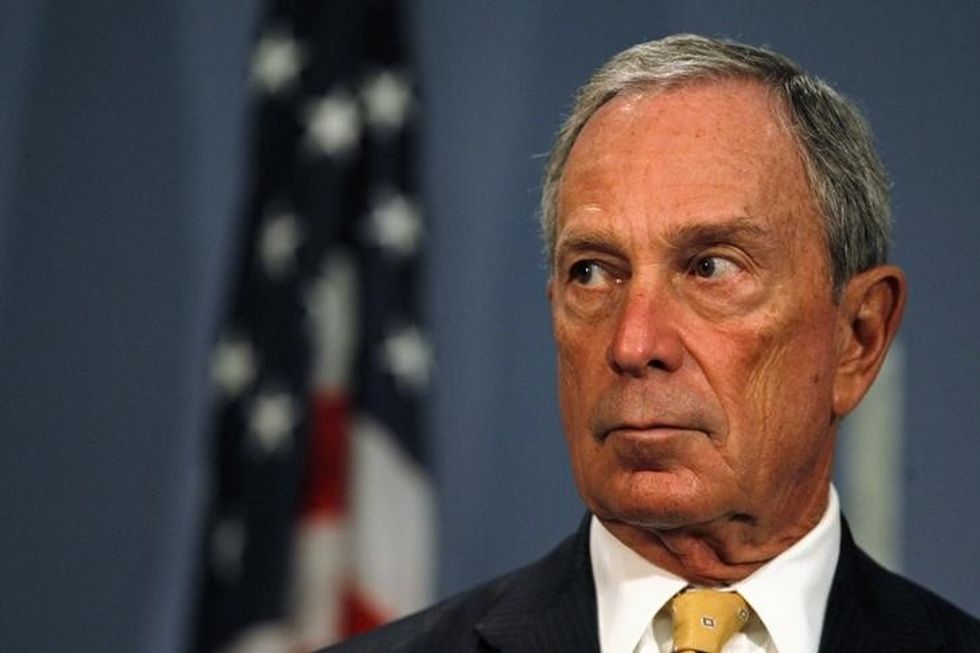 Published with permission from Alternet.
A parade of speakers at the Democratic Convention painted a devastating picture of Donald Trump as the most unqualified, inexperienced and unpredictable nominee in anyone's memory, urging Americans—including independents—to vote for Clinton or face dire consequences.
But the most unexpected and strongest critiques came from Michael Bloomberg, the former New York City mayor and self-made billionaire, who took the stage and explained why "it is imperative we elect Hillary Clinton as the next president of the United States," and the former CIA Director and Secretary of Defense Leon Panetta, who said Trump was not stable enough to be anywhere near the helm of military power.
Bloomberg started by saying he wasn't a Democrat, but an independent.
"I don't believe either party has a monopoly on good ideas or strong leadership," he said. "There are times when I disagree with Hillary. But whatever our disagreements may be, I've come here to say: We must put them aside for the good of our country. And we must united around the candidate who can defeat a dangerous demagogue."
Bloomberg then dismantled Trump's record as a successful businessman.
"Throughout his career, Trump has left behind a well-documented record of bankruptcies, thousands of lawsuits, angry shareholders, and contractors who feel cheated, and disillusioned customers who feel ripped off. Trump says he wants to run the nation like he's run his business. God help us," he said. "I am a New Yorker and I know a con when I see one… The richest thing about Donald Trump is his hypocrisy."
Bloomberg's critique of Trump was unprecedented thus far in the campaign—the specter of another billionaire who himself flirted with an independent run for the White House in 2016 discrediting the candidate of the major party that has long been associated with business.
"Now, I know Hillary Clinton is not flawless; no candidate is. But she is the right choice—and the responsible choice—in this election," he said. "No matter what you may think about her politics or her record, Hillary Clinton understands that this is not reality television; this is reality. She understands the job of president. It involves finding solutions, not pointing fingers, and offering hope, not stoking fear."
"I say to my fellow independents, your votes matter now," Bloomberg concluded. "I am asking you to join with me, not out of party loyalty… let's elect a sane, competent person with experience."
Wednesday night also featured an unprecedented takedown of Trump by national security leaders, saying he should not be anywhere near the levers of military power. As a string of speakers attested to Clinton's fitness to be commander in chief—which provoked loud anti-war chants and interruptions from Sanders' delegates who fear her hawkish reputation—those officials said Trump must not be president.
Former CIA Director Appalled
The strongest condemnation came from Leon Panetta, the former CIA director, Secretary of Defense and White House chief of staff. As predicted, he called Clinton the "best-prepared" presidential candidate he has known from either party as protesters shouted.
But Panetta said it was "unconceivable" that Trump would ask Russia—as he did Wednesday—to hack the State Department to see what was in Hillary Clinton's e-mails.
"Donald Trump, today, once again took Russia's side," Panetta said. "He asked the Russians to interfere in American politics. Think about that. Think about that for a moment. Donald Trump, who wants to be president of the United States, is asking one of our adversaries to engage in hacking or intelligence efforts against the United States to affect an election."
"As someone who was responsible for protecting our nation from cyberattacks, it's inconceivable to me that any presidential candidate would be that irresponsible," he continued.
Panetta's condemnation was diluted by the anti-war protesters in the room, many of whom have been very critical of the national security state under President Obama, especially his overseas drone program that caused many civilian casualties. But it was an unmistakable and severe condemnation that was not along the more lines of more traditional convention speeches.
Obama Also Lambasts Trump
President Obama's multi-layered and heartfelt speech was many things: a reflection on his presidency's achievements, descriptions of Clinton as a trusted colleague and why she has the skills, values and temperament to be an excellent president, and, in contrast, why Trump does not; and a symbolic passing of the political torch to Clinton.
Obama did not spend that much time on Trump and the Republicans, but when he did he was crisp and incisive. What Republicans offered America at their convention in Cleveland last week was dark and devoid of solutions, he said.
"What we heard was a deeply pessimistic vision of a country where we turn against each other, and turn away from the rest of the world," Obama said. "There were no serious solutions to pressing problems – just the fanning of resentment, and blame, and anger, and hate."
When Obama turned to Trump, he started on a humorous note but quickly turned serious.
"And then there's Donald Trump," he began. "He's not really a plans guy. Not really a facts guy, either. He calls himself a business guy, which is true, but I have to say, I know plenty of businessmen and women who've achieved success without leaving a trail of lawsuits, and unpaid workers, and people feeling like they got cheated."
And echoing Bloomberg, Obama said that Trump was a con man.
"Does anyone really believe that a guy who's spent his 70 years on this Earth showing no regard for working people is suddenly going to be your champion? Your voice? If so, you should vote for him."
And like Panetta, he said Trump should be nowhere near the military.
"Trump calls our military a disaster. Apparently, he doesn't know the men and women who make up the strongest fighting force the world has ever known… He cozies up to Putin, praises Saddam Hussein, and tells the NATO allies that stood by our side after 9/11 that they have to pay up if they want our protection.  Well, America's promises do not come with a price tag."
Finally, Obama said that Trump is not just a liar, but is trying to scare people into voting for him.
"Ronald Reagan called America 'a shining city on a hill,'" Obama said. "Donald Trump calls it 'a divided crime scene' that only he can fix. It doesn't matter to him that illegal immigration and the crime rate are as low as they've been in decades, because he's not offering any real solutions to those issues. He's just offering slogans, and he's offering fear. He's betting that if he scares enough people, he might score just enough votes to win this election."
Most of Obama's speech emphasized what's positive about America, even as it struggles with many serious issues. "That's why anyone who threatens our values, whether fascists or communists or jihadists or homegrown demagogues, will always fail in the end," he said, using the same word as Bloomberg to describe Trump—a demagogue.
Photo: Michael Bloomberg speaks during a news conference at City Hall in New York, September 18, 2013.  REUTERS/Brendan McDermid