In Parched California, Beware Of Humans Near Dry Brush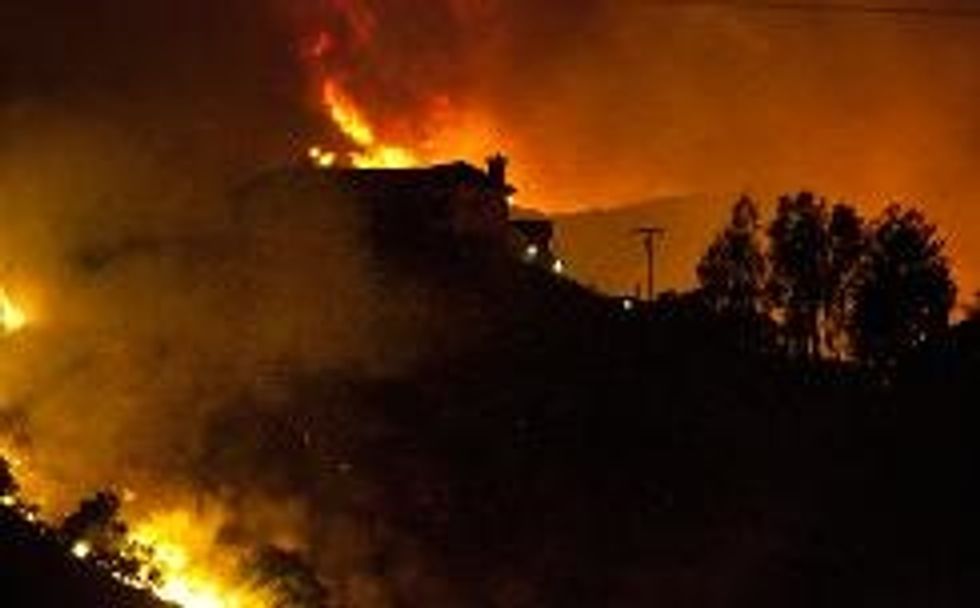 By Peter Hecht, The Sacramento Bee
SACRAMENTO, Calif. — Authorities say alleged marijuana farmer Freddie Alexander Smoke III was indifferent to the danger of fire.
They say Smoke, a 37-year-old Sacramento man, did not consider that his rental truck and its hot exhaust pipe might ignite the dry grass on July 11 as he was hauling supplies to a pot garden in Shasta County.
The ensuing Bully fire scorched 12,661 acres over the next 15 days. Smoke was initially charged with pot cultivation and recklessly causing a fire. Then authorities found the body of a man who died fleeing the fire. Soon Smoke faced more serious charges, including involuntary manslaughter.
While the fire became an unusual criminal case, human-caused fires in California are a recurring, problematic phenomenon.
The nearly 4,000-acre Sand fire in El Dorado and Amador counties broke out last week when another motorist apparently drove on flammable grassland. Last year, the devastating 30,000-acre Rim fire near Yosemite National Park was ignited by a hunter who lost control of an illegal campfire.
The overwhelming majority of wildfires in California are caused by humans. California averages 7,432 wildfires a year as a result of human activity, according to the National Interagency Fire Center. About 900 of those result from arson.
The greatest danger of accidental fire comes from people improperly burning brush or debris, followed by people operating power equipment — like lawn mowers and weed whackers — in hot or dry conditions. Vehicle-induced fires rank next on the list, followed by improperly tended campfires and fires caused by smoking.
Egregious cases can bring criminal charges or lawsuits to recover firefighting costs.
"It is surprising that people can be that disconnected from the landscape around them," said Susie Kocher, a natural resources adviser and researcher for University of California Cooperative Extension in South Lake Tahoe. "If you are accustomed to the danger of fires, you pay attention to the environment. And on windy drought days, those are red flag days — when you should not do anything stupid."
With the severe drought putting California in extreme fire danger months earlier than normal, officials with the California Department of Forestry and Fire Protection are offering fire safety tips in a campaign called "One Less Spark."
Cal Fire's suggestions: Don't drive onto dry grass or brush. Do your mowing before 10 a.m. and never when it's windy or dry. Obtain a permit for any welding or grinding work, and don't do it in an area without brush clearance and a shovel and a fire extinguisher at the ready.
Debris burning is banned in the fire season. During other times of the year, people are warned to keep piles small, have a water supply available, and never leave a smoldering pile unattended by an adult.
Meanwhile, a California campfire permit is required on public lands other than supervised campgrounds. To reduce danger, people are advised not to burn in illegal areas and to drown campfires with water before leaving, stir them with a shovel, and leave them cold enough that they can put a finger in the ashes.
Because of, "everything is preheated right now, with high temperatures and low humidity," said Cal Fire spokesman Dennis Mathison. "It sets the stage for explosive conditions statewide. And when we get one of these human causes, it's off to the races with fire."
Nationally, humans cause an average of 62,631 wildfires a year, burning about 2.5 million acres, according the National Interagency Fire Center. Fires caused by lightning burn the most acreage — 4.1 million a year. But they are far fewer in number, an average of 10,000 fires a year.
Despite public safety campaigns and the ubiquitous mantra of Smokey Bear — "Only You Can Prevent Wildfires" — some people just don't get it. "You can only go so far in helping people to be smarter," Kocher said.
For example, a wildfire broke out near Lake Tahoe in July 2002 because someone riding a gondola at the Heavenly resort thought it was a fine idea to flick a lit cigarette out of the gondola window. The careless smoker was never identified.
Two years later, a man target-shooting on public lands near Reno apparently didn't consider the high winds and dry conditions. A bullet ricocheting off a rock sparked a 2,744-acre wildfire that destroyed six houses and 22 cars and required 25 aircraft and 500 firefighters to extinguish.
In 2007, an improperly extinguished campfire near Seneca Pond was blamed for the Angora fire that destroyed 254 houses near South Lake Tahoe, caused more than $150 million in damages and ran up a firefighting bill of $23 million. The camper was never found.
In 2008, a Shasta County judge levied a $2.25 million fine against Matt Rupp, a state parolee who accidentally set a fire that destroyed 86 houses while mowing a dry field in 105-degree heat.
One of California's most devastating fires, the 2003 Cedar fire in San Diego County, was set by a novice hunter who got lost and ignited a small fire to alert rescuers. The fire grew to 273,246 acres, destroyed more than 2,000 homes and killed 15 people.
One of Colorado's most horrific events had a uniquely human cause. The 2002 Hayman fire, which burned 138,000 acres and destroyed 133 homes, was started by a seasonal Forest Service worker who called it an accidental act of passion. Terry Lynn Barton said she was burning a letter from her estranged husband. She was sentenced to six years in prison.
U.S. Forest Service spokeswoman Lisa Herron said fire officials can only hope to increase understanding of the drought and elevated fire danger.
"We're trying to educate the public that human-caused fires are very preventable," said Herron, who is based in the Lake Tahoe Basin Management District. "You just have to be careful."
AFP Photo/Jorge Cruz
Interested in national news? Sign up for our daily email newsletter!