Parkland Activists: March First, Vote Later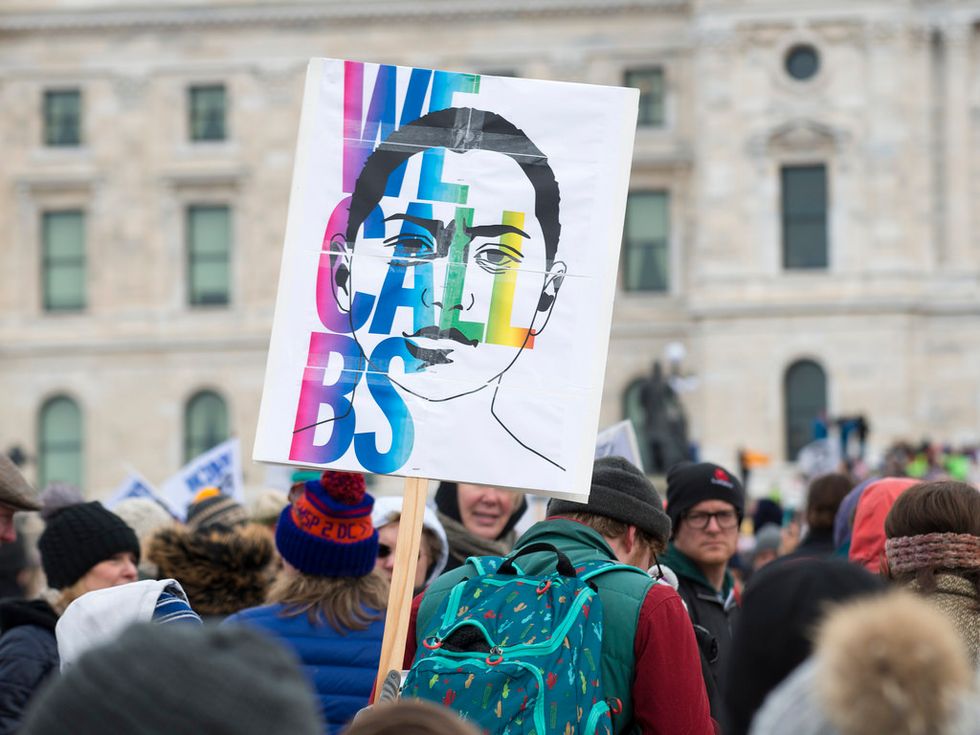 Reprinted with permission from AlterNet.
Joaquin Oliver loved basketball. So much so, family friend Carol L. Chenkin told AlterNet, that his father, despite not being a huge sports fan, became his team's coach as a way to bond with his son. On February 14, Joaquin was among the 17 people killed in the mass shooting at Marjory Stoneman Douglas High School in Parkland, Florida. He was buried in Dwyane Wade of the Miami Heat's jersey.
Chenkin is now the executive director of Change the Ref, an organization started by Joaquin's parents, Manuel and Patricia Oliver, to promote civic engagement and activism among youth determined to fight back against gun violence.
During the March for Our Lives last Saturday, hundreds of thousands of Americans descended on Washington, D.C. and cities across the country to protest political inaction on gun control and demand their representatives take a stand—or be voted out. The March for Our Lives was a galvanizing call to action, but it was only the beginning of a series of steps, all led by young people, to demand politicians pair their thoughts and prayers with policy change.
Students all over the country are now planning an April 20 nationwide walkout, with help from national groups like the Women's March Youth, whose site lists 49 walkouts and counting.
The Town Hall Project, an organization started after the 2016 election to demand that the 435 members of the House of Representatives hold public events where their constituents can hold them accountable, is encouraging Americans to demand their representatives have a "Town Hall For Our Lives" on April 7, specifically focused on gun control.
A group of students in Wisconsin even spent their spring break marching 50 miles from the capital of Milwaukee all the way to Paul Ryan's home district in Janesville to demand gun control laws.
"50 Miles More has three asks for Paul Ryan and other politicians," teen organizers Brendan Fardella, Katie Eder and Alemitu Caldart said in a joint interview with AlterNet.
"The first is that all military-style weapons, weapons of war, should be banned from civilian society. The second is that all accessories that turn semi-automatic weapons into automatic weapons, such as bump stocks, should be banned. Lastly, there should be stricter regulations for purchasing guns including a four-day waiting period on all gun purchases, [requiring] background checks on gun sales, and raising the legal purchasing age of all guns to 21."
The reaction, according to the organizers, was overwhelmingly positive. "As soon as we announced 50 Miles More," the teens said, "students from all across Wisconsin started showing interest. We marched during most Wisconsin public schools' spring break, and people started canceling trips and rearranging schedules in order to be able to join us."
They said it was important to them to make their voices heard. Along the way, "People would come out of their houses to wave to us or honk their car horns as they passed. On social media, people from all around the country, and even the world, were giving us encouraging messages."
The organizers were clear-eyed about the opposition, too. "Obviously, no matter what you are doing, there will always be people who disagree with you, but for the most part people were very supportive."
Fardella, Eder and Caldart are hoping to build on that support for what they see as the most critical part of their activism: momentum. "The most important piece of this movement is that we keep the momentum going," they emphasized.
They've launched a campaign called #50More in #50States, to challenge young people from each of the other 49 states to hold a 50 Mile March to the hometown or office of one of their elected officials before the November elections.
After that, "our goal is to empower and mobilize youth to make sure they register to vote and turn up to the polls come November."
Parents Get Active  
Heartbroken parents like the Olivers are turning their grief into action by starting new organizations to honor their children's memories. The name of their group, Change the Ref, came out of an incident that occurred during the last basketball game Joaquin Oliver played before the shooting. He had been ejected from the game by a referee he thought was treating the team unfairly. They realized they needed a game they considered fair, even a new referee, which was how the name came about.
Their audience, executive director Carol Chenkin explained, "is every young American who wants to be empowered or has an idea of what we need to do in this country." They're starting with voter registration and education, but plan to move beyond that to persuade young people "to pull the lever to actually vote." Change the Ref also wants to help with "creating an activism or leadership club, if you will, that doesn't exist in your school and giving them the tools that they need… So we need voter education, voter registration and we need them to pull the lever."
While the initiatives are in the planning stages, representatives of Change the Ref attended the March for Our Lives in Washington, D.C., and Sam Zeif, one of Joaquin's best friends, was interviewed on Nightline and MSNBC. They're meeting with local politicians and community leaders to determine which policy initiatives to support, and how to do so in a bipartisan matter.
Chenkin is also conscious of the need for balance in this organization to provide the right amount of adult support to the student-led movement.
"We as parents can't stand on the sidelines," she explained. "We have to not just say hey, clap our hands, you're doing a great job, take it all the way." She's had conversations with Zeif about how to help without getting in the way. As he put it, "we're still kids, we need help understanding the legislation and who each person is and drilling down on these amendments and what does that mean—and you guys are adults, you can break it down for us, help us."
Sometimes it's explaining legislation. Sometimes it's simply giving a ride: "We can get kids to register, but not everybody can drive—so, great, we'll get you transportation to go to do that."
"We have to help them to do those building blocks," Chenkin continued. "Drive somewhere, get a car, pay for the plane tickets, buy the hotels rooms so that they can do what they needed to do in Washington."
The 50 Miles More students echoed those statements: "Ask kids what they need instead of telling them what they should be doing. Take a step back. Be there to support and lend a hand, but let the kids have the spotlight. It's our time, and we know what to do. Trust us."
Ilana Novick is an AlterNet contributing writer and production editor.
Header image: Fibonacci Blue