Parrying U.S. Snub, Putin Holds Court With Dignitaries At Olympics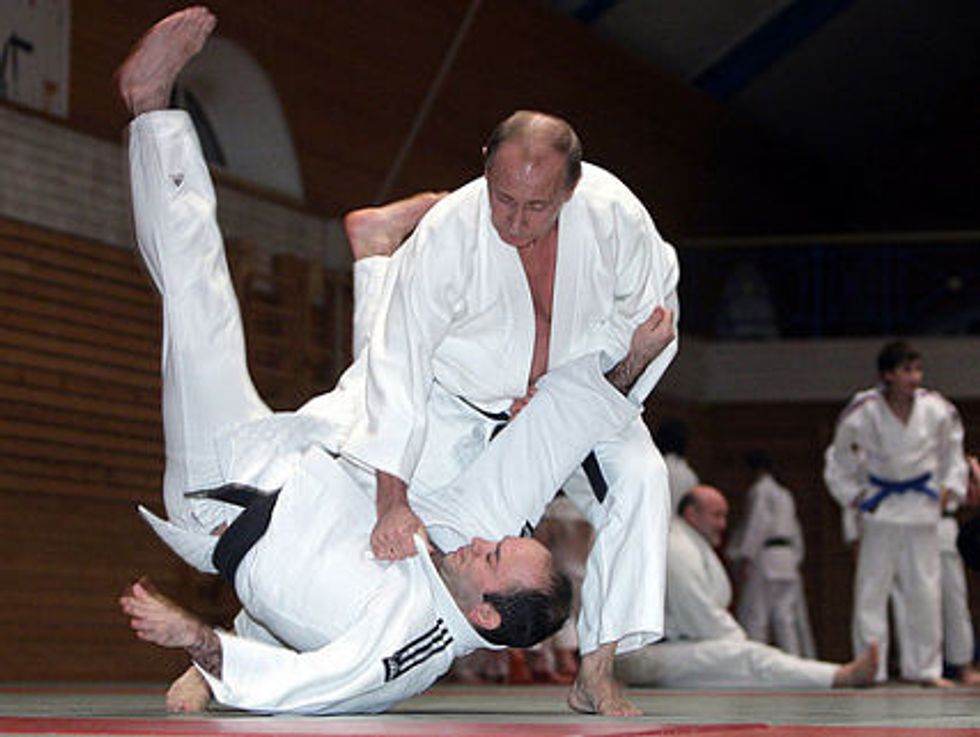 By Carol J. Williams, Los Angeles Times
MOSCOW — Russian television viewers could be forgiven Friday for failing to notice that the leaders of the United States and some of its political allies were absent from the hoopla in Sochi.
President Vladimir Putin used the hours before the lavish opening ceremony for the Olympic Winter Games to hold court with world leaders who did attend and project an image of the globally influential chief of a resurgent Russia.
Upon arrival in Sochi, where Western journalists have focused on fears of a terrorist attack and discomforts in the hastily constructed hotels and venues, Chinese President Xi Jingping congratulated Putin on his staging of the prestigious competition as evidence that "Russia is heading toward strength and prosperity."
Xi also hailed Russian-Chinese cooperation on Syria and Iran — two foreign policy challenges that have pitted the once-rivalrous eastern giants against the three Western countries that are permanent members of the U.N. Security Council, preventing the American, British and French faction from securing sanctions on Damascus or Tehran.
"China and Russia should from this day forward continue deepening our consultations and cooperation on major international issues and together maintain world and regional peace, security and stability," Xi told his host in one of half a dozen mini-summits broadcast from Sochi.
Putin also received Turkish Prime Minister Recep Tayyip Erdogan, whose crackdown on political opponents and public protest over the last year have alienated Turkey from its traditional allies in Europe and Washington. Putin seemed eager to cast Russia as an alternative diplomatic partner more respectful of Ankara's right to decide its own domestic affairs.
"I see our relations on a good tendency," Putin observed from the leather armchair flanked by Russian flags at the seaside complex in Sochi, coverage that didn't include any comments by Erdogan.
Dutch Prime Minister Mark Rutte's meeting with Putin was likewise presented to Russian viewers solely from the Russian host's point of view. Putin pontificated about the value of engagement and sincere efforts to resolve differences, suggesting without saying that the boycotting Western leaders were acting against their own interests as well as those of a peaceful planet.
Rossiya-24 television showed leader after leader arriving on the new airport tarmac in the subtropical resort, with Russian officials greeting the likes of Afghan President Hamid Karzai, Italian Prime Minister Enrico Letta and Prince Albert of Monaco. Also on hand were longtime President Nursultan Nazarbayev of Kazakhstan, whose rule stretches back to the Soviet era, and President Alexander Lukashenko of Belarus.
TV coverage of the gala dinner preceding the opening ceremony showed Lukashenko, widely viewed as one of Eastern Europe's most repressive leaders, seated next to Xi, who looked less than comfortable with the table arrangement.
Also on hand for the U.S.-snubbed festivities was Japanese Prime Minister Shinzo Abe, who was to meet with Putin on Saturday to discuss the nearly 7-decade-old dispute between their countries over four islands on the Pacific Coast. Rival claims to the islands, known in Japan as the Northern Territories and in Russia as the Southern Kuriles, have prevented the two nations from signing a peace treaty to formally end their World War II hostilities.
President Barack Obama and a handful of European leaders skipped Sochi in an effort to show their opposition to Moscow's law targeting the vague crime of disseminating "gay propaganda" where it might be experienced by children, as well as the Kremlin's repression of political opposition. But the human rights concerns appeared to be secondary to the Asian leaders attending the Sochi ceremony and pressing their own bilateral priorities.
While Sochi organizers have downplayed the consequences of the anti-gay law passed in July and insisted all visitors to the Olympics are welcome and safe from harassment, police in St. Petersburg arrested four gay rights activists Friday for protesting the legislation, local rights advocate Natalia Tsymbalova was quoted as reporting to The Associated Press.
Photo via Wikimedia Commons