'Passive House' Project Is A Living Laboratory For Energy Efficiency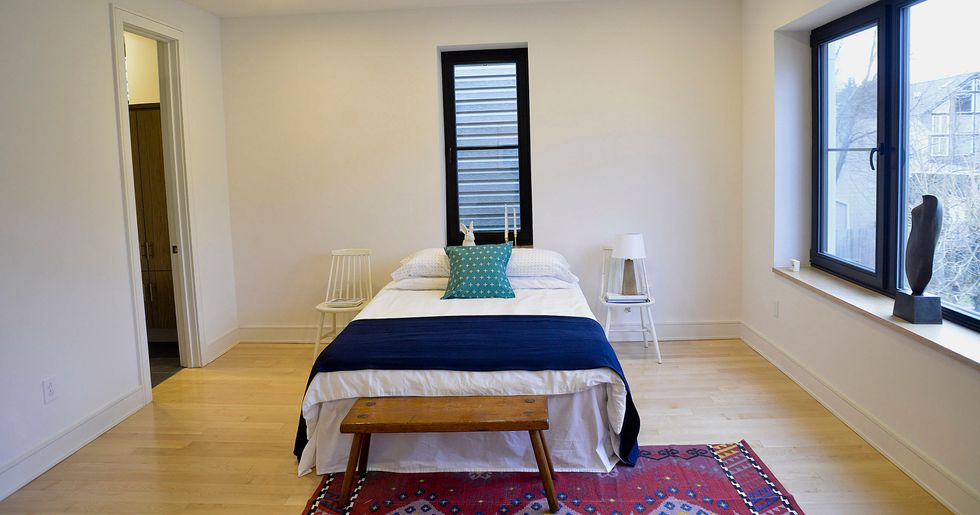 By Rosa Colucci, Pittsburgh Post-Gazette (TNS)
PITTSBURGH — In the Shadyside neighborhood of the city, a large sign declares that a "Passive House" renovation is underway at 5724 Walnut Street.
"When the gentleman who owned 5724 was going into the nursing home, he said, 'I'd like to sell it to you. I know you do quality work,'" recalled architect Laura Nettleton, one of the principals in the firm Thoughtful Balance Inc. The property is a three-story wood-frame home with four bedrooms, and Nettleton took on the project as a living design laboratory. Ten years ago, she had renovated its twin next door.
She saw the project as a way to compare the energy needs and usage of two similar houses renovated at different times. Her ten-year-old firm has focused on affordable housing and sustainability.
"This was an unusual project for us. I did one of the first LEED Gold Projects in the city. (LEED stands for Leadership in Energy & Environmental Design and is certified through the U.S. Green Building Council.) Over time, we were disappointed in the energy performance of that project. LEED predicted great performance, but did not deliver. Then I was introduced to Passive House."
The term refers to a building standard that features among other things, much more insulation than in a conventionally built house.
"In retrofits, this is not an easy thing to do. You can't wrap leaky basements in foam. The Walnut Street house is performing really well. With the thermostat set to 57 and just body heat, the indoor temperature was 65. That was pretty cool."
That is remarkable considering that the house was built in 1890. The renovation is light, bright, and modern compared with other houses of that age. But there are other differences that become apparent. It is ultra-quiet inside and there are no warm or cold spots. Even near a window.
"It has a feeling of luxury, like you are entering a refuge," Nettleton said.
The windows, which have R-5 or R-7 insulation values, are triple-paned European windows that open in two directions, as casements and awnings. They are outfitted with exterior shades that are operated by a remote.
"This is great for everyday living. You can open windows and have security."
The home has 3,000 square feet of living space. All of the walls are painted a crisp white and the floors are lightly stained maple. Clean lines run from the open staircase that ascends three levels to the white quartz counter tops in the 15 by 13 foot kitchen.
The dining room is in the front of the home and measures 13 by 13 feet. It has an architectural feature wall and recessed lighting. It is staged with mid-century modern furniture and features a wall cutout that offers views into the kitchen. It has custom-made walnut cabinets made by a local firm which also did the cabinets in the bathrooms.
Stainless steel Bosch appliances are set in a modern configuration with double wall ovens, a dishwasher, and an induction cooktop whose overhead exhaust almost seems to float in midair. The entire house is outfitted with Hans-Grohe Water Sense faucets. Some of the cabinets have frosted glass fronts that reflect more light into the room.
"We chose materials that were as close as we could come to locally sourced and low-VOC for a healthy interior," Nettleton said. "We used Sherwin-Williams Harmony paint. I like the quartz as a manmade material. It has less impact on the landscape."
Just beyond, the 19 by 14 foot living room features a large patio door that opens to a deck. A powder room and a bench are bookended by tall cabinet closets.
The master bedroom is on the second floor, in the rear. It measures 13 by 13 feet and opens to a nine by six foot office. The ten 1/2 by seven 1/2 foot bathroom features a quartz vanity top with a raised bowl on walnut cabinets. There is a roomy linen closet, glass enclosed shower, and a separate soaking tub.
Also attached to the bedroom is a ten by five foot walk-in closet and a separate laundry center with Bosch washer and dryer behind closed doors. "The condensing washing and dryer work very well with Passive House because of the intake and exhaust issues with dryers," Nettleton said.
The second bedroom also measures 13 by 13 feet and has a five by six foot study nook and loft area open to the space below. The floor is also maple.
The third floor has two bedrooms measuring 15 by 12 feet and 12 by 11 feet and features a bank of windows overlooking Walnut Street. They are serviced by a full bathroom with a large skylight. Each bedroom has a full walk-in closet.
The finished basement was excavated and a new slab poured with insulation underneath. The family room measures 21 by 14 feet and has hardwood floors and modern lighting. A full bathroom is off to the left.
The mechanical room has a heat pump that provides heat and air conditioning and the heat recovery ventilator that circulates air in the home, recapturing heat and conditioned air.
"The ventilator cleans and exchanges the air in the home completely every three hours. It removes the outdoor pollutants," Nettleton said.
The expected energy cost to run this home is about $35 per month. One condition of the sale is that the owner must allow Nettleton to have access to the energy bills so that she can track the performance of the project.
"I am really proud of the design and what it represents. I didn't want Passive House to hang out in the affordable housing world and only be available for special funding."
Photo: Larry Roberts via Pittsburgh Post-Gazette/TNS