Patrick Topples Dewhurst In Texas Lieutenant Governor's Race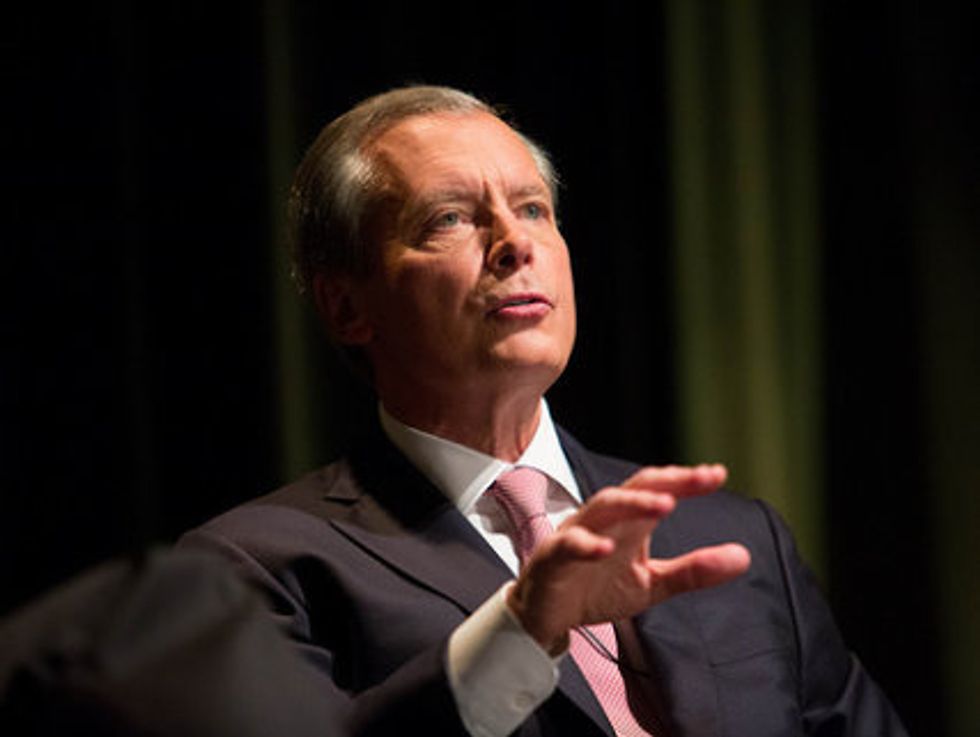 By Anna M. Tinsley, Fort Worth Star-Telegram
FORT WORTH, Texas—Texas state Sen. Dan Patrick has taken an insurmountable lead Tuesday night in the brutal, multimillion-dollar Republican battle for one of the most powerful posts in Texas government.
Following weeks of personal attacks, accusations — even the unveiling of one candidate's private medical history to reveal a brief stay in a psychiatric hospital three decades ago — Patrick drew nearly 65 percent of the vote to Lt. Gov. David Dewhurst's 35 percent, according to incomplete results provided by the Texas Secretary of State.
"Ronald Reagan said, 'I don't have enemies, I have opponents,'" Patrick said before the polls closed Tuesday. "And you've heard me say so many times, I'm a Christian first. I'm trying to walk that talk.
"So it's all forgiven in my view. It's in the rear view mirror. Let's move on," he said. "And let's all work together to defeat the Democrats. They're our real opponents."
Democrats said Patrick is not the right choice for Texans.
"Someone with a record of vile, toxic rhetoric is simply unfit to lead our great state," said Emmanuel Garcia, communications director for the Texas Democratic Party.
Several other statewide races were on their way to being decided late Tuesday as well.
For Republicans, Ken Paxton took a lead in the attorney general race, as did Sid Miller in the agriculture commissioner race and Ryan Sitton in the railroad commission race.
For Democrats, David M. Alameel appeared easily headed to victory in the U.S. Senate race as did Jim Hogan in the agriculture commissioner race.
"Texas voters have continued to demonstrate their steadfast commitment to the conservative values and initiatives that have and will continue to keep our state on the pathway toward greater opportunity," Texas Attorney General Greg Abbott, the Republican Party's gubernatorial nominee, said. "Now more than ever, we must work together to make tomorrow's Texas even better than today's."
The race to become Texas' lieutenant governor, the No. 2 in state government, has been one of the nastiest political battles in the country.
The matchup pitted Dewhurst, an 11-year establishment Republican incumbent, against Patrick, a radio talk show host with tea party support who describes himself as an "authentic" conservative candidate.
For many, this high-profile race boiled down to establishment Republicans versus grassroots tea party members — as did the 2012 race for the U.S. Senate between political newcomer Ted Cruz and Dewhurst. Cruz won that primary runoff and went on to win the general election.
As it came to an end Tuesday night, Dewhurst praised supporters gathered in Houston for sticking with him. And he said it's time to look to the future.
"It's an honor to serve with you and ladies and gentlemen, if you ever need me, I've got your back," he said. "Tomorrow we rise to a new challenge together."
This costly, heated battle became more inflamed in the weeks before the election when documents that showed Patrick had been hospitalized for depression in the 1980s were given to the media.
Patrick said he admitted himself, but added that his emotional state is much better and that he hasn't needed treatment or medication in about 30 years. And he said that while the information was released by his former opponent, Texas Land Commissioner Jerry Patterson, he believed Dewhurst — a millionaire businessman who found himself running an underdog campaign — stooped "to a new low."
Patterson said he released the information because he believed all Texans needed to know about it.
Just days before the election, Patrick offered a $1,000 reward to anyone who could produce an audio copy of a telephone push poll being conducted against him. "David Dewhurst won't be able to hide from this dirty trick," Patrick said. "He has run a disgustingly negative, mean spirited, campaign."
In March, Patrick claimed 41 percent of the vote to the 28 percent claimed by Dewhurst. Trailing them were Texas Agriculture Commissioner Todd Staples and Patterson, who shared 30 percent of the vote.
The winner of the primary faces Democratic state Sen. Leticia Van de Putte of San Antonio in November's general election.
Photo: The Texas Tribune via Flickr