Patriots Hold On To Beat Jets
@AFP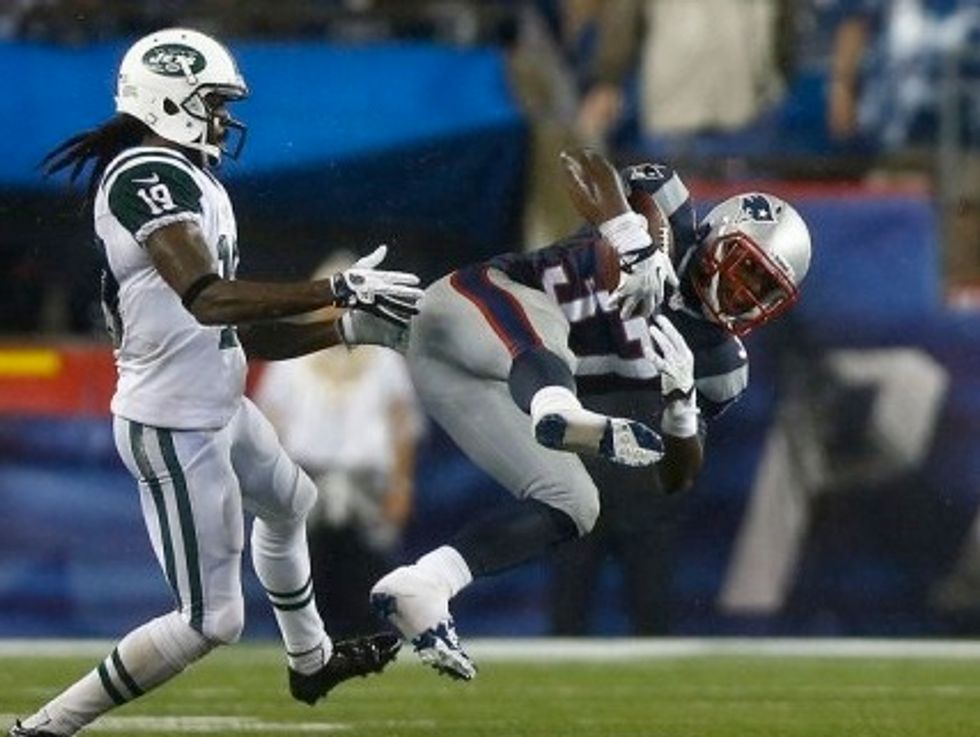 FOXBOROUGH, United States (AFP) – New England's defense forced four turnovers and sacked quarterback Geno Smith four times as the Patriots held on for a 13-10 victory over the New York Jets.
Patriots' quarterback Tom Brady was a modest 19-for-39 for just 185 yards and an interception as New England won their second of the season and posted their fifth straight National Football League victory over the Jets.
"I am glad we started the season off 2-0 and two wins in our division. We just need to do it better," Brady said. "That is a good defence and they really challenge you."
Julian Edelman provided the lion's share of the offense as he caught 13 passes for 78 yards and Aaron Dobson grabbed the lone touchdown of the game for the Patriots, who have won 14 straight contests against AFC East opponents.
"You learn from every game," Brady said. "These games aren't easy. Our defence played great and got us the ball. We kept fighting."
The Patriots played without Danny Amendola (groin injury) and Rob Gronkowski, who is recovering from offseason back surgery.
Smith completed 15-of-35 passes for 214 yards in the loss. He led the Jets to a win last week with a game-winning drive against Tampa Bay, but was picked off three times in the fourth quarter with his team trailing by three.
Bilal Powell's touchdown run in the third quarter was the only time the Jets got into the end zone.
In key upcoming games on Sunday, the Denver Broncos hook up with the New York Giants in the third instalment of the Manning Bowl.
The two sibling quarterbacks, Eli and Peyton Manning, put up a combined 912 passing yards and 11 touchdowns with their respective teams in week one.

Broncos QB Peyton, who tied an NFL record with seven touchdown passes in a 49-27 rout of Baltimore last week, has a variety of offensive weapons unmatched by any team in the league.
Peyton's Indianapolis Colts won each of the first two Manning Bowls, 26-21 in 2006 and 38-14 in 2010.
The Washington Redskins will travel to historic Lambeau Field to face the Green Bay Packers in a contest that could turn into an old fashion shootout.
Green Bay's defence showed glimpses of improvement in week one against the San Francisco 49ers but they struggled for the most part in a 34-28 loss.
Redskins quarterback Robert Griffin will be aiming to take advantage of the Packers Swiss cheese defence while Green Bay quarterback Aaron Rodgers will have a few tricks of his own up his sleeve.
The Seattle Seahawks are expecting to have a healthier pass defence with at least top new pass rusher Cliff Avril back in the lineup for their much-anticipated game against San Francisco.
The 49ers are hoping their front seven can get the better of Seattle's offensive line to reach quarterback Russell Wilson.
In the Monday night game, the Pittsburgh Steelers and Cincinnati Bengals will both be looking for their first wins of the young season.
Photo Credit: AFP/Jared Wickerham