Patriots Win Wild Super Bowl Over Seahawks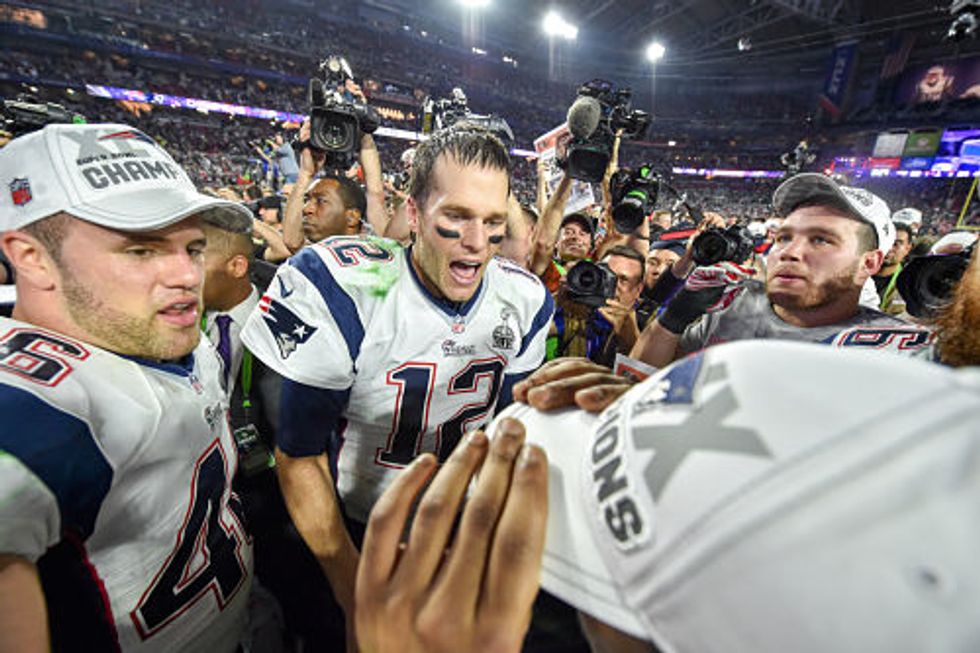 By Tom Rock, Newsday (TNS)
GLENDALE, Ariz. — Tom Brady had an answer for this kind of pressure.
The New England Patriots quarterback might not be able to say why the footballs used in the AFC Championship Game were underinflated, but he was cool enough to overcome the Seattle Seahawks' suffocating defense and orchestrate a comeback from a ten-point deficit while leading the Patriots to a 28-24 win in Super Bowl XLIX on Sunday night at University of Phoenix Stadium.
Brady hit Julian Edelman for a 3-yard touchdown to cap a 64-yard drive with 2:02 to play to give the Pats a 28-24 lead. Backup cornerback Tharold Simon, playing for injured Jeremy Lane, was beaten on the play.
But then it seemed as if New England was going to suffer more heartbreak in the desert when Jermaine Kearse made a juggling catch at the five with 1:06 remaining in the same stadium where the New York Giants' David Tyree once tortured the Patriots.
But on second-and-goal from the one, with bruising running back Marshawn Lynch in the backfield, the Seahawks inexplicably attempted a pass. Russell Wilson's slant intended for Ricardo Lockette was intercepted by rookie defensive back Malcolm Butler with 20 seconds remaining. It was the first NFL interception for the undrafted free agent from Division II West Alabama.
"I had a vision that I was going to make a big play," Butler said, "and it came true."
Oddly, it was Butler who was covering Kearse when he caught the ball while on the ground. Each had tipped the pass, and Butler tackled Kearse to save the touchdown.
Speaking of the play call that led to the interception, coach Pete Carroll said, "I told those guys that was my fault, totally."
The win gives Brady four titles in six trips to the big game and his first in ten years. He and the Patriots lost their most recent two visits, to the Giants after the 2007 and 2011 seasons.
With an open NFL investigation into those deflated footballs from two weeks ago, there is still a cloud over the integrity of the Patriots' latest success. But that did not stop Brady, coach Bill Belichick and owner Robert Kraft from raising the Lombardi Trophy in a sea of confetti in front of 70,288 fans.
"I'm so proud of all these players," Belichick said. "I love these guys."
Brady completed a Super Bowl-record 37 passes in 50 attempts for 328 yards and four touchdowns with two interceptions. He was voted Super Bowl MVP for the third time, tying his boyhood idol, Joe Montana.
After being the center of so much speculation and intense scrutiny the last two weeks, Brady was asked if the victory provided any vindication. "No," he said. "I don't feel any."
Still, he was moved enough to thank his friends and family who supported him when he accepted his MVP award.
"It's just a lot of mental toughness," Brady said. "I think the whole team had it. Coach always says, 'Ignore the noise and control what you can control.' We had two great weeks of practice. That's what it took. That's what we needed to be focused on and that's how we got the victory."
The scandal took a toll on everyone. Belichick thanked his coordinators for their work on the game plan last week while he was busy mounting his own investigation into the deflated footballs.
"I was doing some other things," Belichick said. "I was able to catch up. I couldn't have done it without those guys, for sure."
The Seahawks took their first lead on the opening drive of the third quarter, going up 17-14 on Steven Hauschka's 27-yard field goal. After linebacker Bobby Wagner intercepted Brady by jumping a pass intended for Rob Gronkowski, Wilson hit a wide-open Doug Baldwin on a 3-yard touchdown to go ahead 24-14.
Darrelle Revis was in coverage on the TD, but he bumped into umpire Bill Schuster on the crossing route. That prompted Seattle's Richard Sherman to taunt Revis to the television camera and seemingly solidify his claim as the game's top corner.
The ten-point difference represented the largest deficit Brady ever faced in a Super Bowl. Brady found Danny Amendola for a 5-yard touchdown with 7:55 left to make it 24-21. Brady's 12th Super Bowl TD pass surpassed Montana's previous record of 11.
The Seahawks then went three-and-out, after which Brady drove the Patriots 64 yards for the Edelman game-winner.
The Patriots dominated the first half statistically, but it was tied at 14 for the long intermission thanks to some gutsy Seahawks play-calling and a rookie receiver who had never caught a pass in the NFL.
With six seconds left in the half, Lockette caught a 23-yard pass, and with a face-mask penalty against Kyle Arrington on the play, Seattle had first-and-10 at the 11. Rather than kick the field goal, Carroll decided to take one more shot at the end zone. Wilson fired a bullet to his left, and Chris Matthews outjumped Logan Ryan to make it 14-14.
It was the 6-5 rookie's second career reception. His first came earlier in the quarter, when Matthews grabbed a 44-yarder over Arrington to help set up Lynch's three-yard TD run that made it 7-7.
Photo: Quarterback Tom Brady celebrates with his teammates after winning Super Bowl XLIV 28-24 against the Seahawks for the fourth time in franchise history. The Super Bowl was held at The University of Phoenix Stadium on February 1, 2015 in Glendale, Ariz. (Anthony Behar/SIPA USA/TNS)